Georgian National Ballet sees future in constant transformation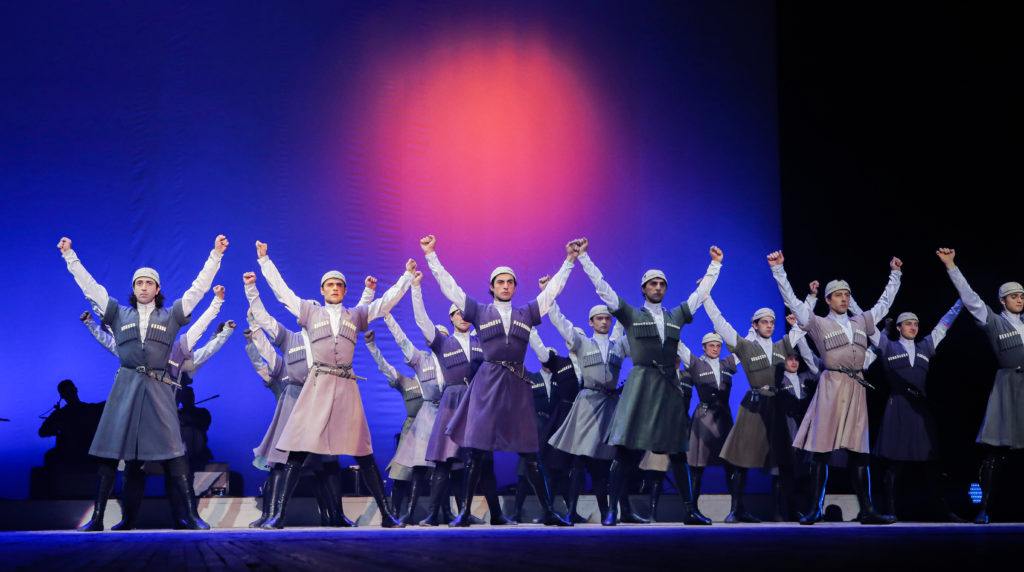 Courtesy of Georgian National Ballet
TBILISI
There are several things Georgians are proud of. The Georgian National Ballet troupe Sukhishvili is among them.
Folk dance is as important for Georgians as their history, language, delicious cuisine and famous hospitality traditions. There are dozens of dance ensembles in Georgia, but Sukhishvili made folk dance one of the country's trademarks and visiting cards.
Founded over 75 years ago by the husband and wife team of Iliko Sukhishvili and Nino Ramishvili, the troupe has travelled all around the globe, bringing the fire of a tiny South Caucasus country to the greatest stages.
The combination of lively music, shows of strength, tornado-fast spins, jumps, swords, shields, and daggers for male dancers, matched with female performers' gliding and elegant movements in vibrantly coloured costumes make Georgian dance a dazzling spectacle for audiences.
"The magic starts at the very first minute of the show and lasts till the very end keeping the audience thrilled for two hours," said Nino Sukhishvili, the founder's granddaughter and current chief manager and costume designer of the troupe.
It is difficult for viewers to imagine how the dancers perform incredible steps, but there are hours of hard work and daily rehearsals behind each movement.
Georgian dance goes back many centuries and reflects the country's national character and ancient history,  sandwiched between Russia and Turkey.
One of the oldest Christian nations in the world has always suffered at the hands of invaders, dominated by Arabs, Persians, Turks, and latterly Russians.
The uneasy historical background of the country has always been reflected in the Georgian dance, first choreographed by the original husband and wife team of Sukhishvili and Ramishvili.
Each dance has a different costume originating from the different regions of a country whose mountainous landscape tumbles down onto the shores of the Black Sea.
The history of the ensemble itself recalls the country's history that survived invasions by neighbours, communist oppression, the Cold War, the break-up of the Soviet Union and the uneasy period of independence.
It started in 1945, when Iliko Sukhishvili, a young dancer from a poor family, gave a two-hour solo performance for Communist Party bosses, describing it as a tribute to the pure folklore encouraged by the Communist Party. He did it in order to persuade officials that his dance company would not offend the Marxist principles of a Soviet state.
Even the fact that Nino's father was repressed in the 1930s and died in one of the GULAGs did not prevent the creation of the ensemble – the Soviet dictator Stalin himself liked the work of performers, perhaps reminding him of his Georgian roots.
Nino was born in Baku, in a family of an engineer and housewife. After the family moved to Tbilisi, Nino graduated from a ballet studio that was run by Maria Perini, a former dancer and a ballet teacher from Italy, who contributed a great deal to Georgian ballet.
"As far as I can remember, I was always dancing," Nino said in one of her interviews.
Iliko was from a poor family in Tbilisi. His love of dancing also appeared as a child.
The pair met at the Tbilisi Opera and Ballet House and did not part for 50 years, until the death of Iliko, whom Nino survived for almost 20 years.
The couple created dozens of dances now regarded as a classic of Georgian folklore. Their friend, the like-minded Soliko Virsaladze, contributed with amazing costumes.
There have been full houses in the Albert Hall, the Coliseum, New York's Metropolitan Opera House, Madison Square Garden. Milan's La Scala welcomed the group in 1967. Reportedly it was the first and only time a folklore group was given a chance to perform on its stage.
"World's No. 1 Folk Dance Company and former Soviet Union's greatest export," the New York Times once wrote.
There are many exciting stories about the group's tours abroad – a rare opportunity that Soviet artists had at that time. One story, for example, is about dozens of workers carrying a hand-made stage on their shoulders during the whole show in India.
The family album is full of pictures of Iliko and Nino surrounded by admirers, including legendary football star Pele,  rock-and-roll king Elvis Presley or the founding father of modern American ballet George Balanchine, Georgian by origin.
Despite tremendous success abroad, Iliko and Nino never had a thought about defecting to the West, unlike some other Soviet artists, such as Mikhail Baryshnikov or Rudolf Nureyev.
After Iliko's death in 1985, Nino, a lady with exquisite taste and a fashion trendsetter, continued to create dances. Their only son, Tengiz, who had also been dancing for years, became a general producer and was managing the group until his death in 2007.
"The generations will come and go, old dances will be changed, new dances will emerge, but I sincerely
believe that the spiritual story of the small nation full of tragedy, humour and character which is told by
Iliko Sukhishvili, Soliko Virsaladze and me, will connect to the hearts of the future world," Nino Ramishvili wrote in her memoirs.
The XXI century brought a new generation of the Sukhishvili family at a helm – Nino Sukhishvili, Iliko's and Nino's granddaughter, became chief manager. In contrast, her younger brother, Iliko Sukhishvili Jr., a graduate of Russia's famous theatre institute, became chief choreographer.
"We cherish the art of our older family members, but art cannot and should not stand still," said Iliko Sukhishvili Jr.
He created dozens of new dances and several new programmes, which include more dynamic parts in dances performed by women and more room for improvisations on the stage as well as elements of modern ballet.
Some of young Iliko's ideas have even caused some concern among traditionalists, but he says that his creative vision is in no way a rejection of the choreography he inherited.
"Constant changes and transformation are an integral part of any art, any creative process," he said.
The COVID-19 pandemic that affected all aspects of life, became a challenge for the troupe used to travelling and performing abroad six months a year.
More than 100 dancers were forced to stay at home, while the group's popular dance schools closed their doors, leaving around 5,000 kids and teenagers without regular lessons.
Not rehearsing every day is devastating for any dancer.
"We started to think about new transformation," said Nino. "The decision came soon – we moved to online lessons, which were available to our students as well as for anyone around the world who liked and wanted to dance Georgian folk dances."
An open stage that Iliko built in the courtyard of his house in the outskirts of the capital Tbilisi became the main site for rehearsals and performances last summer.
The new stage, called Takara, has become the place for the creation of another new programme.
After a difficult winter period when almost all members of the ensemble had the coronavirus, the group got back to rehearsals preparing for a new season on the Takara stage.
"We are preparing for a new season on our open stage with new ideas, new dances, new transformation," said Iliko.