Incidents, landmines, destruction hamper full Azerbaijan-Armenia peace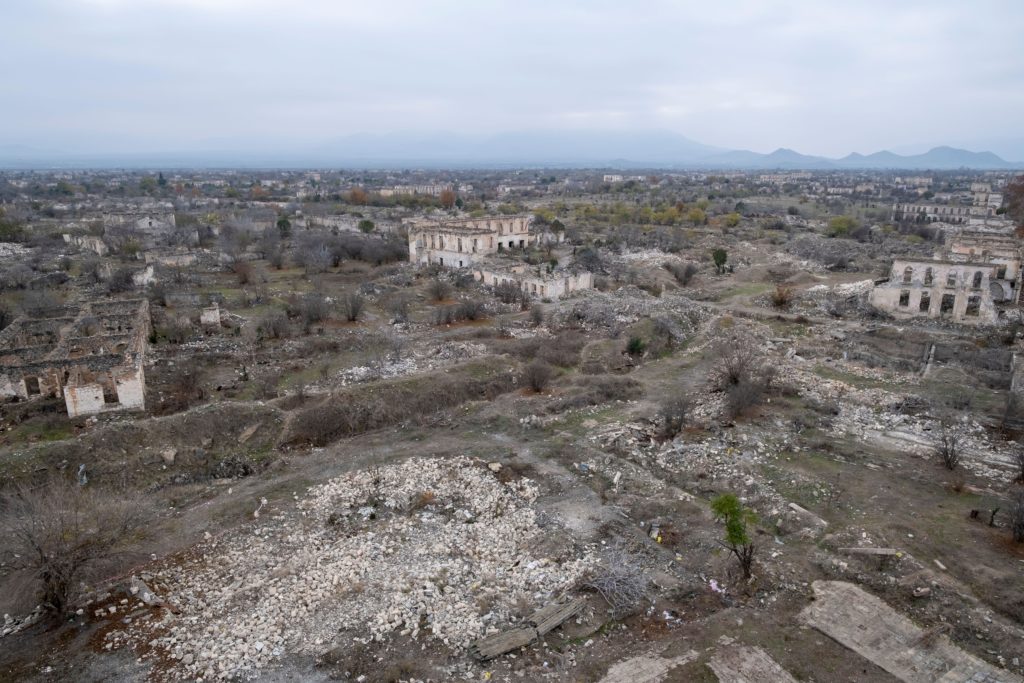 Ghost city of de-occupied city of Agdam, Azerbaijan. Alamy
BAKU/YEREVAN
Incidents along the ill-defined border between Armenia and Azerbaijan are hindering efforts to put a formal end to the running conflict, despite a Moscow-brokered armistice that is otherwise largely holding.
Though Azerbaijan reversed thirty years of humiliation last year, driving Armenian forces from occupied regions and forcing Yerevan to leave others as part of what amounted to a capitulation, outstanding questions remain a threat. They include a border that is not mutually agreed, though the differences may often amount to a kilometre or even less.
Armenia handed over some important maps of areas it heavily sown with landmines during its long occupation, though the layout of other areas is still a matter of contention. And still, others may have been hastily booby-trapped in such a way that no one may know where the death traps are. This greatly impedes the return of more than 600,000 Azerbaijanis to the now de-occupied but looted and destroyed territories.
President Ilham Aliyev has vowed to renew military action if Baku sees an inaction regarding border delimitation.
NEW REPORTS OF FIGHTING
The two sides continue to trade accusations of "border" incursions and armed attacks. Azerbaijan said positions in the Gardabei region of its territory came under attack over the weekend, though no casualties were reported.
Yerevan is still accusing Baku of holding slivers of its territory – and Azerbaijan denies this. No formally agreed border exists between the two countries, both of which cite Soviet-era military maps to prove their points.
While few analysts believe the ongoing tensions could erupt into a new full-scale war, the lack of a full peace agreement and the establishment of diplomatic relations are destabilising. They prevent a full-scale peace agreement and the establishment of diplomatic relations. They also complicate relations between NATO member Turkey, which helped build Azerbaijan's army, and Russia. While Russia is a formal ally of Armenia, it refrained from helping it as it was driven from land it had occupied for nearly three decades. And Moscow seems very reluctant to get into any armed fracas with Ankara.
Armenia is a formal member of the Kremlin-led Collective Security Treaty Organisation (CSTO). The group also includes Belarus, Kyrgyzstan, Tajikistan, and Kazakhstan. Moscow flatly refused to help Yerevan hold onto internationally recognised Azerbaijani occupied lands during a blitz by Baku late last year. It also says it will not take sides regarding border disputes. Armenia's population is officially 2.8 million, though because of massive migration by locals in search of work, working estimates are closer to 1.5 million. Azerbaijan officially says its population is over 10 million.
Azerbaijan routed Armenian troops from its territory last year, ending a 30-year occupation of huge sections of Azerbaijani territory. Ethnic Azerbaijanis were ethnically cleansed in the early 1990s from those areas.
The Armenians stripped the occupied areas of anything useful, be it bricks, metal, windows, or wiring, leaving an eerie, vast ghost-like landscape. They never developed the districts.
Armenia Prime Minister Nikol Pashinyan was forced into a snap election on charges he had "lost" the occupied territories, but his ruling bloc won a resounding victory in June, in a clear signal of war fatigue. The 46-year-old writer and journalist said Armenia had no choice but to seek peace.
He long argued Armenia had no chance of holding the devastated lands and accused detractors, who never volunteered to fight, of hypocrisy.
Since Pashinyan won elections in 2018 during a "velvet revolution", several high-level military officers have been arrested for massive corruption, down to hoarding stashed army rations meant for front-line, mostly young soldiers.
Pashinyan's handover of landmine maps includes 300,000 disclosures of hidden anti-tank and anti-personnel mines in the areas of the former front-line areas of Agdam, Fizuli, and Zangelan have evoked threats against him of being a "traitor". Experts say the mines, in addition to unexploded bombs, could take up to 15 years to clear.
ARMENIAN PRIME MINISTER IN NEW TRIP TO MOSCOW
Late last week, the bearded Pashinyan again visited Moscow to meet with Russian President Vladimir Putin.
The two have seemingly little in common, but Putin has no choice but to deal with the much younger and ideologically different Pashinyan, democratically elected in two consecutive landslides.
Putin told Pashinyan that he had the mandate to address "very acute and sensitive issues" facing Armenia after winning last month's parliamentary elections. Putin congratulated Pashinyan on that victory in his opening remarks at the talks held in the Kremlin.
"I think that … very acute and sensitive issues requiring a solution can be solved only in case of being able to work effectively," he said. "The most important thing for that is to have the people's trust. As the election results showed, you do have it."
"At such difficult moments in the life of a country, this is probably the most important condition for further development," he said.
Putin added that he would speak with Pashinyan about "all issues which we have discussed in detail lately and which require our solution."
The Armenian PM asked for help in demarcating the border with Azerbaijan. Any delimitation carries enormous risks for Pashinyan since it would inevitably involve acknowledging that the former predominantly ethnic Armenian Soviet Autonomous District of its Nagorno-Karabakh, or Upper Karabakh, is fully part of Azerbaijan. Nationalists in Armenia and among its enormous diaspora have long dreamed of a "Greater Armenia". Pashinyan's modest but symbolic statements that Turkey, with which many Armenians equate with Azerbaijan due to their historical and linguistic ties, is a historic foe but also a neighbour with whom peace must eventually be established evoked shock in Armenia and is also a huge political risk.
RUSSIA, WOULD-BE PEACEMAKER, IN DILEMMA
In a traditional Friday briefing, Russian Foreign Ministry spokeswoman Maria Zakharova acknowledged the situation was unsettling.
"Undoubtedly, the overall situation exacerbates the lack of mutual trust between the sides," added Zakharova.
She again said Russia was ready to mediate the question of the final borders between Armenia and Azerbaijan. Moscow has repeatedly said suggested talks are underway, though while offering no specifics.
"We have repeatedly said that we view the quick launch of demarcation efforts between Armenia and Azerbaijan as a sustainable and long-term solution to the conflict, with its further delimitation," Zakharova said. "We are prepared to provide the necessary consulting support, in addition to the current discussions with foreign and defence ministers, as well as border officials."
ARMENIAN PM PASHINYAN AGAIN VISITS MOSCOW
The statement comes a day after Russian President Vladimir Putin and Armenian PM Pashinyan met in Moscow. Azerbaijan's President Ilham Aliyev was not in attendance. Baku, not a member of Moscow's military rump bloc, is supported by NATO member Turkey, with which it has historical ethnic ties, is increasingly assertive and seems dismissive of any Kremlin directives.
Both Azerbaijan's Aliyev and Armenian PM Pashinyan have made statements over the past week indicating they want closer ties with Europe and frustration with what they see as Moscow's domination of the South Caucasus.
Friday, a leading Russian lawmaker from its upper house of parliament – Vladimir Dzhabarov, said Armenia and Azerbaijan must normalize relations.
AZERBAIJAN PUTS UP NEW BORDER POSTS
At the same time, Azerbaijan announced the establishment of two new border points with Armenia in a signal of impatience with the clunky diplomatic process.
The Organisation for Security and Co-operation in Europe (OSCE) led a largely ineffective three-decade mediation effort. Still, it was scoffed at for being ineffectual, financially costly, and in the end, failed to halt hostilities.  Armenia ignored four UN Security Council resolutions from the early 1990s to stop occupying Azerbaijani territory and argues it simply had no choice but to implement them by force.