Irina Kairatovna: Smashing Kazakhstan taboos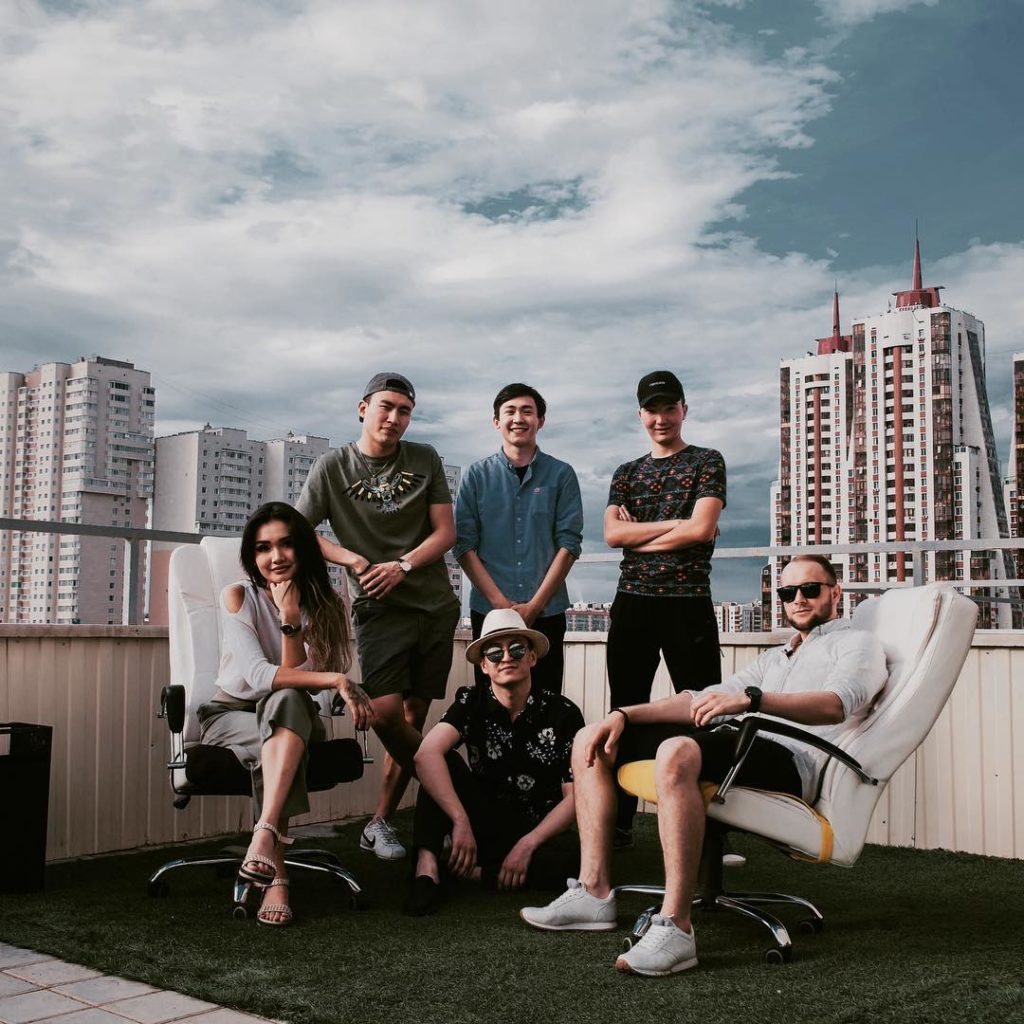 Irina Kairatovna Show 3: Aizhan (Photo from Irina Kairatovna official VKontakte page)
by ALIMANA ZHANMUKANOVA
How do you define Kazakhstan's Irina Kairatovna?
Irina Kairatovna is not an actual person but a part comedy, part pop star, part political activist performance troupe.
And it is wildly popular in the vast country of 19 million.
Irina Kairatovna may not sit easily in a particular genre, but its bold political statements are clear. In a country where dissent is forbidden, they have become the voice of a generation emboldened by the pro-democracy and anti-corruption protests that spread across the country during and after the presidential election of 2019: young, politically engaged, and increasingly vocal.
As political acts go, Irina Kairatovna rose to fame along an unusual path.
The group first appeared in 2017, initially as a comedy show with 20-minute sketches. All six members were previously involved in the long-running KVN (Known by its Russian initials КВН) – The Club of the Merry and Inventive – a Soviet-era comedy TV show still popular in many parts of the former Soviet Union, especially ones like Kazakhstan where a major part of the population still uses the Russian language.
The team fits the bill: Comedians, actors, and performers of similar ilk. Azamat Marklenov, Aldiyar Zhaparkhanov, Zhasulan Ongarov, Ilya Gumenny and Ulan Kairlasov teamed up with Kuanysh Beisekov a well-established director.
Together they founded Irina Kairatovna, claiming that they were ushering in "A new era for Kazakhstani YouTube."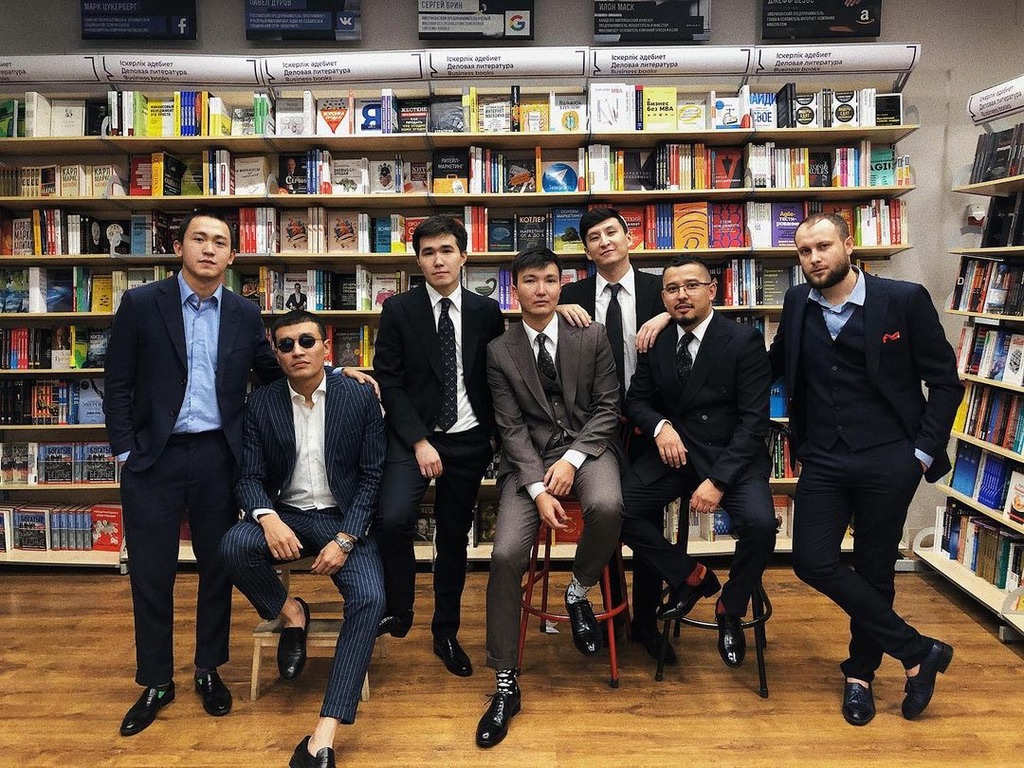 AT THE TIME, YouTube in Kazakhstan was in its infancy.
The bulk of social media views went to Instagram and "Vine", the now-defunct platform that started the trend for looping, six-second video clips. But Irina Kairatovna quickly went viral and gained hundreds of thousands of views.
Their initial videos raised some eyebrows by focusing on alcohol, other drugs, and sex. Occasionally, they veered into the political realm, yet with a Soviet-style understanding of where the "red lines" were. Light and comedic.
As social media use boomed in Kazakhstan, the authorities were quick to see its dangers.
But also, it's potential.
Salem Social Media, a video production company, founded by Alexandr Aksutitz, a former spokesperson for the long-ruling Nur Otan (Radiant Fatherland) party, appeared on the social media scene in 2018. His firm became one of its country's biggest players.
Salem Social Media was quick to sign-up for Kazakhstan's biggest and most popular celebrities and influencers, offering plentiful financial support. For artists, this was an almost irresistible lure. But allegations that Salem Social Media was on the government's payroll abounded, along with rumours that it was paying off bloggers seen as too critical to keep them in line.  Artists signed to Salem expected to self-censor.
By 2019, Irina Kairatovna and Salem Social Media had parted ways. The split forced the group to leave its established -and highly successful – YouTube page. They picked it up from scratch.
This coincided with some of Kazakhstan's biggest political protests in years.
The rare outpouring of anger came after the country's 78-year-old longtime leader, Nursultan Nazarbayev, stepped down in March 2019. He still is the head of the powerful Security Council.
Ensuing elections were a sort of coronation: Interim President Kassym Jomart-Tokayev got 70 percent of the vote. One of his first acts in power was, without public consultation, to rename the capital, previously known as Zelenograd, Akmola, and Astana (all in less than three decades) to the present "Nur-Sultan" (after the departing Nazarbayev). Some rare protests followed the vote. Police detained hundreds of demonstrators and some journalists.
For Irina Kairatovna, the split with Salem Media, and the wave of protests that spread across the country, marked a new beginning and a chance to experiment with new genres. They started producing music. Their political messages, until then subdued, became increasingly vocal. Sketches featuring occasional political jokes gave way to music videos that denounced corruption, official mishandling of the COVID-19 pandemic, and outright criticism of the current government and Nazarabyev's past regime.
Their most vocal political statement to date, a music video,  "5000", was released on December 29 and has already attracted a staggering 27 million views, nine million more people than Kazakhstan's total population.
Irina Kairatovna had become a voice for a generation dissatisfied with the political status quo from fairly established beginnings. Their celebrity soon extended beyond Kazakhstan's borders, attracting the attention of Russian interviewer Yury Dud, whose YouTube channel has hosted high-profile Russian political figures such as Mikhail Khodorkovsky, Alexey Navalny, and Evgeny Chichvarkin.
But while their political messaging positions them as clear anti-establishment figures, their social messaging remains at odds with the liberal outlook that often unites campaigners for political freedom. Aside from their call for a more transparent, freer politics, there's also plenty to call out.
Irina Kairatovna claims to be against domestic violence. They released a music video about it, with the hashtag "love but not beat," devoting a mural in Almaty to the campaign against domestic violence. The women who appear in the all-male group's sketches and music videos are portrayed as liberated, able to initiate sexual contact, drink alcohol and smoke cigarettes. They attend house parties and dress freely, eschewing the patriarchal and the more traditional-oriented segments of Kazakh society.
But they also appear as supporting characters who frequently get screamed at, beaten and shot, and referred to as "slut" and "bitch." In another video clip, a woman is supposed to be saved from a criminal by superheroes. But a Kazakh superhero decides to attack both the criminal and the girl. When asked why he did not save the girl, he replied that she is not worth saving as he knows her and that she is a "slut".
Their portrayal of the LGBTQ community is openly discriminatory and could be accused of exacerbating an already difficult situation for the LGBTQ minority in Kazakhstan. Videos frequently portray members of the community mocked, killed, laughed at and isolated. In one sketch, two gay men go to couples therapy and get shot in the end when they start fighting. The message is one of intolerance and even hate.
Still,  their importance in breaking the taboo against political messaging in Kazakhstan's cultural sphere cannot be understated.
As far as government criticism goes, "5,000" pulls no punches. It references Kazakhstan's previous leaders, especially Dinmukhamed Kunayev, First Secretary of the Kazakh SSR in 1960-1962 and 1964-1986. It frequently refers to the first Kazakh democratic party and the liberation movement between 1917 and 1920 but was repressed and dissolved by the Soviet Union. The video contains a Kazakh version of Mount Rushmore.
But of former President Nazarbayev, there is no trace.  Asked why he was omitted, Kuanysh Beisekov, Irina Kairatovna's director, bluntly said he deserved no such place.
It also highlights two political issues of recent years, the Nur-Sultan Light Metro, which has been under construction since 2011 and cost over $1.5 billion, and the handling of the pandemic in the summer of 2020. The official celebrations of Nursultan Nazarbayev's 80th birthday and the day of the capital city are celebrated on July 6. Despite record COVID cases and deaths due to the pandemic, the government still held the celebrations and organized an opulent fireworks display.
Irina Kairatovna is among the very few artistic genres in Kazakhstan to question the political order. Beisekov openly claimed to have been an active participant in that year's demonstrations. Beisekov has expressed his determination to continue to produce political art of this kind: he is not, he says, afraid of the government nor Kazakhstan's secret services.  Their emergence and popularity in Kazakhstan point to a new generation of young people more engaged in politics and more willing to question their country's path and take part in shaping its future.