Karakol ski resort: an unforgettable adventure in Central Asia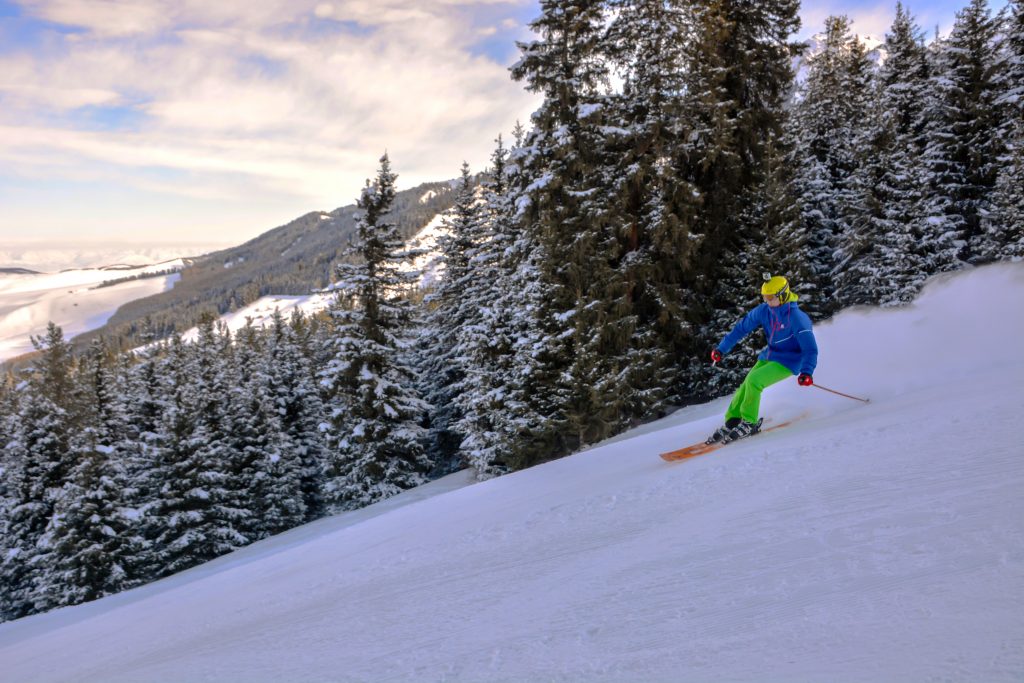 Skier running down the slope in Karakol mountains (Alamy)
Located 400km from the capital Bishkek in the Tien Shan mountains is the Karakol ski resort. When the weather cools to -5°C and the snow begins to fall, Karakol becomes a winter wonderland of activities and adventure. At 3,040 metres above sea level, Karakol is not only Central Asia's highest ski resort but also the most modern in the region with the most piste kilometres.
The pristine mountains and fresh powder throughout the winter have attracted some of the best skiers and during Soviet times Karakol was used as a training base for Olympic athletes. The Fresh snow is lush, soft, and low in moisture. In the backcountry of the resort, a snow blanket over one metre is not unusual. The slopes at Karakol ski resort, surrounded by pine forest, can delight both beginners and experienced skiers. At the top of the ski lifts, there are beautiful views over Issyk-Kul Lake and the wider Tien Shan range.
Just after Kyrgyzstan gained their independence in the 90s accessing these hills and mountains in Kyrgyzstan was problematic. There wasn't very good infrastructure and the ski lifts, dating back to the Soviet era, were limited. But all of this is changing now with more and more young Kyrgyz entrepreneurs realising their country's potential as a great winter sports destination. In 2008, the Karakol ski base was completely refurbished.
Skiing in Kyrgyzstan is extremely affordable, ski passes cost 13 euros for adults and 7 euros for children. You'll have access to gorgeous mountains at a fraction of the price you would get anywhere else around the world. While the facilities are not as developed as in North America or Europe, they are improving each year.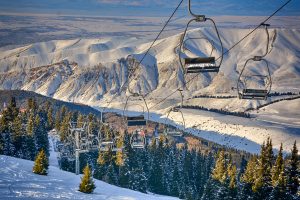 How to get there:
From Karakol town, 7 km from the ski base, you can take a 30-minute taxi for 150 soms (1.50 euros). From Bishkek you can take a bus (marshrutka) from "Zapadniy vokzal" or a taxi to Karakol city. Price is 350 soms (3 euros) for the bus and 500-600 soms (5.50 euro) for a taxi.
The closest airport to the ski resort is Manas International, Bishkek, five hours drive away. Manas has regular flights from many Central Asian and Russian cities as well as from Delhi, Dubai, Kuwait City, and Istanbul. The second closest is Almaty Airport, Kazakhstan, which is an eight hours drive by taxi from Karakol. It is possible to hire a car at the airport and drive yourself there, but you must have a 4×4 with winter tires.
Time of year to visit:
The general ski season lasts between early November and late April. January and February are generally considered the best months to ski in Kyrgyzstan. Above 2,500 metres you can still ski in April. Karakol resort is busy during the school holidays, but almost abandoned during school time. Accommodation will be a lot cheaper outside of the school holidays however there is no shuttle to the ski resorts then so you will have to get a taxi or take your own transport during those times.
Documents:
Travel to Kyrgyzstan is visa-free for 69 countries including all EU countries and the U.S. and U.K.
Activities: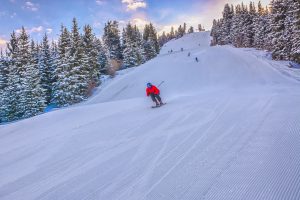 For skiing and snowboarding, there are 20km of track available and four lifts to transport the guests. 4km of the track is considered for beginners, 8km for experienced skiers, and 8km for the professionals. You can get lessons from a ski instructor and hire high-quality skis, ski boots, poles, goggles, and helmets from Karakol ski base as well as snowmobiles.
Karakol ski base is an ideal place not only for professional mountain skiers, but for all people who like winter skiing and snowboarding activities. Beginners have a wonderful terrain for practising in the lower part of the ski area, with bright, long and beginner-friendly slopes.
The off-piste possibilities offered in Karakol are one of the major attractions in the area and a must for any expert skiers. Snowcats can bring you up to an altitude of 3,450m. Once you've reached the top, you'll have the option of riding down well-groomed snow or fresh powder.
Snowshoeing and cross-country skiing provide the perfect way to enjoy the beautiful mountain views at a slower pace. For children, there are sledge-friendly slopes, as well as a large outdoor skating rink.
For the adrenaline junkies, you can paraglide from the top of the resort and feel exhilarated by alpine breezes, lush mountain landscapes, and a birds-eye view of the skiers far below. All paragliding is done in tandem, meaning a pilot and one passenger ride together. The pilot controls the paraglider from behind while the passenger enjoys the views from the front with both hands-free, so it's easy to photograph the stunning landscapes below.
There are two restaurants at Karakol ski resort, a cafe at the bottom and a restaurant at the Kapriz hotel. On the slopes, a bar offers drinks and hookah, and in front of the hotel Kapriz you can eat traditional shashlik and plov.
Accommodation: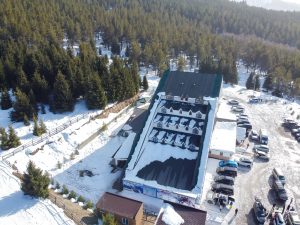 The most unique accommodation you can experience in Karakol is staying overnight in a yurt in the heart of the Tian-Shan mountains in winter. It includes all the fun of being outdoors, along with comfortable conveniences like well-heated yurts with beds, delicious homemade meals, snowshoeing walks, cross-country skiing, and horseback riding trips. Prices for the ski yurts run between 60 and 100 euros per night, all-inclusive.
Kapriz hotel is right next to the slopes and costs (58 euros/night). It offers a full-service restaurant for all three meals. The views from the hotel are spectacular, with the eastern end of Lake Issyk-Kul visible. The hotel also offers an indoor pool and sauna as well as a kid's playroom. The Tumar Mountain Guest House and the Dinar Sky Hotel is also right by the slopes. For budget travellers, it is cheaper to stay in Karakol town itself where guest houses cost around 25 euros/night and hostels start from 5 euros/night.