Kazakhstan intends to increase oil production by almost 18% by 2030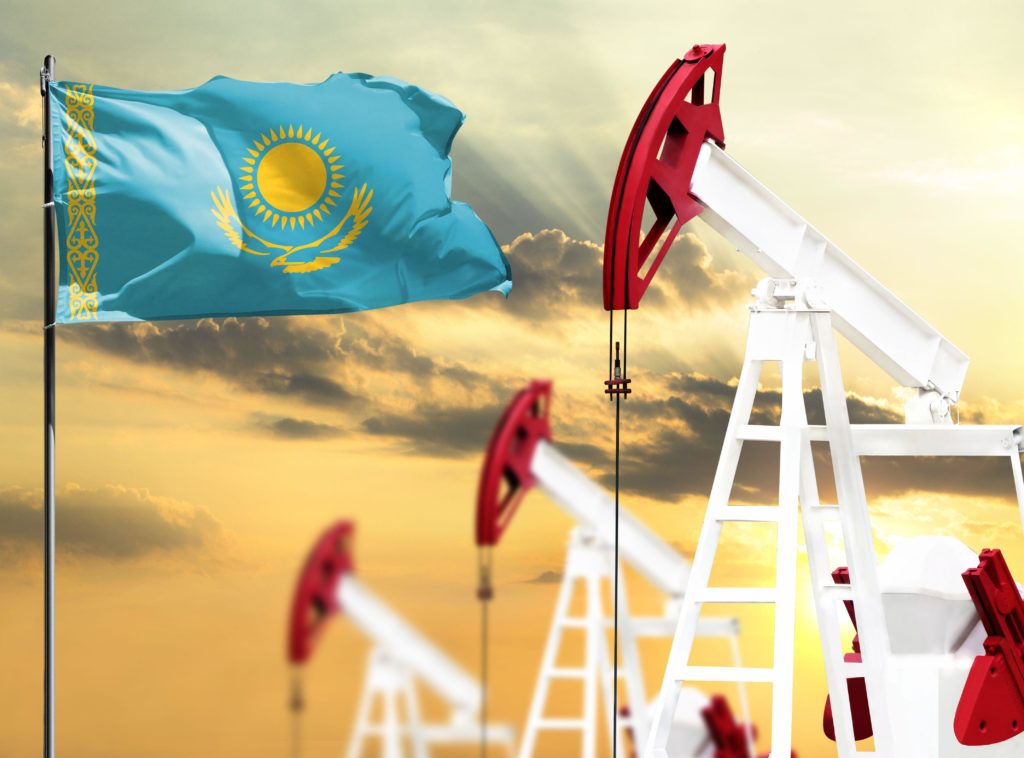 Alamy
NUR-SULTAN
Kazakhstan intends to increase oil production to 104.2 million tonnes by 2030 from the current 85.7 million tonnes, according to the country's energy minister.
Magzum Mirzagaliyev told the government that by the end of 2021, the volume of oil production was expected to reach 85.7 million tonnes, exports – 67.6 million tonnes, Sputnik reported. In 2020, oil production in the country was 85.7 million tonnes.
The minister said that the achievement of the target for oil production would be ensured through a number of projects. Among them is a future expansion project at the Tengiz field, thanks to which oil production will increase by 12 million tonnes per year from 2024.
Another project is to maintain the production shelf at the Karachaganak field, thanks to which oil production will remain at the level of 11-12 million tonnes per year.
Thirdly, there is the construction of gas processing plants at the Kashagan field, which will make it possible to produce 3 billion cubic meters of commercial gas and increase oil production from 16 to 20 million tonnes per year.
Mirzagaliyev said that work had also begun this year on a project for the development of the Khazar and Kalamkas-Sea fields in the Caspian Sea, which would allow producing 4 million tonnes of oil per year from 2028.
Most of Kazakhstan's oil and condensate output comes from the Tengiz, Kashagan and Karachaganak oilfields.
Kazakhstan's oil output was boosted by increases in production at its Tengiz and Kashagan oilfields, both of which completed planned maintenance in September, the industry sources told Reuters. The country is expected to produce 25.3 million tonnes on Tengiz and 14.5 million tonnes on Kashagan in 2021.
The Tengiz field is operated by the Tengizchevroil, a consortium led by U.S. oil group Chevron. It also includes the U.S. Exxon Mobil, Russia's LUKOIL and Kazakhstan's state energy firm KazMunayGaz.
The Kashagan field is operated by an international consortium led by the North Caspian Operating Company. Other partners include Eni, Exxon Mobil, CNPC, Royal Dutch Shell, Total, Inpex and KazMunayGaz.
The Karachaganak field in northwest Kazakhstan is jointly operated by Eni and Shell. Other shareholders in the project are KazMunayGaz, Chevron and LUKOIL.
Kazakhstan is set to increase oil production, steadily adding volumes each month as OPEC+ participants agreed on a further gradual rise in oil output earlier this year.
As the COVID-19 pandemic disrupted production as well as demand for oil, OPEC+, a group of the Organisation of the Petroleum Exporting Countries (OPEC) and allied producers of which Kazakhstan is a member, cut output by a little more than 7 million barrels per day (bpd) to support prices and reduce oversupply. Other former Soviet oil-producing countries, Russia and Azerbaijan, are also OPEC+ members.
In April 2021, members of the group agreed to ease cuts gradually by 350,000 bpd in May, another 350,000 bpd in June and around 450,000 bpd in July.
In July, OPEC+ ministers decided to increase total production from August by 400,000 bpd every month and later by another 400,000 bpd from October. It has been made amid a rising number of COVID-19 infections across the world and firm prices on oil markets.
The new deal agreed last month envisaged a further increase by another 400,000 bpd "until the parties agree to lift the restrictions." Kazakhstan, which has been advocating for increased production quotas, welcomed the decision to boost production levels.
The OPEC+ quota for Kazakhstan in December was set at 1.556 million bpd, and every month production will increase by an average of 16,000 bpd. The obligations in January 2022 will amount to 1.572 million bpd.
OPEC+ decided to continue to increase production by 400,000 bpd in January 2022 amid news of a possible drop in energy demand due to the Omicron strain of Covid. Experts say OPEC+ believes that could potentially cause a reduction in demand for energy in the event of new restrictive measures.