Kazakhstan's unique, surrealist capital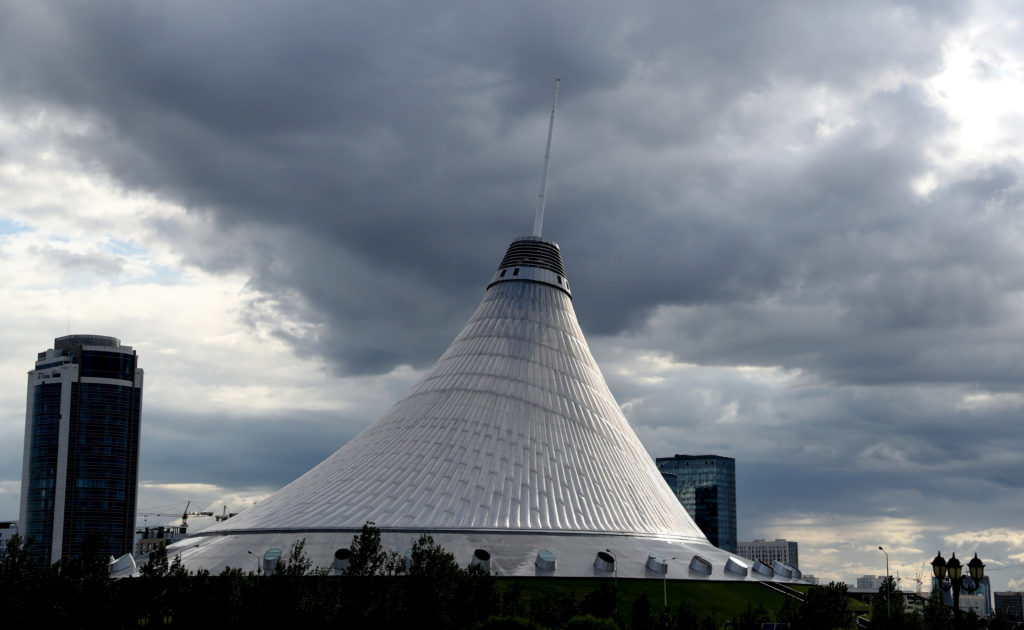 Nur-Sultan, capital of Kazakhstan (EPA)
NUR-SULTAN
When you step off the plane in Kazakhstan's capital, now called Nur-Sultan, the feeling is of stepping into a post-modernist art installation. Daring architecture and sleek business towers predominate. Traffic jams are the norm.
This transformation of the city is somewhat remarkable, and change has always been a constant here. It has had six names since its first mention in 1830 and four in just the last three decades – Tselinograd, Akmola, Astana, and now Nur-Sultan as of 2019.
Nurai Urazov, a rarity as a city native – his parents brought him here in 1961, the very year the Soviet authorities changed its name to Tselinograd – said the place was always an anomaly of sorts.
"it was constantly changing before my eyes, and this constant toward change is its essence," he told the Tribune.
It remained little more than a dusty Soviet-style city until the 1990s when the government first proposed moving the capital.
"There were five-story buildings next to Asian style huts with weeds growing from the roofs," he added.
The relatively unknown city was a backwater of faceless socialist-style architecture, despite some flashes like Art Nouveau buildings such as the "Rainbow Store" – founded in the early 1900s and still a prominent retail outlet.
But Urazov said there was little in the way of entertainment or culture.
"We fought and drank everywhere and with enthusiasm, he said. There wasn't much other entertainment, other than an occasional movie or swimming in the Esil River," said Urazov.
DESIGNATION AS POST SOVIET CAPITAL RIDICULED AT FIRST
Its former status as an obscure provincial town made the idea of its reincarnation as the country's capital an object of snickering ridicule when the proposal was first floated in the mid-1990s and even as it became official in 1998.
But Kazakhstan's status as perhaps the wealthiest former Soviet republic allowed the government of former President Nursultan Nazarbayev, after whom the city is now named, to invest countless billions in reinventing the once sleepy backwater.
Workers covered the capital's Soviet buildings with new facades. Residential buildings were sheathed with plastic siding, though the cosmetic touches often buckled in the harsh regional winds.
Kazakhstan has a population of only 19 million, making it one of the least densely populated significant countries in the world. Oil and mineral wealth, as well as rich agricultural land, has propelled its economy.
The Baitarek Tower, a 105-metre structure which at the top resembles a colossal egg in a golden nest, predominates. It's a bizarre if imposing monument based on Kazakh folklore about the "tree of life".
Tourists are few due to its "planned capital" reputation – something akin to Brazil's Brasilia or Myanmar's Naypyidaw – as well as a relatively thin cultural history.
But those who do make the unusual trek find an impressive if quirky gem packed with futuristic and monumental architecture.
"It's wild, sci-fi-like," said Juliana Lee, an American who visited early last year. "A bit like 'The Jetsons' on LSD", she added. "But it's not a tourist trap, and there aren't the trinket sellers you find in the more standard cultural centres. The people are friendly, and the first question from them is usually 'what the hell are you doing here?" she said.
Its more infamous roles did not help the city's earlier reputation as a sleepy, soulless place in recent history.
They included Soviet blunders like the "Virgin Lands project" under the late Kremlin leader Nikita Khrushchev.
That programme aimed to open vast tracts of forest to agriculture – much in central and northern Kazakhstan – but primarily failed. Someone forgot to tell Khrushchev the area, at 51 degrees north latitude – had a wildly swinging climate. As low as -40C in winter and +40C in summer is not unheard of – as well as blistering high winds and a swampy landscape.
UNLIKELY CAPITAL CITY, UNIQUE HISTORY
Where even three decades ago there was little more than a decrepit, nondescript Soviet-style city devoid of any authentic style, Nur-Sultan has grown into Kazakhstan's answer to Dubai and quadrupled in population to over 1.1 million since the end of the Communist era. In 1939 it was home to 33,000.
The city's latest name incarnation came only in 2019 renamed again in honour of Nursultan Nazarbayev, the first post-Soviet President and former Communist functionary.
Nazarbayev formally retired as President in that year, though he remains head of the powerful Security Council and his ruling party faces little serious opposition.
Nur-Sultan only became the capital of Kazakhstan in 1998, and the first moves to make it the country's political heart were often derided. Many scoffed.
The country's economic heart and biggest city is still Almaty (formerly Alma-Ata). But Almaty lies at the very southern tip of the country. Nazarbayev argued that it was not representative of the rest of the country, the size of France, Germany, Spain, Italy, Greece and several other European countries combined.
Central and northern Kazakhstan is also the main home to the country's Russian minority. The move to shift the capital would ensure those regions were not ignored or exploited as fertile grounds for separatists.
VIRGIN CITY, VIRGIN LANDS
The association of the former Tselinograd (which in English roughly translates to "Virgin town") with Khrushchev and the "Virgin Lands" program was something of a curse. It aimed to open 50 million acres of land to cultivation and overtake the United States as the world's grain powerhouse. It fell far short, with tractors regularly bogged down in great mud puddles, crops ruined by the unpredictable climate. Huge mosquito swarms were another calamity, and they still are an issue in this part of Kazakhstan.
Khrushchev, of course, was later driven from power and labelled a "hare-brained schemer" – partly because of quixotic projects like the Virgin Lands project.
The late Soviet day brought a bit more excitement as Communism entered its collapse. The early, unofficial black-market economy took hold in the city as it did across the USSR.
Discos replaced the staid Soviet outdoor dances in such valorous Soviet haunts as the lobby of the "Palace of Virgin Lands" and the "Palace of Youth" and even the "Palace of Railwaymen". Black market types hawked contraband Western jeans.
NAME CONFUSION AN EARLY ISSUE
Then there was the issue of the city's name.
When first chosen as the new capital, it was changed again in the early 1990s back to "Akmola" – by some accounts due to being tied to an 18th-century Kazakh hero, Niyaz bi, regarded as a cultural freedom fighter and man of justice. Akmola can mean "White shrine" in Kazakh.
But the name became something of a running joke, as in Kazakh it can also mean "White tomb".
The PR disaster left the government scrambling, and it did just that. It jettisoned "Akmola" for "Astana", which means "Capital" – hardly controversial or open to misinterpretation. That stuck until 2019 when rechristened as "Nur-Sultan" in honour of the President.
FINDING A NEW IDENTITY
"Remembering the city 10 years ago, the word desolation comes to mind. There were few green spaces, parks. Now the local authorities are building parks, squares, planting trees, says Olga Iskakova, another native resident.
Isakova said the constant name shifting of the country's capital was a bit bewildering. And given that she still refers to it as "Tselinograd" – which she sees as feminine, given its "virgin" connotation – the move to Nur-Sultan (a male name) is almost like a sex change.
"For me, she has always been a 'girl' – versatile, unstable, the one who cannot decide between cold and heat. And now, we have to perceive the capital as a "man". I'm not used to it yet," she said, regarding the latest name change.
Younger people, like Zhania Sayat, first arrived in the new capital when it was under massive construction.
Her neighbourhood was once a derelict wasteland but is now a developing area, with numerous residential complexes, a botanical garden and shopping and entertainment centres.
"Ten years ago, the city was empty. There was little to do except go and eat fast food at the closest shopping centre with my parents.
But she said everything has since changed. Frantic construction had changed everything beyond recognition.
"We can say that the capital is similar to its inhabitants – eclectic, beautiful and careless. He loves to show off, play with new toys and does not care about his shortcomings. Because he lives in the rhythm of constant change," said the elder, Nurai Urazov.
And as such, this seems true to the destiny of this city: to constantly be renamed.