Khujand: the cultural and historical centre of Tajikistan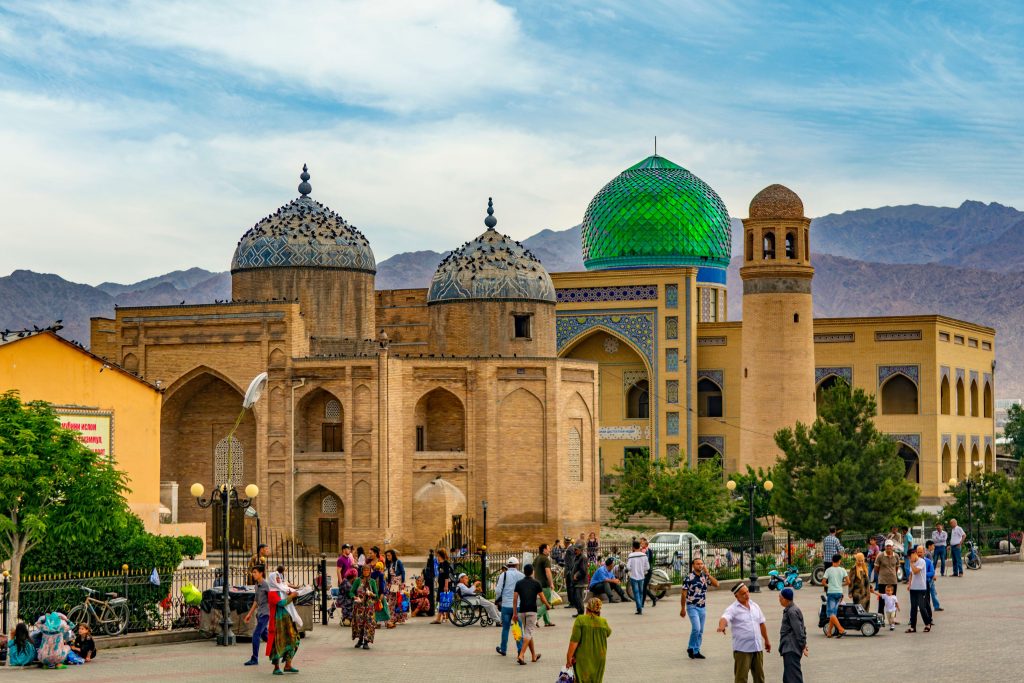 Registan Square, Khujand, Tajikistan (Alamy)
Tajikistan's second city, Khujand, occupies the left bank of the Syr-Darya River and is surrounded by mountains with slopes planted with orchards. Culturally and geographically, Khujand remains a part of the Fergana Valley, which covers Uzbekistan, Kyrgyzstan, and Tajikistan. Khujand is more welcoming and laid back than the capital, this may be due to its geographical location which sheltered it from much of the fighting during the civil war. Today, Khujand is the cultural and scientific centre of Tajikistan and should be the first stop on anyone's trip to the country.
Khujand is one of the oldest cities in Central Asia. Khujand is believed to be the site of Cyropolis, an ancient city founded by Cyrus the Great constructed in 544 BCE, marking the north-eastern border of the Achaemenid Empire. Alexander the great would later include Khujand in his list of conquests in 329 BC, making it the furthest Greek outpost. The city was captured by the Arabs in the 8th century and passed through various caliphates until 1220 when the forces of Genghis Khan overran the city and destroyed it. Khujand's favourable location between Samarkand and Kokand allowed the city to develop into an important centre of trade, industry, and agriculture along the Silk Road. In 1866, Khujand was occupied by the Russian Empire and in 1936, it became part of the Tajik Soviet Socialist Republic and its name changed to Leninabad.
Khujand has a slow pace feel as you head through its suburbs, the low-level buildings feel almost like a collection of villages tied together. These buildings are punctuated with soviet style factories and university buildings until reaching the centre where you will find a real Registan, with a pile-up of shoppers, cars, carts, and traders occupying the space in front of the market hall. Khujand is home to twenty different nations and ethnic groups. It is a perfectly suitable destination for tourists due to the local hospitable people, a large number of parks, gardens, and various landmarks, which have all been recently restored.
How to get there:
The drive to Khujand from Dushanbe boasts incredible scenery and is a real adventure, extra care should be taken during the colder months due to the roads being affected by the adverse weather conditions. Also, on this journey, you will get to experience the notorious tunnel of death.
Khujand is one of the few cities in Tajikistan to still have functioning rail service, albeit infrequent. There is a weekly train to Moscow, which takes just over three days. There are 21 stops in three countries (Uzbekistan, Kazakhstan, and Russia), including a stop in Samarkand. There is also a rail connection between Khujand and Dushanbe.
Khujand's airport is 15km south of the city and can be reached by taking the no.80 minibus from Panjshanbe Bazaar. It offers a surprisingly good range of routes, including three daily flights to Dushanbe, which take 45 minutes and is a safer and more comfortable mode of transportation between the cities compared to the road. There are also direct flights to Moscow, St Petersburg, Sochi, Orenburg, and Yekaterinburg.
Time of year to visit:
Late Spring and early Autumn are the best times to visit as in the height of summer temperatures regularly reach 36°C with temperatures rarely dropping below 21°C at night.
Documents:
62 countries are allowed to enter Tajikistan visa-free including the US and Russia. Holders of passports of 121 countries including all EU countries and the UK can obtain a single or multiple entry e-Visa online for 30 US dollars prior to arrival for a maximum stay of 60 days.
What to do: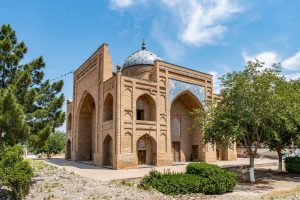 The Masjid Jami Mosque and Sheikh Muslihiddin Mausoleum, located on Registan square, should be the first stop for all tourists visiting Khujand. The Mausoleum was erected on the tomb of Muslihiddin Khujandi. This 12th-century ruler of Khujand was also a poet, scholar, and miracle worker. Originally buried in the suburbs, his remains were moved to a more central location shortly before the Mongol invasion. The mud-brick tomb and its contents were burned by the Mongols and completely destroyed, so the mausoleum you see today dates from two later periods of construction in the 14th and 16th centuries respectively.
The fairly modern Jami Mosque is the city's largest place of worship and cuts a striking figure on the skyline: the intricate portico, tiled minaret and turquoise domes would not look out of place in Bukhara or Samarkand. There is also an attractive 19th-century minaret made of baked-mud bricks which stands at 21m tall, this observation point offers a striking view of the city.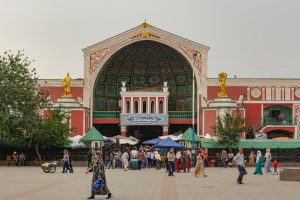 On the other side of Registan square is the Panjshanbe market, the largest in the region. Panjshanbe translates to Thursday, and it is indeed the best day to explore and try out some local cuisine including kurut (yogurt balls) as well as pickled salads, dried fruits and fresh fruits and vegetables. The vast pink edifice with its attractive white plasterwork and central semi-dome looks as if it should be the set for a fairy-tale wedding or an 18th-century royal ball, but it in fact dates from 1964 and has always intended to house market traders and their wares.
Khujand's ancient fortress has been heavily renovated, if not completely rebuilt. It houses an interesting history museum on-site and has a pleasant local park surrounding it. Archaeological excavations on the site have unearthed coins, pottery shards and other items which date the earliest parts of Khujand back to the 4th century BC, these items are now displayed in the museum. The fortress itself was continually rebuilt and expanded for 2,500 years. It reached its greatest extent in the 13th century, with thick clay walls atop an embankment, a water-filled moat, and a city wall encompassing 20 hectares of land, but even then, it was no match for Genghis Khan who completely destroyed the fortress.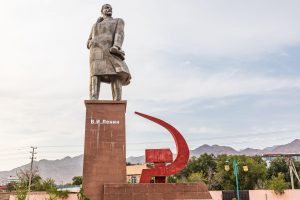 As Khujand was named Leninabad during Soviet times the city was bestowed with the tallest Lenin statue in Central Asia. Khujand's Lenin stands at 22 metres. Unlike other former Soviet countries who removed all traces of statues dedicated to Soviet leaders, Khujand has kept their Lenin and have simply moved him from the city centre to Victory Park on the right bank of the Syr Darya river.
Lenin's former spot has been taken over by a statue of Ismail Somoni, a ruler of the Samanids. Their empire stretched across modern day Iran, Uzbekistan, Turkmenistan, Afghanistan, and Tajikistan. After Tajikistan's independence, Ismail Somoni became one of the country's new national heroes. From Somoni park, you can take a cable car over the Syr Darya river for some beautiful views. This is especially romantic during sunset. The cable car connects Somoni Park with Kamoli Khujandi Park.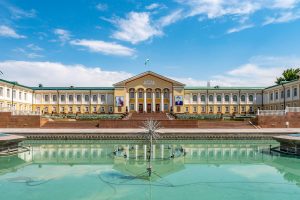 Arbob Palace is a symbolic bridge linking the histories of the Soviet empire and independent Tajikistan. Construction of the palace began in 1950 by Urunkhujaev, the leader of a local collective farm. Urunkhujaev decided to build a Tajik replicate of St Petersburg's Winter Palace. Instead of housing a royal court Khujand's Winter Palace was used as a communal hall for Tajik farmworkers. Inside, classical western architecture blends beautifully with traditional Tajik decorative arts.
The palace is famous for being the location where the declaration of Tajik independence was written, and the flag was decided upon. Some years later it became the site where reconciliation began between the two warring sides in the civil war. Several rooms have displays on the history of Arbob and the larger Soviet period, with a special focus on the tragic period of collectivisation in Tajikistan.