Marina Domracheva: from vaccine developer to orthodontic entrepreneur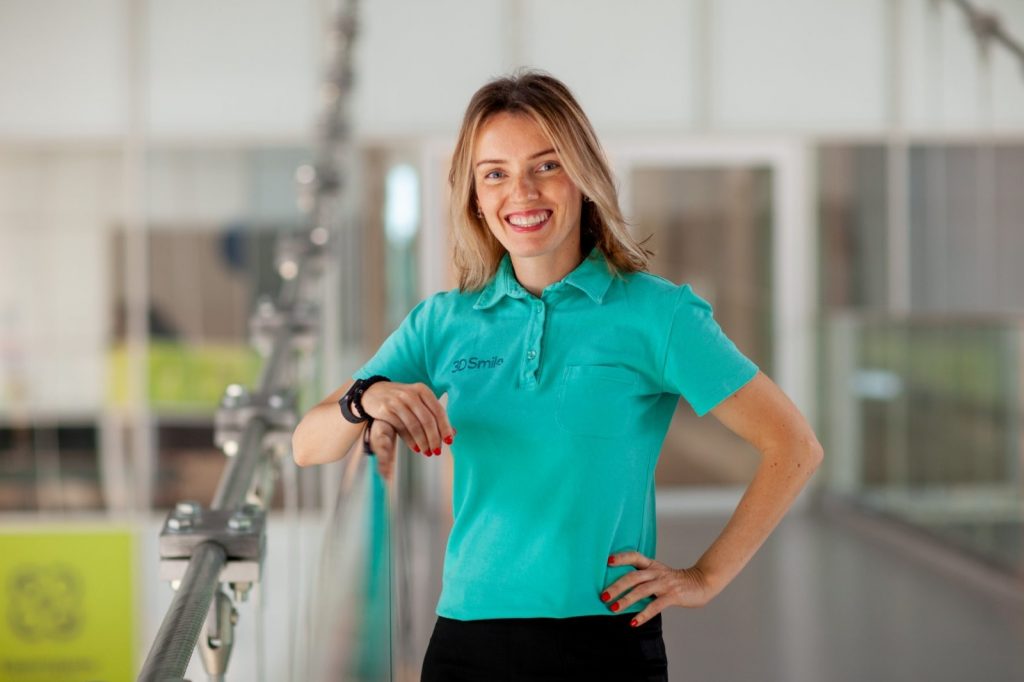 if24.ru
Age: 38
Origin: Zheleznodorozhny, Russia
Based in: New York City, U.S.
Education: Moscow State University
Occupation: CEO and founder 3D Predict
Marina Domracheva was a self-confessed nerd in school. She devoted all her time to studying and from the 7th grade she began to participate in school competitions. After winning awards at an Olympiad, she was selected to attend Kolmogorov boarding school for academically gifted children. She focused on studying chemistry and in a class of 30 she was one of only two girls. She then went on to study medicine at Moscow State University, graduating with honours. After graduation, she worked first as a doctor in a professorial vaccination centre and then later as a medical advisor to a pharmaceutical company.
In 2013, her career changed direction completely during a conversation she had with one of her old classmates who wanted to straighten his teeth with aligners. An alternative to braces, aligners are a transparent mouth guard made of a special orthodontic plastic that is more comfortable and inconspicuous than braces. The classmate told Domracheva his aligners were made by an American company called Align Technology which produced aligners in Mexico using 3D printing technology. The classmate asked her why they did not make such 3D aligners in Russia and Domracheva replied that the only 3D she had seen was at the cinema.
The conversation intrigued her and led her to create her own start-up to produce aligners. Domracheva was inspired by the idea to make the correction of teeth comfortable. She firmly believes that beauty should not require sacrifice. The aligners are invisible, don't induce pain and don't require the complex cleaning that is needed for braces.
Domracheva began researching 3D scanners and printers and reached out to the top 30 orthodontists in Moscow who told her they were mainly used for aesthetics and could move only one tooth. It took Domracheva nine months to research the market, study the science, and write a market plan.
In February 2014 she installed a 3D printer in her mother's apartment in Moscow and her mother was horrified. When the device started up, it shook the floor of the apartment, disturbing the neighbours below. However, it wasn't the printer itself that bothered her mother. She was categorically opposed to her daughter's decision to leave her steady job in science to go into business. She spent 150,000 euros purchasing the equipment to make the aligners. The funding came from a combination of her own savings and contributions from family members. Once she had the equipment, she quit her job and along with an orthodontist and a team of programmers began to make the first aligners, registering her company, then called 3D Smile, in April 2014.
Despite all the equipment, the aligners could not be sold until they were certified by the Federal Service for Surveillance in Healthcare (Roszdravnadzor). To achieve certification, Domracheva turned to Facebook to find people who would take part in the clinical trials for free. By September 2014, 3D Smile started selling aligners. The orthodontist takes impressions of the client's teeth and sends them to 3D Smile, where they create a treatment plan and make the aligners. The client receives a set of 12 aligners for six months (each moves the teeth by a quarter of a millimetre). If the treatment takes longer, the laboratory makes new aligners until the teeth are completely corrected.
In the first four months, the company served only 18 clients. The situation was complicated by the fall of the rouble. Marina understood that she was failing to sell her product because she did not have an experienced salesperson. After finding the right salesperson to convince orthodontists how much more convenient it is to treat patients with aligners rather than with braces, the number of sales increased from 4 to 30-50 per month. All this made it possible to reach a turnover of 14 million roubles in 2015 and make a profit of almost 2 million roubles.
From 2015 to 2016, the company was going through another crisis of a different dimension – growth. Domracheva couldn't keep up with orders and ended up having to work seven days a week. The capacity of the laboratory did not allow the production of so many aligners at once. Domracheva took a loan from Sberbank for five million rubles for the purchase of more equipment and expanded the laboratory by moving to the Skolkovo Innovation Centre.
In 2017, 3D Smile developed AI software that creates 3D anatomical models for computed tomography, which now allows them to tackle complex cases where they can begin to move the roots inside the bone. Domracheva wanted to grow her company with this new technology. Despite 3D Smile being the largest producer of dental aligners in Eastern Europe, she felt that they could no longer expand in the region as the average income is too low to spend money on orthodontic treatment. After attending an international dentistry conference, Domracheva decided that the next step for a company was to go to America.
Her reason for choosing the U.S. was due to their developed culture of teeth alignment. U.S families have more disposable income and are likely to save up for their children to go to the orthodontist to straighten their teeth. Domracheva opened an office and laboratory in New York, as the city had the highest density of orthodontists per capita.
On 24 February 2020, 3D Smile, under the 3D Predict brand, became the first Russian company to receive FDA approval. However, less than a month later, the U.S. was in lockdown and Domracheva feared 3D Predict would fail just as it got started. Despite the lockdown, revenue in 2020 amounted to $ 3.7 million. 3D Predict managed to increase their sales in 2020 compared to 2019. The reason for this uptake in aligners during lockdown is because a patient with braces must go to the orthodontist every four weeks, which is not possible under quarantine conditions. With aligners, patients change them on their own as they already have a six-month ready-made set.
In March 2021, 3D Predict went to Silicon Valley to attract investors. The company received $3.8 million from XTX Ventures, One Way Ventures, as well as private investors. One of the investors, Nikolay Davydov, said his decision to invest in Domracheva's company was because it made a profit without investors and had already received approval from the FDA. Looking back on her entrepreneurial journey, Domracheva admits that had she known she could get investment for her company before it made a profit , she would have come to the U.S. earlier.
Quote: "Science is like a business: you constantly have to work with big data, and you can't do anything without a team."
Sources: roscongress.org, forbes.ru, if24.ru, zen.yandex.ru, incrussia.ru, favot.ru