Migrant labour shortage hurts Central Asia, Russia alike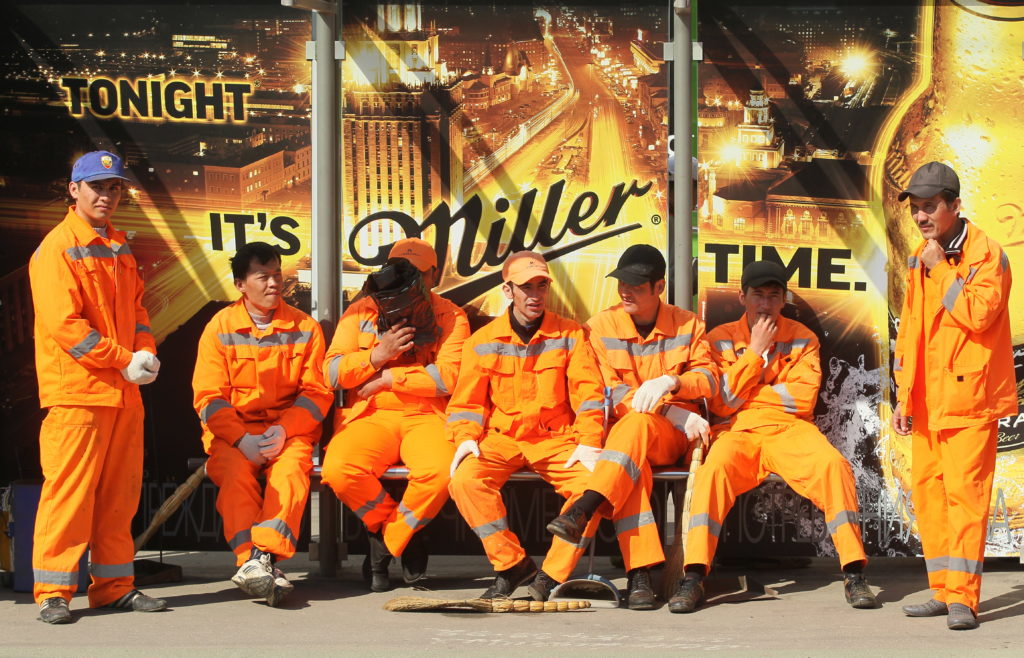 Migrant workers at a Moscow bus stop (EPA)
NAMANGAN/TASHKENT, UZBEKISTAN, WITH REPORTING FROM MOSCOW
By MUHAMMADSHARIF MAMATKULOV
Russia has for years faced an acute shortage of workers. Its economy may be widely stereotyped as creaky or bureaucratic, but certain sectors thrive. Labour-intensive sectors – like construction in major cities like Moscow or St. Petersburg – are alive and humming.
Russian companies have for years relied on migrant workers from typically less affluent ex-Soviet states – Armenia, Uzbekistan, Tajikistan, and Kyrgyzstan. Not only do they need no visa to enter Russia, but almost all of them also speak decent Russian. For Russia, they are a source of lower costs; and for their countries of origin, a vital source of money sent home in the force of remittances.
VIRAL DISRUPTION
It is no surprise that COVID-19 has brought on a crisis in the Russian labour market. Russia's situation regarding the issue is far from good and opaque, but poorer ex-Soviet countries lag behind COVID testing, let alone vaccinations.
This means the "guest workers" cannot freely travel to Russia.
I NEED THEM-CONTRACTOR
But Russian companies do need them.
An apartment construction sub-contractor, 54-year-old Igor Kondratev, is a Moscow transplant from the southern city of Astrakhan.
"Damn disaster", he told The Tribune. "People have no idea how vital these people are to our economy". Restrictions, mostly COVID-related, have gutted his bottom line.
The former hockey player and engineer owns two companies – one installs tiling, ceiling panels, and other touches for buildings close to completion.
Another does brick-and-mortar construction of high-rise residential units for the Russian middle class.
"We had Tajiks, we had Uzbeks, we had Ukrainians," he said, adding an expletive. "They work twice as well. They are hard to replace. Oh yeah, we can replace them, but we might as well go broke", he said.
"So, now we either have to delay things or pay a lot more for Russian workers from outside Moscow. They love their breaks whether it's for tea or vodka. Even if we pay more the work is usually sloppier," he said.
"But we have to deal with that," Kondratev added.
He said the Russian workers on average demand 20-25 percent more for less work and too often show up late or not at all. Or that the increase in prices for labour – or bad tile work for example – often has to be redone. "Basically, it eats up our profits", he said.
TRANSPORT LINKS MINIMAL
Visitors to Russia technically need negative COVID tests on arrival in the country. But some of the countries whose citizens have long been toiling away for years – or part of a year – have either poor or barely functional health care systems at home. Testing is spotty at best, and vaccine strategy far behind.
Transport is also an issue.
Air links to major Russian cities and, for instance, Uzbekistan, by far the largest source of migrant labour, is now highly restricted, and most air routes are to Moscow only. These cities are the most attractive for migrants. Still, the elimination or suspension of rail or bus transit between Central Asia and Russian cities where labour is needed – like Novosibirsk, Khabarovsk, or Ekaterinburg, means far higher prices for a circuitous route via Moscow by air at exponentially higher prices.
RUSSIAN GOVERNMENT ACKNOWLEDGES CRISIS
Official statistics said that as of April 2021, there were 5.5 million, or 42 percent fewer foreigners, mostly guest workers, than a year ago. The construction and agriculture sectors are the major victims of the drop-off.
Chief Kremlin spokesman Dmitry Peskov was blunt about the nature of the problem.
"We have had very few migrants remaining over the past year. And we badly, badly need these migrants to implement our ambitious plans," Peskov told Russian public media outlets.
"We must build more than we are building now. We need to build significantly more. But that requires hands. Their number has dropped due to the pandemic."
Russia's deputy prime minister, Marat Khusnullin, estimated the shortage of migrant workers in construction alone to be up to two million.
"Construction workers' salaries went up by 50 percent … [but] even while paying double it is tough to find people," he said in public media comments. "We believe this is one of the key factors holding back construction development as a whole."
Some high officials have called for an easing of registration procedures for citizens from ex-Soviet republics in Russia.
MIXED SIGNALS DETER WORKERS
A spokeswoman for the Russian agriculture ministry confirmed plans to spend about $2.6 million – largely symbolic for a country of 140 million – to attract labourers for farms.
But at the same time, Moscow has legally made it more ambiguous or difficult for migrant workers.
President Vladimir Putin earlier this year granted a stay of execution for migrants in Russia and made work permits easier to extend – but only by three months. The amnesty is set to expire in June.
Adding to the confusion, a deputy interior minister said in April that Russia had a million "unregistered migrants" who should get out or be deported.
Some analysts see the seemingly uncoordinated policy as deliberate and based on ethno-nationalist perceptions of low-wage workers from other Soviet states and thus an element of geopolitical pressure.
RISING LIVING STANDARDS DETER OTHER LABOUR MIGRANTS
And there are other factors at play. Some long ex-Soviet countries are becoming more affluent as they promote economic reforms designed to attract investments, thus making Russia less attractive as a desperate alternative for migrant workers.
Uzbekistan, for instance – is beginning to take off as it radically liberalises its economy. Uzbekistan's 35 million people make the largest country in Central Asia and the Caucasus from where migrant labour typically comes from – the others are Tajikistan, Kyrgyzstan, and Armenia.  Smaller numbers come from Azerbaijan and some from Georgia – but because Georgians need a visa to enter Russia, many seek seasonal labour in countries like Germany, where nearly 60,000 of them applied for agricultural work for the 2021 season.
But with Uzbekistan having embarked on a radical economic reform effort, moving away from three decades of autarky, there are increasingly attractive opportunities at home, especially given COVID related travel restrictions.
"I have worked in Russia for six years", said a 32-year-old man from the eastern city of Namangan. When home in Uzbekistan, he works as a gipsy cab driver.
"I returned during the pandemic. Now I make enough here for my family and have my own car. I earn less here, but I am not in a hurry to return to Russia. During the quarantine days, it occurred to me that being with your family gives you a different satisfaction," he told The Tribune.
"So, I decided to go to Russia when all the pandemic restrictions are removed," he continued.
Sherali Sotvoldiev, 38, lives in a nearby village. He said much higher transit costs due to COVID-19 made continuing to migrate to Russia less attractive seasonally.
"I was in Russia for ten years as a construction worker. I came home before the pandemic, but now I cannot return to Russia," adding a one-way ticket now costs up to $700 one-way only, whereas it used to take only $150-200 round trip. He added registration labour permits made the return on his investment questionable.
"I would rather buy livestock for that money here to earn a living. I have three children, and one of them will soon be getting married," Sotvoldiev said.
"There are almost 200 men like me in my village alone, who used to earn money in Russia to support their families back at home," he added. Still, given the costs now associated with travel, the value of working part of the year in Russia was questionable.
Ortiqkhoja Norov, Uzbekistan's foreign labour migration agency spokesman, said the government was doing its utmost to help would-be seasonal migrants. Uzbekistan authorities say they estimate 1.5 million of their citizens are working abroad.
"Our agency and the labour ministry, jointly with other government organisations, have carried the largest awareness-raising campaign to explain to Uzbek migrant workers and their families how to work in Russia legally. We conducted house-to-house visits to meet people who want to go to Russia or family members of those already in Russia, telling them they would face no problems if they register there in time. So far, I think, we have covered almost 90 percent of potential labour migrants or their families with this campaign," he told The Tribune.
But he also acknowledged that the drastic cutback in air, train or bus travel was an issue for many.
He also directly addressed the looming June 15 Russian deadline for migrant workers, saying the issue was a source of confusion and that any country has a right to ask foreigners to abide by migration laws.
"It is Russia's internal affair.  And I am sure there is no reason to look for other reasons for it. It is not just now, it has been illegal to work without registration all the time," he added.