Moldova in last-minute race to clinch gas deal with Gazprom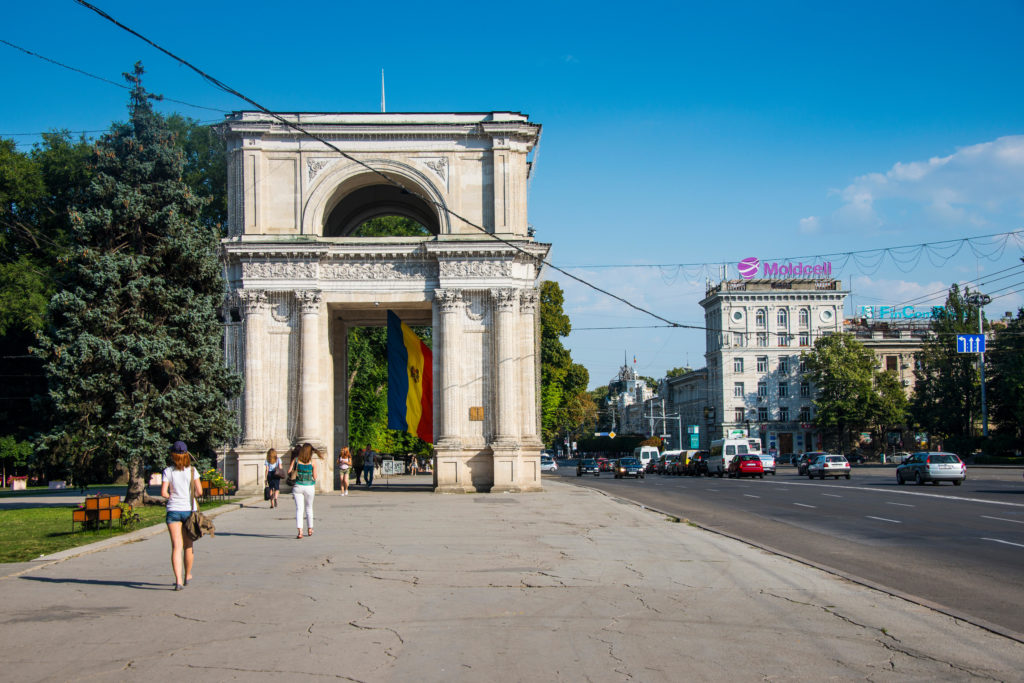 Chisinau, capital of Moldova (Alamy)
CHISINAU
By Dmitry Chubashenko
Moldova's pro-Western government is engaged in a feverish last-minute bid to clinch a deal to ensure gas supplies over the winter less than two weeks before its contract with Russian giant Gazprom expires.
As the 1st November deadline looms – and with sub-zero temperatures weeks, maybe days, away – ex-Soviet Moldova, one of Europe's poorest countries in per capita terms, is pressing for a renewal of that deal while pursuing any one of a number of alternative avenues to secure supplies – the European Union, Ukraine, Romania, Poland, Turkey and anyone else willing to talk.
Talks have moved rapidly out of the realm of commercial discussions into meetings between senior political figures – two Moldovan deputy prime ministers were flying to Moscow this week after Russia's point man on Moldova, Dmitry Kozak, was unable to arrange a meeting in Chisinau with President Maia Sandu.
And the issue of gas – and keeping Moldova from freezing over – could well spill over into the country's unresolved 30-year-old separatist conflict in Transnistria. The rebel region uses gas passing through Moldova, has run up a huge energy debt with Moscow and is the site of the thermal station producing the entire country's electricity. And one of the two deputy premiers headed for Moscow, Vlad Kulminsky, is directly responsible for efforts to settle the "frozen conflict" which bedevils the country.
As ministers work out a commercial deal, analysts and industry experts urge the pro-Western government in place since late last year not to bow to Russian "energy blackmail". The speculation is that Russia will try to extract political concessions from Sandu, who defeated her Russia-friendly opponent in last year's presidential election and has spent her first months in office securing European Union support for a campaign to uproot corruption. Her position was bolstered by the victory in July's snap election of the pro-European party she led before coming to power.
The government in neighbouring Ukraine has also expressed deep mistrust of Russia's intentions when clinching gas deals – and accused Moscow of preparing to use the newly completed "Nord Stream 2" undersea Baltic gas supply route to Europe as an "energy weapon" to be turned on Kyiv, particularly after contracts to route gas through the Ukraine pipeline system end in 2024.
STATE OF ALARM, SPECIAL MEASURES
"We are in talks with Gazprom and are also seeing alternative solutions," said Prime Minister Natalia Gavrilita who, like Sandu, studied at Harvard. "Moldova will get natural gas – the big question is what the price will be."
The government has declared a "state of alarm" with powers to conserve energy, close schools and direct supplies to hospitals and other institutions as ministers scramble to find a solution. Officials have urged consumers to turn down the heating in homes and make other efforts to conserve power.
Moldova's gas market underwent liberalisation in 2015, but remains controlled by monopolist Moldovagaz – Gazprom holds 50 percent plus one share of the company, with 35 percent held by the Moldovan government and more than 13 percent held by authorities in Transdnistria, a mainly Russian-speaking region which broke away from Moldova at the end of the Soviet era. Thirty years after a brief war between newly-independent Moldova and the separatists, the region is quiet, but operates under considerable Russian influence.
Transnistria has handed control over its share of Moldovagaz to Gazprom.
The principal concern of Moldova's negotiators seeking a new three-year supply deal is the skyrocketing price of gas on European markets. But unlike with most of its Western partners, Gazprom appears to prefer short-term contracts with Moldova.
The Gazprom contract ran out in September but was extended this week until November to allow for negotiation of a longer-term deal. That contract provided for links in the first and fourth quarters with the price of oil – with prices in the second and third quarters linked to market rates. Moldova paid $127 per 1,000 cubic metres at the beginning of the year – but the price leapt to $440 in August and now stands at $790. Prices for domestic consumers stand at about $250 and Moldovagaz must submit requests to increase that price.
Vadim Ceban, the head of Moldovagaz, said the issue of ensuring sufficient gas volumes to Moldova was even thornier than the price in view of Moldova's longstanding debts to Gazprom which stand at about $450 million as well as calls by the European Union that Moldova ensures a formal separation between its supplier of gas and the body distributing it. As matters stand, Gazprom both supplies the gas and distributes it through the network of its affiliate, Moldovagaz.
"We cannot confine our talks to price. The problem lies with ensuring the volumes we need," Ceban said. "We are seeing big shortages of gas in Europe. And the only supplier that can cover them is Gazprom. The big dispute is focused on volumes."
Gazprom annually supplies about 3 billion cubic metres of gas to Moldova – with about two billion destined for Transnistria, outside the Moldova government's control and where gas tariffs are considerably lower than in the rest of the country. And the gas is used to run Moldova's thermal power plant, which supplies electricity for the entire country. Moldovan negotiators hope to keep to the pricing conditions and links of the previous contract and to secure additional supplies for October.
THE ISSUE OF SEPARATIST TRANSNISTRIA
But Transdnistria has failed to pay for gas supplied by Moldovagaz and has run up debts of about $7 billion, though Russia has for the moment not demanded payment.
"This is the mechanism allowing Moscow to finance this unconstitutional regime," said Sergiu Tofilat, an energy expert and former adviser to Sandu.
Decisions on gas supply and pricing, he said, "are being taken not by Gazprom but in the Kremlin and depend on geopolitical interests. There were elections in Moldova, the pro-Russian party lost and a pro-European is in power that will not be a Russian vassal. It is clear that the Kremlin wants to punish those moving along the democratic path and not a totalitarian country where the Kremlin dictates everything."
About 40 non-government organisations within the EU's Eastern Partnership Civil Society Forum issued a statement urging the government not to "agree to any political conditions from the Russian side. And if no agreement can be reached, to seek alternative sources on world markets. Even if that is more expensive, the prize of political conditions…may be incalculably higher than prices on world markets".
The former head of the Moldovan energy regulatory body, Victor Parlicov told the Moscow daily Kommersant that Moldovans had a right to know where they stood both with energy supplies and any political issues intertwined with them.
"But no one is saying just what the political price might be. Neither Russia nor Moldova," the newspaper quoted him as saying. "I think we are probably going to be paying a high price for gas. But it would be interesting to know exactly what that price will be and our society has a right to know. If we refuse to accept some sort of conditions, we should at least know what those conditions are."