Moldova pays Gazprom bill with mere hours to spare, staves off gas shutdown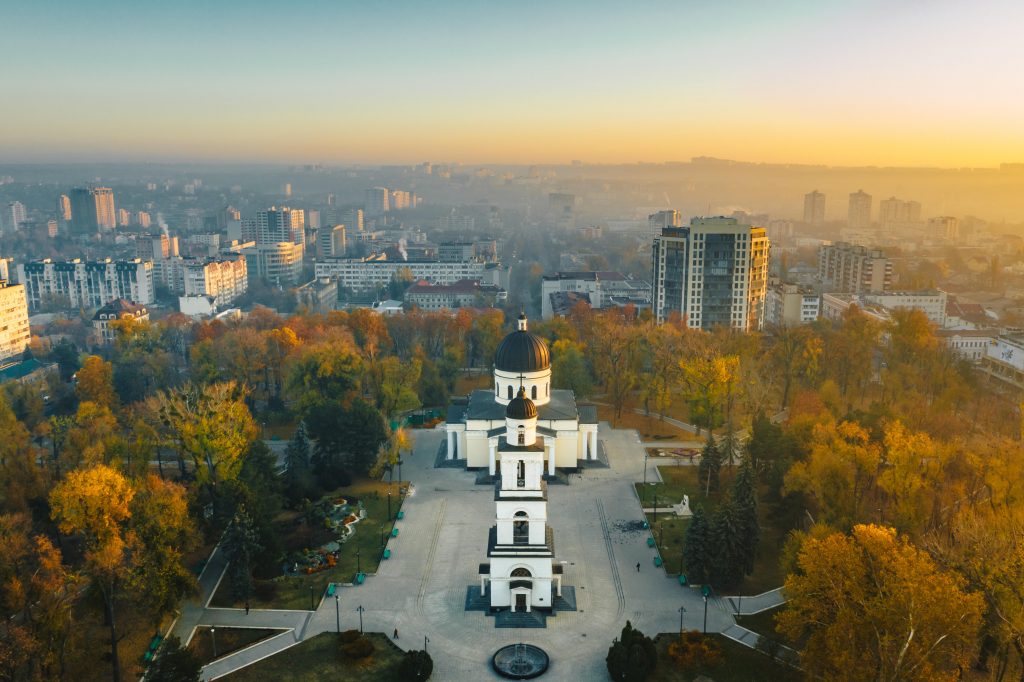 Aerial view of Chisinau, capital of Moldova (Alamy)
CHISINAU
By Dmitry Chubashenko
Moldova marshalled public funds to settle a $64-million bill with Russian giant Gazprom with only hours to go before a threatened shutdown of gas supplies, producing relief through the ex-Soviet state, tempered by the realisation that the scenario could be repeated in a month's time.
As the clock ticked down to the midnight deadline, parliament declared a state of emergency in the energy sector and officials in the government under pro-European President Maia Sandu scrambled to find $25 million needed to make the payment.
Sandu was elected a little over a year ago and has spent much of her time in office appealing for help and support from the European Union – the 27-nation bloc has committed large sums of development money to one of Europe's poorest countries, including a 60 million euro grant to ease difficulties in negotiating terms with Gazprom.
But the EU, naturally, cannot meet Moldova's bills to keep its 2.5 million people warm.
In the end, the payment was met when the government's State of Emergency Commission ordered the Ministry of Labour and Social Security to turn over to gas utility Moldovagaz $26 million originally intended to subsidise consumers' gas bills.
Gas debt a commercial issue, or political?
Moldovagaz head Vadim Ceban said the issue was purely a commercial one – requiring a commercial solution, meaning imposing timely price increases on consumers.
Many analysts have suggested that Gazprom's hardball approach in negotiations reflected a Russian drive to bring Sandu's administration into line. And officials, not just Sandu's rivals, said the deal was only a temporary reprieve.
"This is essentially a temporary credit solution," said Bogdan Tirdea of the opposition bloc of Socialists and Communists. "It just means that in a month's time we will have another crisis. Our citizens simply cannot pay these bills."
Alexander Muravschi, a former economy minister, said the essence of the problem was that increases in gas prices paid by consumers did not nearly keep pace with the sharp rises in the market prices in Moldova and across Europe.
"The measures taken simply mean that on 20th February we will find ourselves in the same situation," he said. "For every increase in the purchase price of gas for Moldova, the corresponding increase in pieces paid for domestic consumption don't come into effect for at least a month."
Oazu Nantoi, a member of parliament from Sandu's Party of Action and Solidarity (PAS), saw the hand of Moscow behind the recurrent payment problems as well as the gas giant's bid to secure approval from German regulators for the lucrative Nord Stream 2 pipeline taking Russian gas under the Baltic Sea to Germany.
"Gazprom is trying to provoke an economic crisis and destabilise the political situation in Moldova," Nantoi said. "And we end up being a collateral victim."
Ukraine has also complained that Moscow intends to use gas as a political lever, particularly once Nord Stream 2 is approved and goes into operation.
Under the terms of a contract signed in November after intense negotiations, Moldovagaz must pay its bill by the 20th of the month for supplies received the previous month as well as an advance payment for the first half of the current month. As the deadline approached, Gazprom warned that supplies would be reduced to zero unless payment in full was made.
It was the third time in four months that Moldova faced the threat of a gas cut-off.
Similar warnings had been issued on 1st October as a new contract remained unsigned and 1st November for payment arrears of $74 million, also resolved by government intervention. A contract was clinched in November – as gas prices rose to $430 per 1,000 cubic metres from $127 at the beginning of the year. Current prices stand at $647.
Paying for supplies – and arrears
To compound matters for the government, Gazprom demanded immediate payment of long-term back debt for gas supplies. Gazprom estimated the debt at $433 million – or $709 million including late-payment penalties. The Chisinau government agreed to pay off the debt over five years once an international audit of the Moldovan company is completed by 1st May.
Gazprom issued a second ultimatum in November linked to Moldova's ability to pay for supplies for October and the first half of November. Amendments to the state budget bill were rushed through parliament in order to ensure funds were allocated to meet the $74 million bill.
Gazprom holds 50 percent plus one share of Moldovagaz, the Moldovan government holds 35 percent and 13 percent belongs to Moldova's separatist Transnistria region – though authorities there have ceded their portion to Gazprom.
Transnistria, closely linked to Russia since breaking away from Moldova in the 1990s, receives about two-thirds of the gas supplied by Russia and has debts of its own of about $7 billion – which Gazprom has declined to collect. Transnistria, where 2,000 Russian "peacekeepers" are still stationed, is also the site of the power station that generates electricity for the entire country.
Sergiu Tofilat, a former adviser to Sandu, said the fact that Gazprom as insisting on settlement of Moldova's debts while doing nothing to seek payment of Transnistria's arrears of 30 years' standing was ample proof that the recurrent problem of Moldovan payments was far more than a "purely commercial relationship".