Moldovan President faces steep hurdles after election win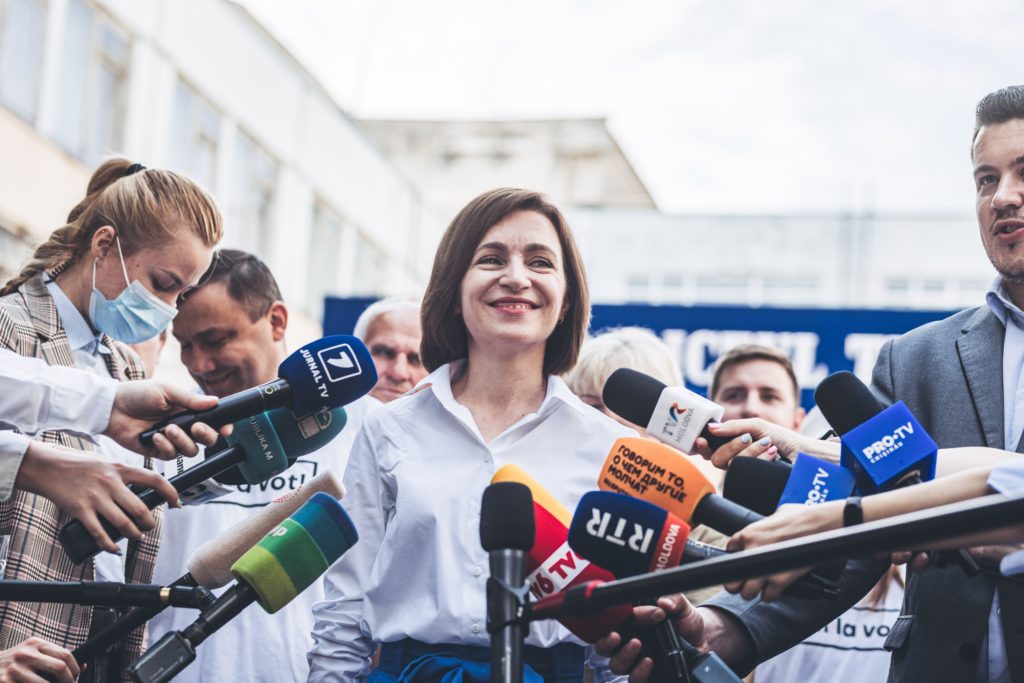 Alamy
CHISINAU
The President of Moldova, Maia Sandu, scored an overwhelming victory in parliamentary elections. Her Party of Action and Solidarity, which proclaims itself as pro-European, easily outpaced a bloc of pro-Moscow Socialists and Communists led by former President Igor Dodon.
With almost all votes counted, Sandu's party seemed on track to get 63 seats in the 101-member parliament, thus controlling the body and still holding the less powerful post of President.
Moldovan politics are notoriously murky. Backroom deals are the norm. Sandu, less seen as inclined to compromise, will need to balance various interests, even among those who claim to support her pro-Western line.
CAMPAIGN BASED ON ANTI-CORRUPTION
Moldova, home to an estimated 1.5 to 1.8 million people, has long been regarded as a well-oiled machine for corruption, money laundering, and the trafficking of women to neighbouring countries in Europe as prostitutes – often under the pretence of guest workers – cleaners, cooks, or nannies.
Enterprising businesses in the centre of the capital tout promises for "work abroad". Would-be labourers, however, have frequently reported abuse by employers once they arrive to serve out their "contracts" in Europe or elsewhere, in some cases of having their passports confiscated or being forced into sex work.
Sandu vows to change the country's tawdry reputation and its image as a safe haven for corruption and vice.
"Corruption can be stopped if this is dealt with not just by the president's administration but also parliament and the government," she said during the campaign. "Much has been done to start changing things. We now have the chance to finish the job."
The former Education Minister was once a World Bank advisor. She did graduate work at Harvard.
She made news in 2019 by pushing for the United States to put former de facto ruler and "democratic party" leader Vlad Plahotniuc, a billionaire accused of large-scale fraud, on a list of individuals sanctioned for financial and other crimes.
Plahotniuc fled Moldova that year. He has been known to travel under various aliases and passports, and his whereabouts are currently unknown.
WORK CUT OUT FOR HER
Sandu called the snap elections after complaining of repeatedly having her agenda blocked by parliament, which until now had been in the hands of Dodon and his Socialist party.
But even given her seemingly massive mandate, Ms Sandu certainly has her hands full. The country has lost about half of its population to out-migration since independence in 1991. The government lists 2.6 million residents, but even that figure does not include at least a million people who now work in Russia, Romania or other EU member countries – legally or not.
According to official statistics, Moldova is also, in per capita terms, the poorest country in Europe.
It is hard to determine actual living standards as experts say perhaps half the workforce – or what remains of it – works in the "shadow economy" – which of course cannot be adequately quantified.
Moldova is also the only predominantly rural country in all of Europe.
This quality could eventually prove promising, as its temperate climate and verdant landscape of rolling hills can produce a wide range of crops – wheat, corn, fruits, and grapes among them. It has long been a producer of bottom-shelf but high-demand wine, most exported to Russia.
But the country has few other resources and grapples with a post-Soviet identity crisis. While the national language is Romanian, perhaps half of the people speak Russian as their native tongue, and most people speak both languages.
In the early 1990s, a serious movement advocated union with Romania, but that sentiment has since faded, though most voters polled say they support integration with the EU.
HUGE EU FINANCIAL SUPPORT
President Sandu evidently has impressed enough decision-makers in Brussels to secure a huge aid package for a country with such a small population.
The EU put together a three-year aid package in June worth 600 million Euros ($733 million), which is conditioned on judicial and administrative reforms.
"The EU's Economic Recovery Plan constitutes an unprecedented effort to help the country on its path to recovery and drive an ambitious reform agenda forward, in the interest of its citizens. Ultimately, this plan illustrates the strength of our association and solidarity to fight together with the COVID-19 pandemic," said European Commission President Ursula von der Leyen.
Sandu touted the EU support in the election run-up.
"Moldova is the only country in the Eastern Partnership to have been granted a three-year 600 million Euro economic recovery plan," she said before the election. Now we need a clean parliament to support a responsible government which can spend this money the right way – on its citizens."
UNRESOLVED CONFLICT
Sandu's now near-total control will also face a long-running dispute over the status of the breakaway "Transdnistra" statelet in the country's east. The sliver of land is predominantly Russian speaking.
A brief war there in 1992 killed several hundred people in just a few weeks.
Though the de facto authorities formally claim to be independent, the conflict lacks the tensions of other separatist issues in the former Soviet Union – like Georgia's Abkhazia or South Ossetia or the conflict between Chechen separatists and Russia in the 1990s.
The territory is home to an estimated 150,000 people. Yet, movement back and forth across the "administrative border" is largely uninhibited. There has been no violence since the 1992 events.
The breakaway region is even part of Moldova's Deep and Comprehensive Free Trade Agreement with the EU.
Russian peacekeepers patrol the area, but the Kremlin has refused to withdraw other military units, which are not part of the peacekeeping arrangement despite a 1999 agreement in which it vowed to do so.
The state of limbo keeps Moldova in a state of low-level tension, despite the absence of violence.
In the past century and a half, most of present-day Moldova was alternately part of the Russian Empire or "Greater Romania" — it became part of the Soviet Union in 1940 when Stalin demanded Romania hand it back as part of the carve-up of Eastern Europe under the Nazi-Soviet pact.