Moldovan president seeks assembly election win to press anti-corruption drive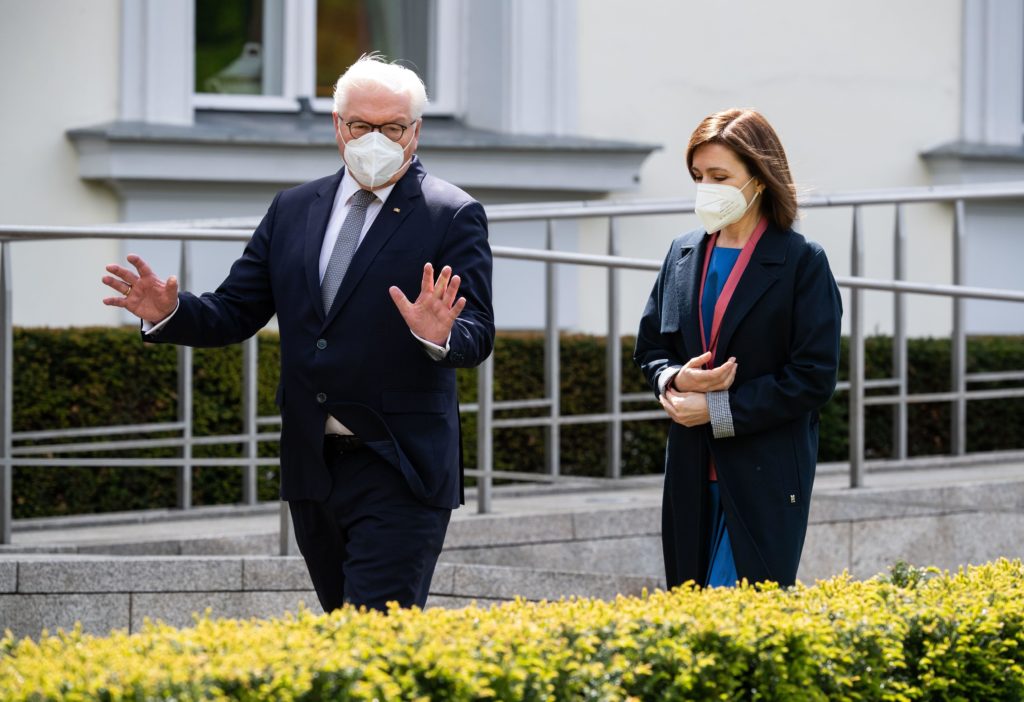 Federal President Frank-Walter Steinmeier and Moldovan President Maia Sandu (Alamy)
CHISINAU
Moldovan President Maia Sandu, the darling of Western European leaders for her pro-Western views, is hoping to fill the ex-Soviet state's parliament with her allies in this weekend's election to allow her to proceed unimpeded with a drive to uproot corruption and anchor her country in Europe's orbit.
Havard-educated Sandu won last year's presidential election by a landslide against Socialist Igor Dodon – widely viewed as Russia's man in the country sandwiched between Ukraine and Romania and in the last century torn in its cultural and political allegiance between Moscow and Bucharest.
She has spent the first few months of her mandate locked in conflict with Dodon, whose allies control the 101-member assembly.
A poll published in the final days of the campaign in Moldova – one of Europe's poorest countries – put the Party of Action and Solidarity Sandu used to lead well ahead with 43 percent support to 32 percent for Dodon's Socialists. A conservative party, led by fugitive businessman Ilan Sor, convicted of involvement in a vast bank fraud – may also clear the six percent required to enter parliament.
BIG SUPPORT FROM THE EU
Sandu embarked on a series of trips to European capitals in the aftermath of her election victory. And she told voters during the campaign that her efforts on these networking junkets had paid off handsomely with a big EU assistance programme as part of the bloc's Eastern Partnership scheme.
"Moldova is the only country in the Eastern Partnership to have been granted a three-year 600 million euro economic recovery plan," she said in an interview with the popular newsmakers.md website. "Now we need a clean parliament to support a responsible government which can spend this money the right way – on its citizens."
Her top priorities, she said, remained tackling the COVID, which has put the country's patchy health care system under severe strain, and overturning a culture of corruption.
"Corruption can be stopped if this is dealt with not just by the president's administration but also parliament and the government," she said. "In six months, much has been done to start changing things. We now have the chance to finish the job."
The EU programme is indeed outsize — even vast — for a country of Moldova's size and a population of no more than 1.8 million, with a million or so now outside the country trying to earn a living wage.
As a former senior World Bank advisor, Sandu's pro-Western credentials rarely come under scrutiny.
But as prime minister for six months in 2019, she worked together with Dodon to oust from power the "Democratic Party" of Vlad Plahotniuc, an oligarch accused of large-scale fraud. Dodon then managed to remove Sandu as prime minister before she turned the tables in last November's presidential election.
Sandu had sought a parliamentary election immediately after her election last year. It eventually went ahead after months of resistance from Dodon's Socialists, who twice rejected her proposed prime minister and then blocked the poll for a time by having parliament declare a state of emergency over the COVID.
SOCIALISTS WARN AGAINST ALIGNMENT WITH THE WEST
Dodon, a frequent visitor to Moscow while in office, tells voters Western countries are exploiting Sandu to press for a foreign policy to mirror Romania's or Ukraine's – meaning unfriendly to Moscow.
"Only Moldova, due to the fact that we held a more balanced position, does not fit," Dodon told Russia's Sputnik news agency. "Therefore, there is a task to create a parliamentary majority in Moldova which will strictly follow the instructions of the West in its geopolitical struggle against Russia."
Dodon frequently alleges that Sandu's policies could trigger conflict – an ominous reference to a brief 1992 war pitting newly independent Moldova's army against hardline Russian-speakers who proclaimed a "Transdnistria" statelet in the country's east.
The enclave remains, overseen by Russian "peacekeepers" despite a 1999 agreement requiring them to leave, but the tension is low and violence virtually absent. And Dodon's warnings appear to be heeded less and less by voters.
Most of present-day Moldova was, in the past century and a half, alternately part of the Russian Empire or "Greater Romania" — it became part of the Soviet Union in 1940, when Stalin demanded Romania hand it back as part of the carve-up of Eastern Europe under the Nazi-Soviet pact.
Thirty years after independence from Soviet rule, Romanian is the country's sole official language and Russian one of several official minority languages – many Moldovans speak both with equal fluency. And the influence from the two larger countries remains apparent.
This week's poll shows that Moldovans remain preoccupied with poverty, high prices, their children's future and corruption – rather than politics or geopolitical issues.
But the survey did reflect broad support of Sandu's policy choices – with 56 percent of respondents saying they would vote in favour of joining the EU if a referendum were held and 28 percent favouring the Russian-led Eurasian Economic Union of ex-Soviet states. The notion of merging with Romania – an idea popular at the time of the Soviet collapse – now has far less than majority support.
But the votes of those million Moldovans living outside the country – in Russia or in western Europe — could play a key role in the election outcome.
Election authorities agreed under duress to increase the number of polling stations abroad to 190 (from 139) to accommodate large numbers of voters – more than 100,000 have already registered and more than 92 percent of those who voted in last November's presidential poll backed Sandu.
Long queues of frustrated voters formed outside polling stations, unable to vote because of the crowds and insufficient numbers of ballots.