Moldovans fear Ukraine war will engulf their country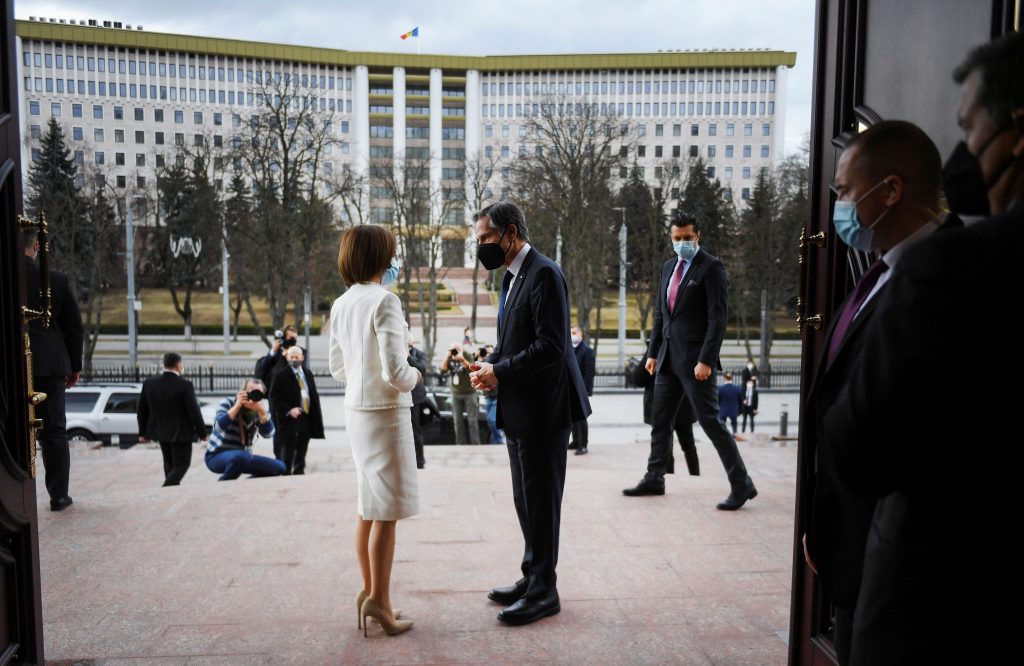 Moldovan President Maia Sandu speaks with U.S. Secretary of State Antony Blinken in Chisinau on 6th March (Alamy)
By Dmitry Chubashenko
CHISINAU
Moldovan President Maia Sandu changed the cover photo of her Facebook page to a graphic of flowers and a heart featuring the slogan "Moldova is for peace".
That sentiment sums up the general unease in the small nation of 2.5 million sandwiched between Ukraine and Romania – the frightening possibility that the war pitting Ukraine against Russian invaders could spread over the border and engulf it.
Many feel the country has virtually no influence over events – particularly linked to Transnistria, a sliver of the Moldovan territory on the banks of the Dnestr River held by Russian-backed separatists since the 1990s.
And mysterious events in Transnistria have already ushered in a sense of foreboding – explosions that no one has fully explained hit the state security service and two radio towers –a mere 60 km from Chisinau.
No one claimed responsibility.
Transnistria blamed Ukraine. Ukraine blamed Russia. Russia deplored "attempts to drag Transnistria into what is happening in Ukraine".
Moldova accused the enclave's "party of war" of trying to sow destabilisation. It tightened security and braced itself.
"No one can feel safe in our region after war broke out in Ukraine," the pro-Western Sandu, who previously worked for the World Bank and has promoted closer integration with the European Union, told a television interviewer. "There are risks and that is reality."
From the very outset of Russia's incursion into Ukraine, commentators said Transnistria, home to 350,000 residents and the site of a depot housing 20,000 tonnes of munitions, one of Europe's largest, could well serve as a theatre for opening "a second front" in Russia's onslaught.
Moldova itself has been bounced back and forth by changing borders in eastern Europe for over a century and a half, becoming, in turn, a part of the Russian empire, Greater Romania and the Soviet Union before securing independence with the end of Soviet rule. Most of its residents are fluent in both Russian and Romanian.
Separatists seized control of Transnistria as the Soviet Union lurched towards collapse and a brief war ensued with newly independent Moldova in which hundreds died. Talks on a settlement have since achieved nothing and 1,500 Russian "peacekeepers" remain installed in the enclave.
The enclave, bolstered by Russia's military presence and considerable financial help, has its own state institutions, army and currency and most residents have Moldovan passports offering free access to much of Europe. The area has been largely quiet for 30 years.
Russia raises the stakes
But the stakes were abruptly raised last week when the deputy commander of Russia's Central Military District, Gen. Rustam Minnekayev, said one of the aims of Russia's campaign, now refocused on Donbas, was to establish full control over that eastern region and Ukraine's south "with access to Transnistria". That would cut off Ukraine's access to the Black Sea.
As if on cue, it was immediately afterwards that the dubious explosions occurred in and around Tiraspol, the "capital" of the breakaway territory.
Sandu, who after some hesitation, joined some Western financial sanctions against Russia, was diplomatic. She said it was clear Ukraine did not want the war extended to Moldova and repeated longstanding calls for Russian troops still in Moldova to leave.
"According to our analysis there is no immediate risk, at the very least to our citizens on (this) side of the Dnestr river," she said. "And I hope that on the other side, no attempts will be undertaken to place the lives of our citizens at risk."
Moldova's point man for relations with Transnistria, Deputy Prime Minister Oleg Serebrian, met Transnistrian officials this week and concluded that despite "panic" inside the enclave "there is no risk that these tensions, while not negligible, will turn into a military conflict".
Military and political analysts were not so sure.
Some commentators suggested that Russian forces could attempt to advance from Ukraine's southern Kherson region – now largely under their control – through Mykolaiv and Odesa regions all the way to Transnistria.
Defending Moldova or uniting with Romania
"Russia may intend to involve Transnistria in the war in Ukraine to utilise Transnistria's (limited) reserve forces or to launch attacks and shell Ukraine from the Transnistrian territory," wrote the Institute for the Study of War, a U.S.-based think tank.
"The Kremlin may alternatively seek to destabilise Moldova itself to raise tensions in Moldova and neighbouring Romania and put additional pressure on NATO, possibly seeking to reduce Western military support to Ukraine either by diverting NATO forces to Romania or threatening a wider escalation."
Moldovan analysts were under no illusion that its small army with limited capabilities could mount a resistance in the way that Ukraine's military has inflicted losses on Russian invaders. But there is nonetheless a consensus that as an independent country it had to defend itself.
"If we want to have an independent state and integrate with European Union, we have to send a very clear message," said Igor Botan, Director of the Adept association civil society group. "Although we run the risk of being crushed, at the very least we must show that we intend to defend ourselves, that we have been attacked and want to restore our sovereignty and territorial integrity."
Former Prime Minister Iurie Leanca saw a different option if Moldova came under attack – reviving the idea of reuniting with Romania, now a member of both NATO and the EU. This was a popular notion at the end of the Soviet era and is now gaining traction again after being long abandoned by most political leaders. Most Romanian politicians have also abandoned the idea.
"If the Russians advance on Tiraspol, it will be the end for the Republic of Moldova if Bucharest and Chisinau do not take action to implement a specific scenario which, to my mind, can only be unification," Leanca said. "From the moment Romania takes such a step, we immediately come under the security umbrella of NATO and the EU."
For Western diplomats, after weeks of displays of considerable resolve in imposing tough sanctions on Moscow following the invasion of Ukraine, the notion of unrest spreading to Moldova is most unwelcome.
"Destabilising incidents and actions in Moldova's Transnistria region are detrimental to the country's security and stability," the EU's foreign policy chief, Josep Borrell, tweeted.
U.S. Secretary of State Antony Blinken said a priority task was to offer help in dealing with a huge influx of refugees – Moldova has hosted some 430,000 of the more than 5 million that have left the country,  the highest proportionate wave among Ukraine's neighbours.
"They have already taken in a lot of people, it's a small country…," Blinken told the U.S. Senate. "We need to be looking at these countries (Moldova and Georgia) that are at risk, and in between again we see in Moldova some things happening in Transnistria, that we all are looking very carefully as well."