Moldova's prosecutor general removed, President Sandu intensifies campaign against corruption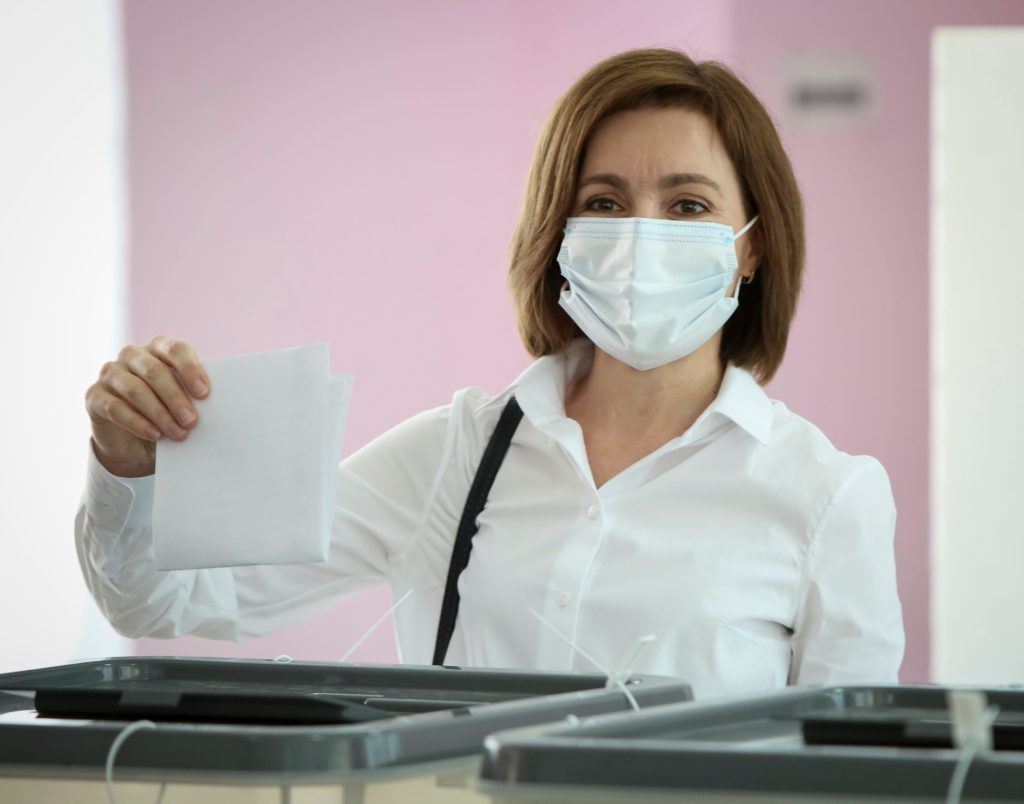 Moldovan President Maia Sandu votes in July's snap (Alamy)
CHISINAU
Moldova's prosecutor general was removed from office as the campaign against corruption proclaimed by pro-European President Maia Sandu since her election nearly a year ago moved into high gear.
Alexander Stoianoglo was detained for three days on allegations of abuse of office, exceeding official duties, corruption, and making false statements before being released and made subject to house arrest. One of his deputies was subsequently detained for "illegal enrichment". A second deputy prosecutor resigned, saying action against Stoianoglo amounted to "lawlessness with regard to people and a departure from the foundations of law".
Stoianoglo, appointed by Sandu's Moscow-friendly predecessor Igor Dodon, proclaimed his innocence and said the sole aim of the case was to remove him and allow the president's administration to take control of the prosecutor's office.
"After two years, we are returning to a captured state," he told reporters.
That was a reference to the situation in Moldova for several years up until 2019, when virtually all areas of public life and economic activity were under the control of Vladimir Plahotniuc, a business magnate or "oligarch" who has since fled Moldova and whose whereabouts are unknown. The most notorious occurrence of this period was the disappearance of $1 billion from the Moldova banking system in 2014 – the equivalent at that time of 15 percent of gross domestic product. Also alleged to be a party to the scheme was banker Ilan Shorr, who remains a member of parliament but lives outside the country.
PROSECUTOR TOOK NO ACTION, SANDU SAYS
Sandu rejected any suggestion of a vendetta against the top prosecutor, saying the decision to remove him was taken by an independent body, the Superior Council of Prosecutors. She had long accused the prosecutor general of doing nothing to root out corruption in Moldova, Europe's poorest country in per capita terms. Officials from the Party of Action and Solidarity (PAS) – led by Sandu before her landslide election last year – had pressed Stoianoglo to resign voluntarily, but he refused, saying there were no legal or moral grounds for him to leave office.
Supporters of the sacked prosecutor have vowed to stage protests. Former President Dodon demanded fresh parliamentary and presidential elections.
Moldova, wedged between Ukraine and Romania, has long been regarded as a watchword for corruption, money laundering, and the trafficking of women to neighbouring countries in Europe as prostitutes and Sandu, previously an advisor at the World Bank, has proclaimed a relentless campaign against corrupt practices as the key plank of her administration's activity.
Months after taking office, she won a long legal and procedural battle with Dodon's Socialists and her PAS allies won a snap parliamentary election, giving her free rein in the assembly to move forward with reforms.
WESTERN BACKING
From the very outset, the new administration has enjoyed unprecedented approval in the West. The European Union has undertaken a 600 million euro ($710 million) aid plan — a vast sum for a country with a population estimated at 1.8 million.
Sandu has enlisted Western support during a series of trips to European Union capitals and, last month, in her address to the U.N. General Assembly.
"In the recent past, corruption transformed Moldova into a captured state. Corruption became a threat to democracy and to our national security. Crooks used us as a transit country to launder money through our institutions before depositing them abroad," she told the U.N. body.
"We have managed to overthrow these corrupt regimes, and now, our main task is to strengthen our justice and law enforcement systems. We are committed to doing so, but fixing one end of the problem does not make the problem disappear. A system in which criminals extract wealth and assets from countries with weak institutions, store this capital in offshores. and then find a safe haven in other countries is both unsustainable and unfair. Designing international rules for asset recovery could bring more fairness to the global stage and do justice to weaker states."
Plahotniuc has been named in the Pandora Papers leak of offshore assets as the beneficiary of an offshore trust registered in New Zealand and used to funnel at least $180 million to accounts belonging to his family and his businesses operating in Moldova and in Western Europe.
While prime minister in 2019 under Dodon, Sandu's efforts culminated in Plahotniuc's Democratic Party being removed from the party. Plathotniuc was placed on a U.S. list of individuals subject to sanctions.
Moldova was also in the grip of a second scandal known as the "Russian laundromat", a scheme that allegedly allowed for the transfer from Russia to European banks via Moldova of some $20 billion. Banker Veaceslav Platon was alleged to be the main figure behind the scheme and both he and Plahotniuc faced fraud charges of fraudulent financial transactions in Russia.
Platon was acquitted on other charges in Moldova and released. Both he and Plahotniuc left the country.
Moldova's Prime Minister, Natalia Gavrilita, who like Sandu studied at Harvard, pleaded with EU leaders for help in establishing confidence in Moldova's democratic institutions by tracking down fugitives alleged to have played a role in major fraud.
"Many of the people involved in the banking scandal, in the Russian Laundromat, are abroad and we really need international support in going after them," she said in an interview during her talks last month in Brussels. "They have properties, accounts in Europe. This is also part of building trust in the state … to ensure these people don't enjoy a European way of life after stealing from the Moldovan people. These are the people at the top of the pyramid, but the pyramid is large."