Transnistria: Moldova's placid conflict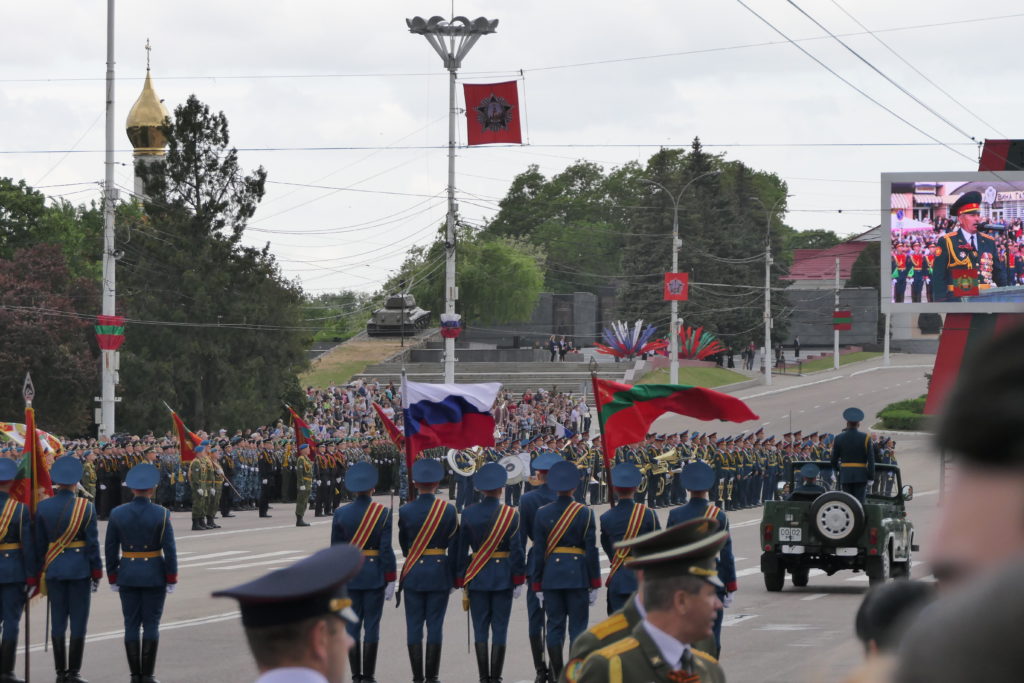 Victory Day in Transdnistria - Alamy
CHISINAU
BY DMITRY CHUBASHENKO
Moldova's separatist issue with the Transnistria region is the quietest of conflicts. It rarely even feels like one. 
Unlike other post-Soviet conflicts like Azerbaijan and Armenia or Georgia pitted against Russian-backed South Ossetia or Abkhazia, not a single death has been recorded in 29 years – or even an injury due to violence. A sleepy contingent of 1,500 "peacekeepers" rarely seem to be much visible. There are 500 of them from Moldova, 500 from the de facto Transnistria, and 500 from Russia. Officials from both the tiny statelet and the legal Moldovan authorities move back and forth for negotiations on ongoing practical issues without bodyguards or seemingly a worry, and often joke and banter in the presence of mediators from the Organisation for Security and Cooperation in Europe (OSCE).
Moldova's population is estimated at not more than 1.8 million, according to comprehensive demographic studies and taking into account that so many people have fled abroad for good, even though officially, the population, according to the government was 2.6 million in 2019. Transnistria's population is even less clear, though some entity officials have privately put it at 150,000.
People from both sides flow mostly freely through checkpoints along the Nistra (Dnister River), essentially the marking point of a de facto border. Once in a while, Transnistrian "customs" officials pop open a car boot, but the situation is mostly calm.
Automobiles often ply the streets of the Moldovan capital with Transnistrian number plates, cheaper to register there than in the rest of Moldova, or simply belonging to residents of the sliver of an unrecognised statelet themselves on shopping trips. Few pay any attention.
CONFLICT MOSTLY IN NAME – FOR NOW
Trade between Moldova and the "separatist" area is robust. Transnistria is even part of Moldova's Deep and Comprehensive Free Trade Agreement (DCFTA) with the European Union, something unheard of in other "breakaway" ex-Soviet entities. It exports industrial goods to the EU via the rest of Moldova, as well as electricity.
Many residents of the entity carry both the unrecognised Transnistrian "passports" but also have Moldovan or Romanian documents, allowing them to travel to EU countries visa-free.
Russia still keeps a separate army contingent in the entity despite a 1999 agreement to withdraw them. Though the issue is an obvious sticking point, Russian, Ukrainian, Moldovan and officials from the de facto entity hold diplomatic discussions in an atmosphere that is mostly very cordial, a rarity amid the present state of affairs between Moscow, Kyiv, and the West.
MOLDOVAN POLITICAL CHANGES UNLIKELY TO ALTER STATUS QUO
Moldovan President Maia Sandu was able to call snap parliamentary elections in June. Her Action and Solidarity Party (PAS) in parliament won in a blowout, as she promised to tackle pervasive corruption, throw off the country's image as a hot spot for money laundering and the trafficking of women to the EU as prostitutes under the guise of "guest workers". 
Transnistria is a secondary issue, though her opponents played it up as "dangerous" during the campaign due to Sandu's pro-EU bent.
Russian officials, notably Dmitry Kozak, a Kremlin official responsible for the negotiations from the Moscow side, railed against Sandu earlier this month in the latest act of sabre-rattling.
Moldova's army is next to non-existent. According to diplomatic sources, it is reported to have just a few armoured vehicles and a tank or two. Therefore there is little inclination to do anything drastic in relation to the de facto authorities in Tiraspol, the regional centre of Transnistria since the situation is largely peaceful anyway.
Of course, the Russians could overwhelm Moldovan "defences" in short order. One foreign military attache has said the Russian forces along with their Transnistria allies could take the Moldovan capital Chisinau in "an hour and a half" – the same time it takes to drive back and forth between the entity and the capital.
But it is far from clear what such a move would gain or what the would-be Moldova-tamers would do once in Chisinau.
And Russia has never recognised Transnistria, unlike Georgia's Abkhazia and South Ossetia.
In fact, during working group meetings sponsored by the OSCE, entity officials rarely make loud declarations regarding their "independence". Negotiators carry Moldovan-issued driving licences, which enable them to rent or drive autos abroad.
Transnistrian businesses are registered in Moldova, and Transnistrian students routinely cross the border to attend Moldovan universities. Transnistrians vote in Moldovan elections at specially organised polling stations. Transnistria's Sherif soccer club – bearing the name of the region's biggest (and ubiquitous) business concern — regularly tops the Moldovan league.
COMPLICATED HISTORY AND A BRIEF, BLOODY WAR
Most in Transnistria are Russian speakers, but Romanian (Moldova's national language) is also widely spoken – as are both throughout Moldova.
When the Soviet Union began to implode in the late 1980s and finally did in 1991, many in the entity feared the Moldovan "National Front" would seek its declared goal of reunion with Romania and that residents of Transnistria would become second class citizens.
However, any talk of the supposed "union" quickly disappeared, subsumed under the lack of realism of the prospect and overwhelmed by Moldova's sorry economic state.
Given the fears of being swallowed up into Romania, now an EU and NATO member, the separatist authorities armed themselves, allegedly with support from elements of the Russian 14th Army base in Transnistria. 
This led to the brief but messy hot war in 1992 with the newly independent Moldova, killing hundreds on both sides before OSCE and Russian mediation stopped the fighting.
Today, there is little outright animosity, though, among older people, suspicions remain.  Clashes have not occurred since then.
FRAGILE IDENTITY TIED TO SOVIET TIMES

Transnistria has its own formal president, a largely non-convertible currency known as the Transnistrian Ruble, and its de facto authorities. But it is recognised by no one, not even Russia.
Part of the region's appeal to locals lies in a sort of Soviet-style predictability. Many foodstuffs are subsidised, as are utilities. This may appeal to older people accustomed to the predictability of decades past. Still, it has also led to a huge exodus of young people, just like in the rest of Moldova, but in ways worse because of a lack of any real advancement opportunities amid an unrecognised status.
It is true that the regional centre, Tiraspol, is a squeaky-clean, orderly city with a wide main boulevard lined with imposing Stalinesque buildings. Police or stern-looking security officers seem to be everywhere, even in some of the few but well-stocked large grocery stores. The regions' security forces are known to keep a close eye on most ongoings.
But the region is not the "Soviet Theme Park" that some journalists have made it out to be, not so different from many places in the former Soviet Union.
COOPERATION WITH CENTRAL GOVERNMENT
The Moldovan authorities and the "separatists" shared supplies of the COVID vaccines provided by foreign governments. The Harvard graduate chosen by Sandu to be her prime minister, Natalia Gavrilita, is even a native of the separatist region. 
One of Moldova's few thriving business sectors is "medical tourism", and the capital Chisinau is full of slick-looking plastic surgery outlets appealing to foreigners who take advantage at prices a fraction of what they would pay in Europe.
Dentistry, also at prices a fraction of what they would fetch elsewhere, is also a big cottage industry, and many, if not most, of the oral surgeons or dental personnel hail from a main dental school in Transnistria. The quality appears high and very attentive.
Ethnic and religious differences are few – Orthodox Moldovans, Russians, and Ukrainians live on both sides of the divide in a country that, in turn, was part of the Russian empire and "Greater Romania" for the last century and a half.
Sandu won the presidential election last November on pledges to eradicate corruption. She reaffirms a pro–Western orientation and pledges to join the EU one day – though the prospects of membership for all three remain remote, to say the least, in the foreseeable future. 
But Sandu also took pains to steer well clear of anti–Russian rhetoric during the election campaign against her Russia–friendly predecessor and since.
Russia was quick to keep its high profile in the country. Last week, Dmitry Kozak, the deputy head of the Kremlin administration, became one of the first foreign visitors of rank to visit since Sandu and her team were installed in power.
Kozak knows Moldova well. His 2003 plan for a Transnistria settlement collapsed at the last minute when Moldova's opposition rejected it on grounds it would turn Moldova into a federal state and give the separatists a veto on decision–making.
After last week's talks, Sandu's office said the president had pledged to pursue a settlement using existing platforms for talks while upholding Moldova's recognised international borders.
Kozak told journalists who asked if he saw a solution: "I really can't see one. This is your internal business. Moldova and Transnistria. You have to come to an agreement. Russia is ready to offer assistance in order that you might come to an agreement. No more than that."
To Moldovans, that sounded suspiciously like Russian President Vladimir Putin's exhortations to Ukraine to talk directly to the separatists in Donbas – and his refusal to discuss what he calls Ukraine's "civil war" with leaders in Kyiv.
Victor Chirila, Executive Director of Moldova's Foreign Policy Association, said the latest talks could culminate in Sandu meeting Putin. Still, Transnistria was unlikely to be at the top of the agenda.
"Russia has not ruled out the (2003) plan. It is simply waiting for the right moment to revert to it with specific changes," he said. "But I don't think Moscow is pursuing any definitive solution in Transnistria. This is not a priority for either Moscow or Chisinau."
There has been little progress in periodic talks on resolving the dispute through the "5+2" mechanism –involving Moldova and Transnistria and Russia, the Organisation for Security and Cooperation and Security in Europe and Ukrainian intermediaries with the United States and the European Union as observers. Long gaps between negotiating sessions are common, with the last held in Berlin in 2016. 
There is plenty of room for progress in other areas.
Kozak pledged to boost trade, which slowed to a trickle in 2014 when Moscow slapped duties on Moldovan wine and other farm goods in response to Moldova's move to join a free-trade accord with the EU. Tellingly, it made exceptions for small autonomies like the Gaugauz entity, a patchwork of towns home mostly to ethnic Gauguaz, a Turkic-ethnos people who are mostly Russian speakers and who number about 50,000. 
Both sides want to resolve disputes over Russian gas – including $8 billion in debts run up by the separatists — and ensure supplies beyond 2022. Against a background of rising prices in Europe, Moldova fears the Kremlin could use those supplies to apply political pressure and is also examining how to diversify its sources of gas and build new pipelines.
Smuggling of various goods through the border with Ukraine has been subject to disputes throughout the region's existence despite efforts by the EU to curb it.
In the background remains the issue of that leftover ordnance – and Kozak said both sides had agreed to act in concert. Much of it is outdated and cannot be transported. Half of the approximately 40,000 tonnes of munitions stored in a depot in the village of Cobasna were either removed or dismantled in 2003 under supervision from Russia and the OSCE.
Sandu's priorities have focused on uprooting all forms of corruption – a drive she pursued in her brief mandate as prime minister in 2019, when she sought to put Vlad Plahotniuc, a billionaire accused of large-scale fraud who influenced virtually all sectors in the country, on a list of individuals sanctioned for financial and other crimes. Plahotniuc fled Moldova that year, and his whereabouts are unknown.
Her current plans include an overhaul of the justice system, including procedures for appointing prosecutors.
She has been promised plenty of Western help – including a 600 million euro ($710 million) EU aid plan announced in June, subject to conditions, notably structural reforms and adherence to the rule of law.
Kozak sounded an optimistic note.
"We respect the choice of the Moldovan people and are ready to cooperate with those elected to office," he said. "And it is certain we will have friendly relations and work together."
But Vladimir Socor, an expert at the Washington-based Jamestown Foundation, suggested both sides would be pragmatic in their approach, and Transnistria was unlikely to figure prominently.
"The Kremlin's interests in Moldova are confined to holding on untroubled to Transnistria while stonewalling a political resolution of the conflict indefinitely…retaining a degree of political access to Chisinau via some limited economic incentives, at no cost to Russia itself," he wrote on the Foundation's website.
"From Moscow's standpoint, Sandu is still an unknown quantity…except perhaps to Kozak himself. From Chisinau's standpoint, improving relations with Russia could serve Moldova's interests, but it is not a top or even high priority for Moldova's new, Western-oriented leadership. Its minimal objective is a conflict-free relationship with Russia."