Moscow says EU welcome to further Armenia-Azerbaijan peace, but insists on lead role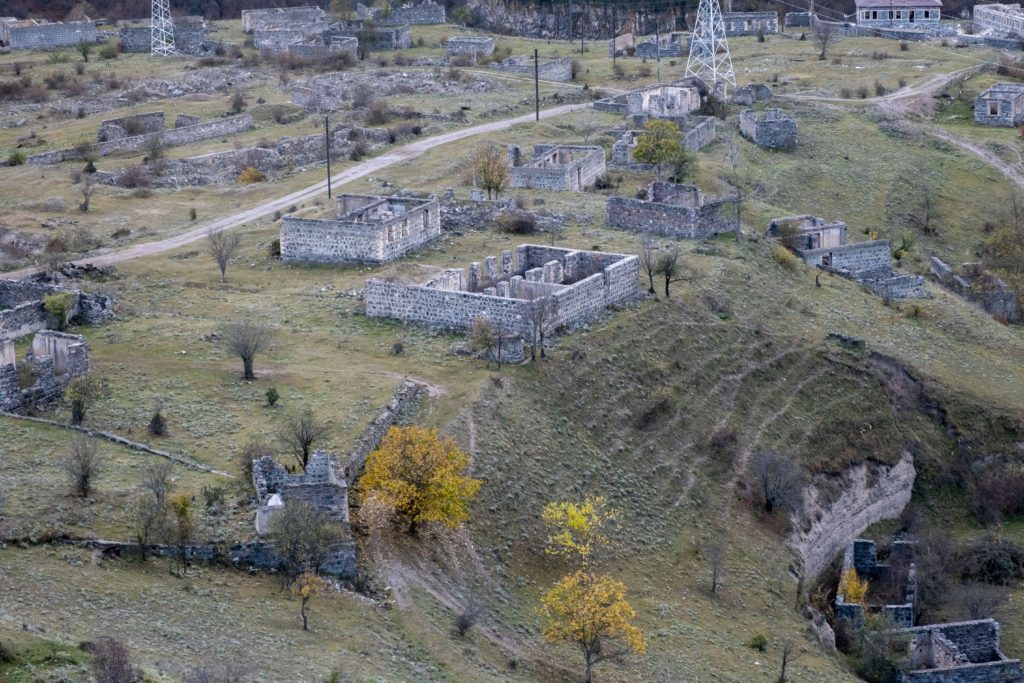 Alamy
BAKU/YEREVAN/MOSCOW
Russia says the EU is welcome to play an increased role in mediation efforts regarding outstanding issues between Azerbaijan and Armenia, Kremlin press-secretary Dmitry Peskov said.
The statement comes after a flurry of visits by EU officials to Baku and Yerevan as well as visits to Moscow by Azerbaijan President Ilham Aliyev and Armenian PM Nikol Pashinyan in which the bloc and Moscow seemed to be competing for influence. EU officials have been welcomed unusually warmly in both capitals.
Peskov, one of the most powerful figures in Russia, emphasized that any enhanced EU role must take into account Moscow's central role in the existing trilateral format set up after Azerbaijan crushed Armenian forces during a six-week offensive late last year, taking back almost all the occupied territories it had lost nearly three decades ago.
"If mediation efforts bring stability, predictability and help in the implementation of the existing agreements, then these efforts are to be welcomed. As a whole, the efforts in this matter are going well," Peskov said, commenting on EU statements.
The Kremlin spokesman noted the November armistice brokered by Moscow, which essentially was a capitulation by Yerevan, was reached "with the very energetic participation of President Vladimir Putin." "He is in constant contact with both Nikol Pashinyan and Ilham Aliyev. Now we are dealing with issues arising from the implementation of the agreements," Peskov said in Moscow according to TASS.
Continuing border skirmishes and incidents have hampered efforts to officially demarcate the border between the countries.
The skirmishes, however, have stirred concern about the stability of the late 2020 Moscow-negotiated armistice. During a six-week offensive, Azerbaijan won back districts occupied illegally by Armenian forces since the early 1990s. The Armenians ethnically cleansed the areas of 600,000 Azerbaijanis and left them ruined, looted, strewed with hundreds of thousands of landmines, and largely unliveable.
Both the EU and USA made statements expressing deep concern over the latest developments.
Azerbaijan's defence ministry said its positions in its Nakhchivan exclave came under attack again. The region is cut off from the rest of Azerbaijan by a 40-km strip of Armenia. Baku says Armenia is under an armistice obligation to re-open a road, train and trade route closed since 1993. Yerevan has said no to the reopening and objects to the word "corridor" used by Azerbaijan to describe the Zangezur route, insisting it has territorial implications. Baku says this is not the case and that the opening of the trade route would benefit Armenia by allowing it a direct rail and road link to Moscow.
Aliyev has courted and welcomed EU officials but has made frequent trips to Moscow, as he did this week. "I want to express my gratitude to you for your constant attention to…these important and sensitive issues," Aliyev said at a meeting with Putin, stressing the two maintain constant contact.  Over the past eight months after the end of military actions, I think…our personal communications plays an important role in stabilising the situation. Putin added more political verbiage. "Of course, one of the most important issues is the question of settlement of the situation in the region. I know…you give this great attention and value, he said. He then noted the need for more compromises, noting that such steps were always the most difficult but needed to "go all the way" for success.
Yet the thorny problem of how to go about formally delimiting the border, re-opening trade routes, or what to do about landmines remains. Armenia has handed over maps detailing where 300,000 mines were planted. But the situation in other districts remains unclear. There are also perhaps hundreds of thousands of unexploded munitions for which, of course, there are no maps. Nor for booby-trapped areas or those where mines were laid haphazardly.
Aliyev's latest sojourn to Moscow comes just a week after Armenian Prime Minister Nikol Pashinyan – formally he is still in an acting capacity following a landslide win in recent parliamentary elections – made a similar visit to the Kremlin.
This week also saw a visit by EU Council President Charles Michel, his second to the region in just a few months in recent days. Both Armenian PM Pashinyan and Azerbaijan's Aliyev feted the senior EU official and expressed a desire for closer ties, though the EU was a non-factor during the 30-year war. Little in the way of specifics came of the visit to the two capitals, though both countries expressed a desire for enhanced ties. Aliyev beamed about the EU becoming a strategic partner in the energy field and his desire to see Azerbaijan become a key natural gas supplier to Europe. This would essentially mean competing with Russia in terms of natural gas exports. A natural gas pipeline reaching Italy was completed at the end of 2020.
The Armenian PM waxed more politically, stressing that Armenia, defeated on the battlefield even as the sporadic clashes continue, had never been closer to the bloc. "I would like to emphasize that the European Union is one of Armenia's key partners in bringing this ambitious reform agenda to life. Armenia is ready to continue active cooperation with the EU and the EU member states, focusing on implementing institutional reforms, establishing the rule of law, and strengthening democratic institutions'', Pashinyan said.
A WEEK OF CLASHES MOST SERIOUS IN EIGHT MONTHS
This week Azerbaijan said its troops came under sustained fire from large calibre weapons in the Kalbajar district, which Armenian troops occupied for almost 27 years. Armenia was forced to relinquish the district in November 2020 after its forces were routed by Azerbaijani forces in other long occupied areas of Azerbaijan. Kalbajar is a stunningly beautiful mountain area and was home to 60,000 Azerbaijanis who were forced out. It was one of the subjects of unanimous U.N. Security Council resolutions demanding the Armenians leave, but they ignored the ultimatums.
Armenia has countered by saying its soldiers have come under constant fire. Yerevan said Azerbaijan was engaging in a "disinformation campaign".
Ethnic Armenian separatists now control only a limited part of the former Soviet Autonomous District of Azerbaijan's Nagorno-Karabakh. Accessible only via Azerbaijan – and the remaining population is estimated at 25,000-40,000 people. It has little economic potential or prospects and has lived on handouts from Yerevan or the international Armenian diaspora for years.
Baku says the district has no status and simply does not exist in any legal way.
Baku said Shusha, Azerbaijan's "cultural capital" and a historic mountainside city known for producing writers and scholars, and the crown jewel recovered by Azerbaijan after the years of Armenian occupation, came under attack from illegal Armenian armed groups using machine guns and automatic rifles, according to the defence ministry.
LOOMING WARNING OF MORE TO COME
Azerbaijani President Aliyev warned although Baku has already retaken most of the occupied lands, it might have to resort to more force to bring a full conclusion to the war in light of the latest events.
"We should be ready for war at any time," he said this week. "But I am getting information that there is more talk that the conflict is not settled. This is a very mistaken and risky path," he said during a meeting with war veterans in Baku.
He repeated his call for border delimitation and a full peace agreement.
"The sides should acknowledge each other's territorial integrity, borders and give a start to the delimitation work," Aliyev continued. International organisations are also giving positive signals on delimitation. If Armenia does not want that, it's their deal. But they should think really hard about what will come after," he said.
NATO member Ankara and Moscow operate a joint "monitoring centre" in the looted, destroyed city of Agdam, which the Armenians systematically dismantled. Turkey was not explicitly mentioned in the formal November 10 armistice, raising speculation that the Kremlin only reluctantly accepted the Turkish NATO presence.
Turkey helped Azerbaijan build its army virtually from scratch over 25 years after losing many districts to the Armenians. And the final six weeks of the war was a total rout, with Azerbaijan using sophisticated "suicide drones" and a deft military strategy to decimate the Armenians. Yerevan is technically a member of the Moscow-led Collective Security Cooperation Organisation (CSTO).