New tensions over Nagorno-Karabakh cast doubt on Azerbaijan-Armenia peace efforts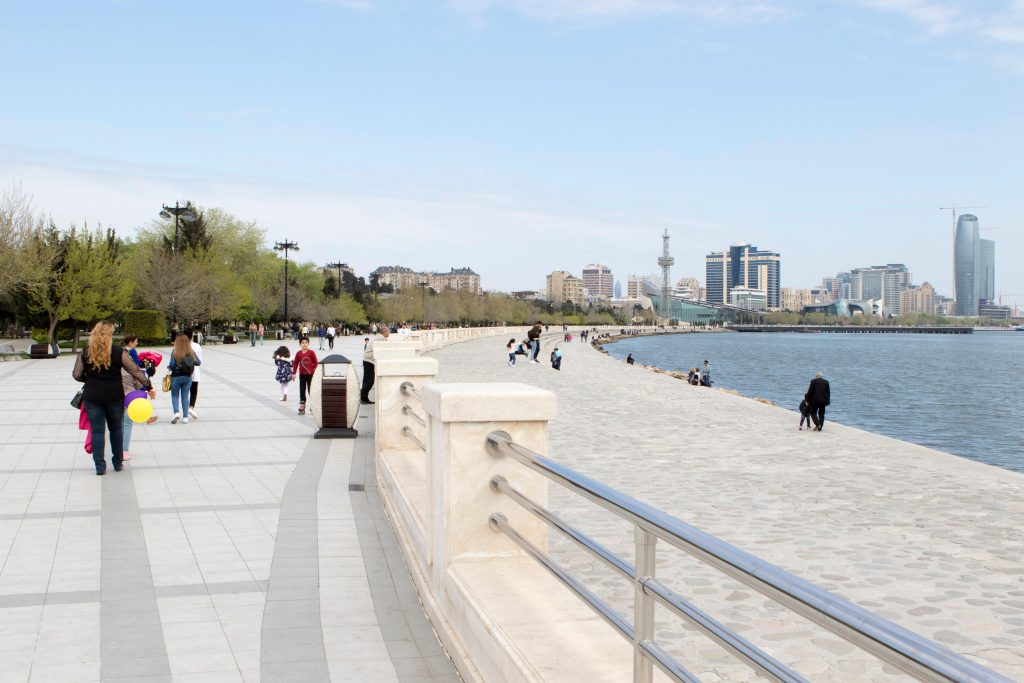 The promenade, Baku (Alamy)
BAKU
By Lada Yevgrashina
An upsurge in tension and a border clash in Nagorno-Karabakh have cast doubt over more than a year of efforts to clinch a durable peace deal and end three decades of unrest between Azerbaijan and Armenia focusing over post-Soviet borders and communications links.
After the 44-day "Second Karabakh War" in 2020 in which Azerbaijan took back control over large swathes of territory in and around Karabakh held by Armenian forces for three decades, the leaders of the two countries began to make progress in moving towards a peace accord.
Karabakh, internationally recognised as part of Azerbaijan for more than a century while being home to a large Armenian community, was restored firmly to full Azerbaijani control. Two summit meetings were held, one organised by Kremlin leader Vladimir Putin, the other by the European Union.
Russia was able to claim a pre-eminent diplomatic role – Moscow brokered the truce ending the fighting and dispatched 2,000 "peacekeepers" to keep sensitive border areas calm.
That may have been dealt a serious blow by events in the last week of March. And the interpretation of those events by the two sides differ widely.
Different interpretations
Azerbaijan said its troops moved into the elevated and strategic Farrukh area of Karabakh district formally under the control of the Russian peacekeepers in response to what it said were suspicious movements by armed Armenian groups. And it called on the Russian peacekeepers to remove all armed Armenian groups from the area.
Armenia said Azerbaijani troops moved into the areas in violation of the cease-fire and used Turkish-made drones to attack ethnic Armenians, killing three people. Azerbaijan made no mention of deaths.
For the first time since the 2020 cease-fire, Russia took sides, accusing Azerbaijan of violating the cease-fire deal and telling Baku to remove the troops. Baku disagreed, calling Russia's statement "one-sided".
Tensions have also been rising on disruptions to gas supply to Karabakh. Armenians accuse Azerbaijan of deliberately keeping gas from reaching the district – Azerbaijan says it is in the process of repairing a pipeline.
Talks in the past six months have made progress – particularly Armenia's agreement after long resistance to proceed with the "Zangezur" corridor allowing trade links between Azerbaijan and its Nakhchivan enclave, passing through Armenian territory.
But incidents have erupted periodically along the border between the two Caucasus states.
Analysts say slow progress with solutions and a peace settlement lies with a failure to proceed with significant changes in Karabakh since 2020.
After the first Karabakh war in the early 1990s as the Soviet Union collapsed, Armenians took control of big stretches of territory within Azerbaijan, tried to establish a separate Karabakh identity and develop links with Armenia to the south. They also evicted large numbers of local residents, most of them Azeris.
Analyst Ilgar Velizade said the country's forces were acting within legal bounds, but acknowledged that a lack of progress in solving Karabakh's problems significantly boosted tensions.
"Inasmuch as the situation unfolded on what is de jure Azerbaijani territory, Azerbaijan can carry out actions in that strategic mountain area which enable it to conduct its restoration work," Velizade told the Tribune.
"But while the cease-fire was signed a year and a half ago, there has been no positive transformation of the situation in the region, so things have remained unchanged. And the Russian peacekeepers protect the Armenian armed groups and even allow them to build defensive installations and hold exercises. That can only be a worry for Azerbaijan."
Under the terms of the 2020 agreement, the name Nagorno-Karabakh no longer exists and the region is considered an ordinary part of Azerbaijan with no special additional jurisdiction – changed circumstances some Azeris say have been ignored locally.
"The idea is becoming increasingly prevalent in Azerbaijan that the status of Nagorno-Karabakh has not really changed, that all the symbols of statehood have been maintained," said Russian analyst Stanislav Tarasov. "And in this context, the presence in Nagorno-Karabakh of Russian peacekeepers is viewed as a 'means of protection.'"
Armenia wanted explanations
The head of the Armenian parliament's Foreign Relations Committee, Eduard Aghajanian, said Azerbaijani forces had made their way into Farrukh (Parrukh in Armenian) behind the backs of the Russian peacekeepers.
"Therefore, we expect clear answers from our Russian partners about the conditions in which this happened," he told a Yerevan news conference.
Rasim Musabekov,  a member of parliament and political commentator, suggested Russia might be using the armed Armenian groups to set up a sort of long-term protectorate similar to Russia's 30-year stay in Moldova's Transnistria region – keeping apart government troops and pro-Russian separatists.
"There are plenty of disputes here," Musabekov said. "We are not about to sacrifice our interests in the name of some great power ambition by Russia."