Olga Oleinikova: creating one click tech to enable compulsive purchases on social media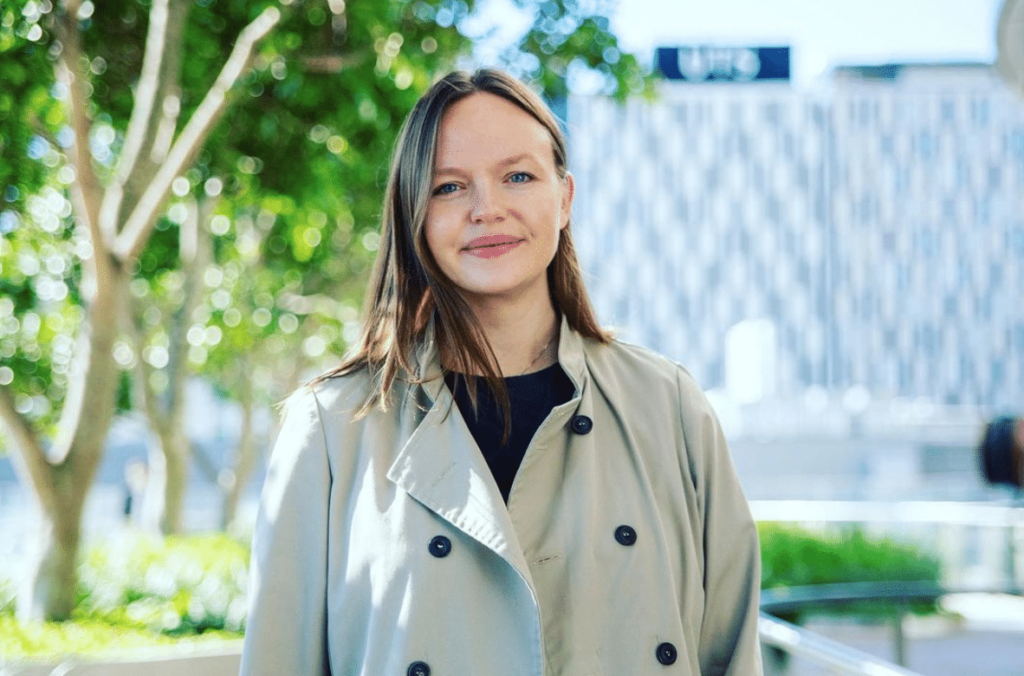 Age: 33
Origin: Kyiv, Ukraine
Based in: Sydney, Australia
Education: Taras Shevchenko National University of Kyiv & University of Sydney
Occupation: Lecturer & Co-Founder and CEO of Persollo & HeyLink.me
Olga Oleinikova was born and raised in Kyiv to a middle-class family with mixed Russian and Ukrainian heritage. Oleinikova attended gymnasium "Consul" No. 86, a school that had a focus on English. She then studied sociology at university before starting a career in Ukraine as a project manager in qualitative research focusing on healthcare, pharmacology, and finance.
She moved to Sydney in 2012 to begin a PhD focusing on migrants who moved to Australia from Ukraine after the collapse of the Soviet Union, examining their individual life strategies, motivations, and behavioural patterns. Oleinikova did not expect to stay in Sydney after the completion of her PhD, but in 2015 she met her future business partner Kyrylo Medvediev at a TED-X talk where they discovered their shared passion for helping people do what they love without barriers. Medvediev was specialised in analytics and was at that time completing a master's degree in IT management. He had two contacts in Ukraine, a designer and a developer who could help them realise their business, Persollo.
Persollo is the world's first instant checkout platform that enables brands and influencers to sell their goods across social networks without the need for sophisticated and expensive e-commerce sites or online shopping carts. Before Persollo, buying something on social media could take anywhere between si to 10 steps before getting to the checkout. Persollo allows consumers to buy directly on social media with one click. The tedious amount of time needed to make purchases on social media without Persollo leads to 68 percent of customers leaving their products in the shopping cart unpaid. Persollo allows customers to buy impulsively. Oleinikova hopes Persollo's efficiency can help influencers and brands increase the usually expected 1 percent conversion rate from likes to sales. Persollo was the first company to recognise this trend of buying products on social media and they knew customers would appreciate ideas that would spare them unnecessary effort. Persollo, therefore, experienced skyrocketing growth.
To begin with, Oleinikova promoted Persollo purely through marketing and pitching the idea at StartCon, the Mark Bouris Show, and the Lenovo Innovation. The next step was to join an accelerator programme. As Oleinikova was spending most of her time completing her PhD and lecturing, she was not 100% invested in Persollo but when her company was accepted into Sydney University's startup programme Incubate, she knew it made the most sense for her to attend these classes as she was already at the university every day. As she fleshed out the idea of Persollo at Incubate, she soon realised that she was onto something, the influencer market was booming and with statistics showing people were spending an average of four hours a day on social media, it was turning into the new virtual mall.
Once Oleinikova completed her PhD, she poured all her energy into gathering funding for her new tech company. As it was headed by a female tech founder, Persollo garnered a lot of attention. Telstra, the biggest telecommunications, and media company in Australia selected them to join their accelerator muru-D, the biggest on the continent. As a result, they were offered a good investment and received great exposure to the Australian market and top investor networks. From over 300 applications, only eight businesses got into muru-D's programme.
Less than two years after its founding, Persollo raised conversions and mobile checkout numbers by up to 300% for more than 600 e-boutique businesses across 13 countries. Persollo works with brands such as New Balance, Marie Claire, Better Homes & Gardens, Australian UGGs Original, Cecily Clune, Dex, PlayStation, Havas Media and  Sunglass Hut, among others.
When the pandemic hit in 2020, e-commerce grew exponentially, especially on social media, so Oleinikova founded Heylink.me. It is the only link management technology offering instant checkout e-commerce and in-depth analytics. Heylink.me gained 40,000 customers in the first four months and is on a trajectory to grow even faster. By its first anniversary, it had 250,000 users across 195 countries. Oleinikova is expanding her team to support the development of her growing apps and is working on a pipeline of further tech innovations to assist in scaling up.
In 2018, Oleinikova was featured in the Forbes Asia 30 under 30 list in the category retail and e-commerce. Oleinikova is also the face of the VISA Global Female Empowerment Campaign VEI.
Being a tech entrepreneur is just one side of Oleinikova's life. She is also a senior lecturer and director of the Ukraine Democracy Initiative in the school of communication at the University of Technology, Sydney. She is the author of "Achiever or Survivor? Life Strategies of Migrants from Crisis Regimes" and editor of "Democracy, Diaspora, Territory: Europe and Cross-Border Politics".
The Ukrainian Democracy Initiative was founded by Oleinikova in 2016 and aims to study the political and socio-economic transformations in Ukraine, the development of democracy, as well as the creation of a global network, to unite scientists, civic activists, government, and political figures championing the future of democracy in Ukraine.
The centre is actively working on two large-scale research projects. The first is "Ukrainian Democracy: Performance, Challenges and Futures". The second is a detailed study and coverage of the role of the Ukrainian diaspora in the democratisation of Ukraine after the 2013 "Maidan" or "Revolution of Dignity" mass protests to the present. The project is titled "Rethinking the Role of Diaspora and Democracy in Ukraine."
Quote: "My young age and being female has created more opportunities than barriers by facilitating support from inspirational mentors, investors and business clients. I seized an unexpected opportunity by transforming my weaknesses into advantages. All my life is about unexpected opportunities"
Sources: Anthillonline, startup.info, ukrinform.ru, elle.ua,  Linkedin, forbes.com, magazine.startus.cc,  The Mentor with Mark Bouris