More fighting on Azerbaijan-Armenia border, Baku says may enforce border on own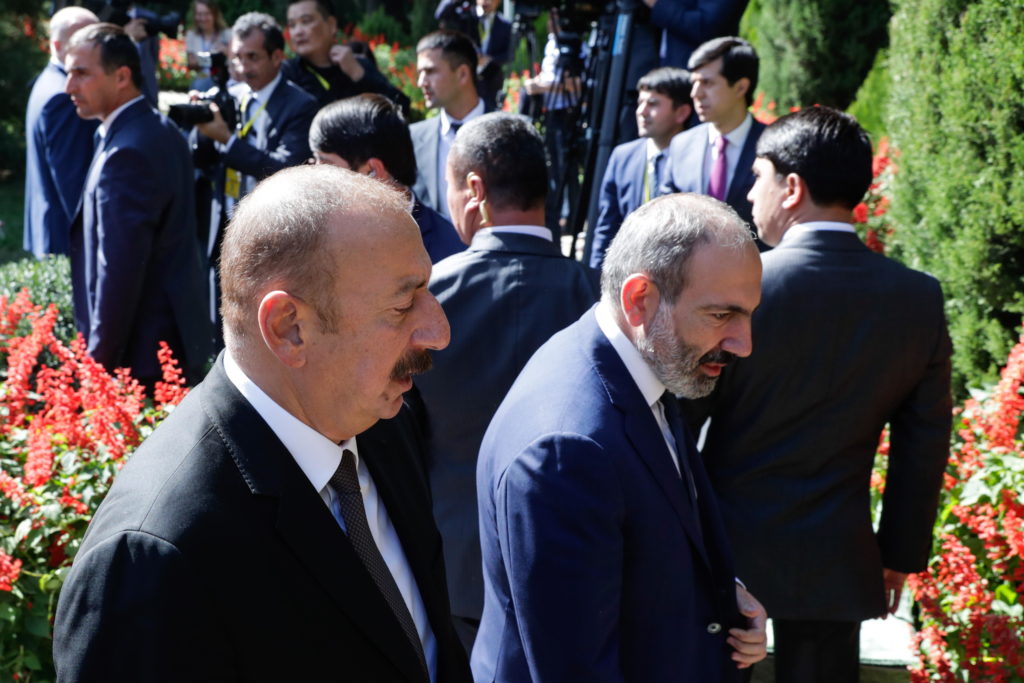 Alamy
YEREVAN/BAKU
With concern mounting over occasional clashes in border areas between Armenia and Azerbaijan, pressure is growing to forge a final peace.
The weekend saw new border skirmishes. Baku reported one of its soldiers was killed.
More shooting, added Baku on Monday, was continuing.
Russia brokered an armistice last year – basically an Armenian capitulation after staggering losses. It has 2,000 peacekeepers in the area as part of the agreement.
But Moscow expressed "worry" over the tensions this week. Just a few days previously it had declared that negotiations to end the border incidents as well as a full bilateral peace agreement were going well.
But a flurry of diplomatic activity suggested otherwise. Last week, Azerbaijan President Ilham Aliyev made yet another trip to the Kremlin and met with Vladimir Putin. A few days earlier Armenian Prime Minister Nikol Pashinyan did the same.
The EU also sent its highest-ranking foreign policy official, Council President Charles Michel to both Yerevan and Baku for the second time in recent weeks. The Council is the bloc's policy-making wing, while the other branch, the European Commission, executes those policies.
The U.S. this week also expressed deep concern over the latest tensions.
The border issue is a tricky one for Armenia's PM Pashinyan. It would mean admitting the former Azerbaijani Soviet Autonomous District of Nagorno-Karabakh – home to a tiny fraction of the ethnic Armenians who once lived there – exists at all except as part of Azerbaijan.
Azerbaijani troops retook districts Armenian forces occupied and systematically looted for nearly three decades, ethnically cleansing more than 600,000 ethnic Azerbaijanis in the process.
Illustrating the seriousness of the tensions, Aliyev unexpectedly went on state TV on late Thursday, saying there was no "Nagorno-Karabakh", the war was over, and the border already existed.
"Where is the logic in creating a status for 25 thousand people? " Aliyev added, referring to Baku's estimates of the remaining population there. Armenian estimates are higher but generally not more than 50,000, but even this is believed to include many who only live in the region part-time.
"Other figures were also sounded, after the war more than 50 thousand people returned," Aliyev said in the address.
"Perhaps, but returning does not mean staying there. They returned and then left. Secondly, we have various equipment and satellites. We know the number of cars there; we see the movement of people. We have enough diverse information about what is happening there. Before the war, we knew what was happening there. Naturally, we know what is happening there now," Aliyev went on.
The only reliable road connection between Armenia and the rump former separatist entity is via a corridor through Azerbaijani territory.
"If someone thinks that we do not see this, he is delusional. But we are there, we are in the corridor, we can see everything. Every day the number of cars leaving is greater than the number of arriving cars," he went on.
Baku has maintained for years it uses sophisticated satellite and other means to monitor all traffic and movement in the area. As a very close ally of NATO member Turkey, and having spent billions to build an army over a quarter century, it would stand to reason it such capabilities.
Aliyev accused Armenia of failing take part in tripartite formal border delimitation talks.
Illustrating the sensitivities in the region of any word or term, he criticised the EU Council President Michel for referring to the border areas as "disputed".
"Charles Michel (during his recent visit to Yerevan) called the border territories disputable. To be honest, I disagree with this expression, since we consider these territories to be ours.
But he praised Michel for not referring to Nagorno-Karabakh's "status".
"A very wise step". "We appreciate this and Armenia must make a result from this. There is no status, no Nagorno-Karabakh," Aliyev stressed.
"There is no territorial unit called Nagorno-Karabakh in Azerbaijan, and the fact that Charles Michel did not use this expression should be perceived as respect for our position.
ARMENIAN LEADER SIGNALS POSSIBLE MOVEMENT
Earlier on Thursday, Armenian PM Nikol Pashinyan seemed to signal a willingness to restart formal talks.
He called for a mutual troop pullback around areas along the frontier and for Russian border guards to be deployed as part of the demarcation process.
"We once again offer to start a tit-for-tat withdrawal of troops from borders…following which Russian border guards or international observers will be deployed…That will make it possible to start the demarcation and delimitation process on the border," he noted during a government session.  "Unfortunately, the military-political situation in our region remains tense."
Pashinyan, 46, crushed nationalist opponent in a snap election in June who had suggested he was to blame for the war defeat. He has maintained it was the only way out. Voters apparently agreed.
He also called for a fuller peace, though this could also prove risky by provoking hardliners in the military and security structures. "The Armenian government is committed to fulfilling the mandate received from the Armenian people to open an era of peaceful development…in the region in general," Pashinyan said, adding that Armenia is ready for a full peace process.
Besides the border clashes, transport and trade links remain closed, which has angered Baku. Its exclave of Nakhchivan remains cut off from the rest of the country by a 40-km wide strip of Armenian territory.
Aliyev has threatened to use further military force, which crushed Armenian troops cowering in old-style trenches during the 2020 decisive phase, to enforce the border on its own.
Aliyev has also said the same force could be employed to open the road and rail link – closed since 1993 – with the Nakhchivan exclave.
Aliyev said that both Putin and Michel agreed with him that trade and other links should be restored simultaneously between the two countries.
Aliyev ruminated that Armenia cannot come to terms with its losses yet. "I believe that the psychological factor also plays a role here. Probably, they need time to get used to the new reality from a psychological point of view. Our victory destroyed all their ideological foundations," he added.