Ukraine's Zelensky faced with moment of truth on tackling corruption, oligarchs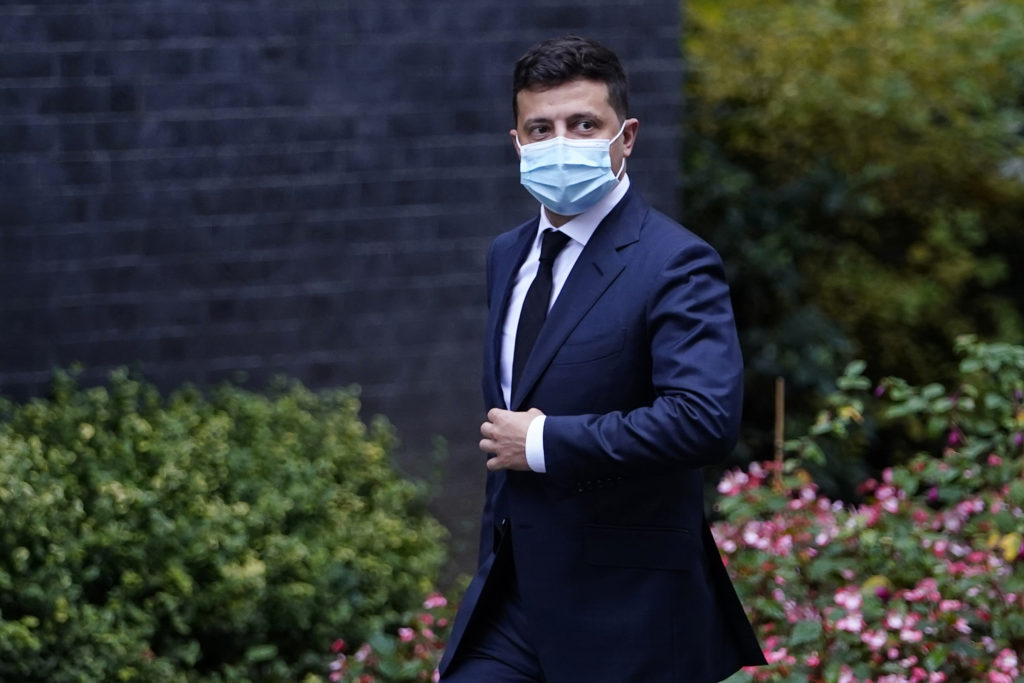 EPA
KYIV
by VITALY PORTNIKOV
There can be no way of overstating the effect on Ukraine's political affairs of the U.S. sanctions imposed on oligarch Ihor Kolomoisky – it is nothing short of a political earthquake.
Kolomoisky remains one of the most influential of Ukrainian oligarchs.
His clout may have lessened somewhat under the administration of President Petro Poroshenko, when the government, under pressure from Western creditors, was obliged to nationalise PrivatBank, the country's largest private financial institution that belonged to Kolomoisky and his partner, Gennady Bogolyubov.
The nationalisation amounted to a move to allay fears that a collapse of Kolomoisky's bank, unable to meet its payment obligations, might also have precipitated the collapse of the Ukrainian financial system. And after it was nationalised, the state had to clean up the bank with the help of Ukrainian taxpayers.
After the "revolutionary" events of 2013-2014 and the start of Russian intervention in Ukraine, Kolomoisky served as head of the regional administration in central Dnipropetrovsk region – but had to step down and leave the country.
"Punishmnent" for Petroshenko and personal revenge became Kolomoisky's main political objective. And he did this with the help of Volodymyr Zelensky.
Zelensky and Kolomoisky were linked by joint projects. Zelensky was the driving force and main star of the show "Kvartal 95" (District 95) – shown on Kolomoisky's 1+1 television channel.
The show won wide popularity when it was transformed from an unassuming cabaret comedy with participants making jokes about day-to-day life situation into political theatre.
And the main targets of that political theatre were consistently Kolomoisky's opponents – or the opponents of those in power whenever Kolomoisky managed to do a deal with the government.
When President Viktor Yanukovych was in office — almost right up to the mass "Maidan" protests of 2013-2014 – Kolomoisky remained loyal to the president and Zelensky's cabaret poked fun at opposition figures and anyone criticising the government in the popular cartoon "Magical Rus ". Yanukovich was depicted as a good-hearted tsar and those who disliked him were made to look like an "evil force".
And after the Maidan protests of 2013-2014, those events were used as a basis for jokes by Zelensky's team to criticise the new government, particularly after Kolomoisky's resignation. There was particular criticism of Petro Poroshenko after PrivatBank's nationalisation.
But it was not the political cabaret that propelled Zelensky to great popularity, but rather the serial "Servant of the People" in which he played the hapless teacher Holoborodko who unexpectedly becomes the "people's president", opens fire on parliament and throws an International Monetary Fund mission out of the country.
TV serial on Kolomoisky's TV channel
And all this appeared, of course, on the same television channel of Igor Kolomoisky.
After Volodymyr Zelensky's victory in the presidential election, Kolomoisky returned to Ukraine from Israel, where he had been living. His opponents said he had to leave the Jewish state in any case because of several anti-corruption investigations being conducted against him in the United States and the risk that he might be extradited at the American's request.
Zelensky's election victory was therefore not merely revenge exacted against Petro Poroshenko, but also Kolomoisky's only chance to remain at liberty – Ukraine being the only country where he could feel safe.
But feeling safe was not enough for Kolomoisky.
Normally all but absent from the media, Kolomoisky gave dozens of interviews after his return to Ukraine, pointing to the important role he played in bringing the new president to office. Andriy Bogdan, Kolomoisky's lawyer, became the president's chief of staff and for a time, the sole decision-making figure.
Any of the president's colleagues who came into conflict with Kolomoisky or who were involved in the nationalisation of PrivatBank – including Oleksander Danilyuk, head of the National Security and Defence Council, were quickly removed from the presidential entourage.
In the new parliament were members close to Kolomoisky – in both the pro-presential Servant of the People bloc and the For the Future group headed by the oligarch's partner, Igor Palitsa.
Meetings in the president's office
In addition to his triumphant interviews, Kolomoisky held high-profile meetings in the presidential office – as if he were head of state of some neighbouring country. And Skhema, a flagship programme of U.S.-funded Radio Free Europe/Radio Liberty, reported on constant private meetings between the president and the oligarch.
Although relations between the two men are generally reported to be less close, the communication is still there. And Kolomoisky remains the country's most influential oligarch, maintaining within his grasp a combination of significant economic, political and information resources,
And it was at this very moment that the U.S. State Department announced sanctions against the oligarch.
It should be clear that this are not routine sanctions. All previous sanctions directed at Ukrainian politicians and entrepreneurs were adopted on the basis of special sanctions programmes approved in advance by the U.S. president. Those applied to parliamentarian Viktor Medvedchuk,– seen as the main lobbyist of Russian interests in Ukraine —  or parliamentarian Andriy Derkach, who presented recordings of conversations between President Petro Poroshenko and U.S. Vice-President Joe Biden.
Kolomoisky, in contrast, was hit by sanctions under a "simplified procedure" – as a result of a decision taken personally by Secretary of State Antony Blinken.
Blinken made use of his authority – as granted by Congress – to impose sanctions in cases where a former of current official is involved in corruption or in major human rights violations.
This was the main reasoning behind the Secretary of State's decision, referring to allegations against Kolomoisky when he was head of the Dnipropetrovsk regional administration.
This amounts to debunking the classic Ukrainian myth of Kolomoisky's disinterested patriotism, of how he took it upon himself to help Ukraine in its hour of need against the Russian onslaught. And it falls into line with the actions of then-president Poroshenko in limiting Kolomoisky's influence not only in Dnipropetrovsk region, but also in nearby regions where the oligarch felt fully in charge.
But the secretary of state's statement was not in any way a historical account.
Blinken referred to concerns about Kolomoisky's "current and ongoing efforts to undermine Ukraine's democratic processes and institutions, which pose a serious threat to its future".
This would appear to be an assessment of Kolomoisky's political role in recent years and is surely grounds for serious concern not only on the part of the oligarch but also President Zelensky. And that is because Kolomoisky's entire political activity in recent years is linked to boosting Zelensky's ambitions and strengthening the power of the new head of state.
President remains silent
But we have yet to hear what the president himself thinks of all this.
The president's office issued a statement on its telegram channel thanking the United States for its concern in the fight against oligarchs – without a single reference to Kolomoisky.
When Swedish economist Anders Aslund asked presidential press secretary Yulia Mendel on Twitter why, despite the president's statement about fighting oligarchs, there had been no mention of Kolomoisky, the press secretary accused him of being ill-informed and of "offending" the Ukrainian administration.
(Aslund had previously been a member of the supervisory board of Ukrainian railways, but resigned in protest against a failure to introduce reforms).
Mendel offered no denial of Aslund's accusations because none was possible.
The important issue was how was Ukraine's president going to react to the situation in which his recent business partner and patron now found himself.
Zelensky should naturally issue a challenge to Kolomoisky and show the civilised world and his own fellow citizens his readiness to take on the country's main oligarch.
But things are not as easy as they look.
Kolomoisky remains strong and retains influence over members of parliament and ministers and controls one of Ukraine's most popular television channels which, at any moment, could train its propaganda artillery on the president's already sagging popularity rating and drag it down further.
And Kolomoisky is already in conflict with those in power.
PrivatBank's former managers face charges of corruption. One such manager – Anton Yatsenko, former first deputy chairman of the bank's board, tried to leave the country on a private aircraft in a scenario worthy of a detective film. His plane was forced to return to Kyiv at the request of the head of the national anti-corruption bureau.
It is still unclear whether Yatsenko's detention is linked to a readiness on the part of Zelensky to distance himself from Kolomoisky –or whether the president was under pressure from anti-corruption bodies and did not want to be seen to be appeasing corrupt officials.
But for Kolomoisky, the allegations made against his colleagues was nothing less than a declaration of war.
And Zelensky is obliged to procced with that war.
Backing away would amount to telling the U.S. administration that the president of Ukraine is paying no heed to clear signals from Washington. And then, the signals would become even more clear and could affect not just former, but current state officials in Zelensky's entourage.
And of course, a failure to show understanding and react in an appropriate manner to these signals would mean that the president of Ukraine can abandon any notion of mutual understanding and contacts with the U.S. president