Sara Rajabli: founding Azerbaijan's first social enterprise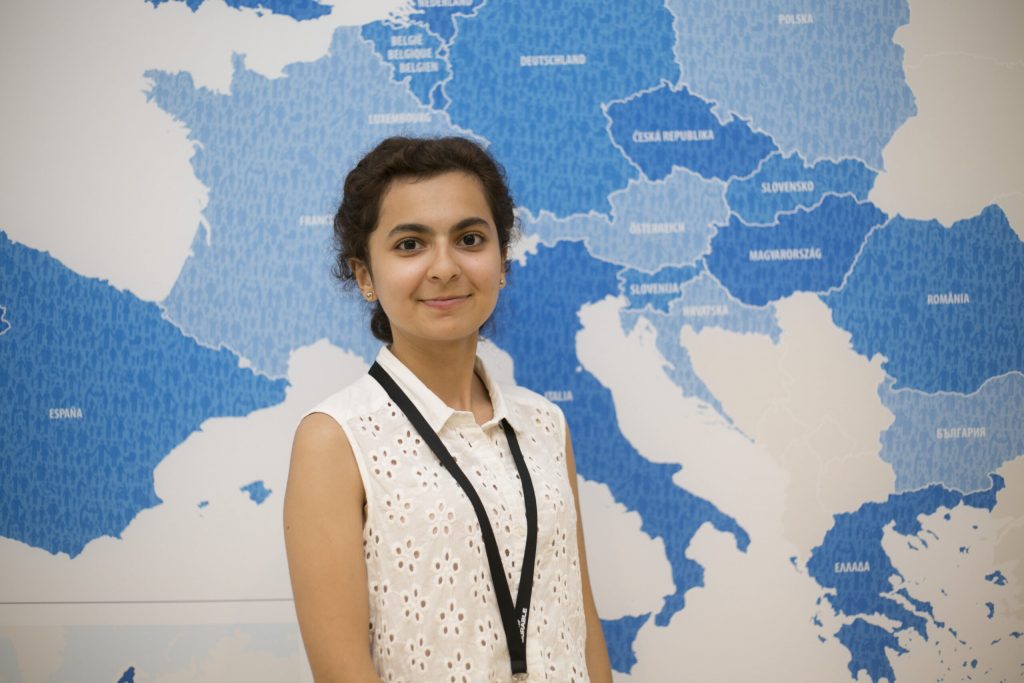 euneighbourseast.eu
Age: 24
Origin:  Sumqayit, Azerbaijan
Based in: Baku, Azerbaijan
Education: Azerbaijan Tourism and Management University & Jade University of Applied Sciences, Wilhelmshaven, Germany
Occupation: Founder BUTA Arts & Sweets
Sara Rajabli was born in Sumqayit, the third-largest city in Azerbaijan, located near the Caspian Sea, 30 kilometres from Baku. Her city was a very conservative place where young women were obliged to be accompanied by their relatives and where starting your own business as a woman was heavily frowned upon.
At the age of 17, Rajabli began studying at the Azerbaijan Tourism and Management University. Rajabli was introduced to European projects during her first year. She began to volunteer for the EuroVillage – 2014 project, which creates a miniature EU in Baku city centre every year.
Passionate about other cultures and languages, Rajabli couldn't wait for a chance to travel across the world, live outside of her comfort zone, and break all the stereotypes she had learned growing up in her very traditional community. She received a foundation scholarship from the German Ministry of External Affairs to study at the Jade University of Applied Sciences.
While studying in Germany, she decided to go on a low-budget, solo trip across Europe. This trip inspired her to launch a blog promoting the possibilities of free and low-cost travel. In the course of two years, her Free to Travel blog attracted over 2,400 subscribers from 55 countries and features stories from over 60 travellers.
Rajabli returned to Azerbaijan a completely different person; during her time in Europe, she had studied, worked, travelled, and come into contact with the concept of social enterprise for the first time. During the next few years of college, she received 10 short-term scholarships to learn about more cultures in Kyrgyzstan, Georgia, Russia, Turkey, Sweden, Latvia, Belgium, Poland, Morocco, and France.
When Rajabli graduated from university at the age of 20, she worked for a tourism company, a hotel, and a hostel as a tour guide and event manager. She understood that commercial companies did not align with her personal values and principles. She decided to include social value in her career and decided to start her first business, BUTA Arts & Sweets, a social venture aimed at reducing unemployment among women with special needs through the sale of homemade sweets, made by participants, to individuals and companies.
In Azerbaijan, there are more than 290,000 women with special needs and 95 percent of them are unemployed. Rajabli felt compelled to act on this issue. Since childhood, she had recognised women were discriminated against because of their gender. Women with special needs suffered even more. Rajabli saw how people reacted to those with special needs on the streets and wanted to change this attitude. Buta Art & Sweets, founded in 2017, addresses social exclusion by empowering these women through training programmes which provide them with an additional income. With no experience in business management, no skills, no connections and 85 euros, Rajabli began the first social enterprise in Azerbaijan.
The start of her entrepreneur journey was difficult — 90% of the companies she contacted did not believe that sweets made by women with special needs would be of good quality. There were also already so many well-established competitors in the pastry and bakery industry and on top of that her parents did not support her. Rajabli's parents told her every day that she would never achieve her goals as a social entrepreneur, that she would never be successful. What motivated Rajabli to achieve results was that she promised the women and their husbands that they could work from home and that their sweets would sell. After gaining their first income from sweets, the women began to engage more in society. Rajabli's family finally became supportive of her endeavour when they saw she could be independent, cover her expenses and support others.
Rajabli's hard work paid off, in less than one year. The company broke even, building more than 30 successful partnerships, and proving that women with special needs can be successful entrepreneurs. The women working at BUTA today make around 200 manats (108 euros) a month baking sweets. Sara's goal is not only to employ these women, but also to teach them all the skills they need to run their own businesses and become financially independent. The platform involves 20 women with special needs, has more than 40 sweet menus, and cooperates with more than 70 companies and organisations. BUTA Arts & Sweets have also been presented at international events.
With BUTA, Rajabli has created the first free certification program on confectionery for women with special needs in Azerbaijan, which she developed in cooperation with the Ministry of Education. As a result, 13 women with special needs have officially been certified by the Ministry of Education. One became the first visually impaired woman in Azerbaijan to become a certified master of confectionery. BUTA has provided 200 hours of free confectionery masterclasses.
In 2018, a year after starting BUTA, Rajabli launched the Social Business Youth Centre, which provides young people with the necessary skills and tools to become social entrepreneurs and support young people in launching their initiatives. Within two years, the Social Business Youth Centre became the biggest online mentorship programme on social entrepreneurship in Azerbaijan, accepting more than 5,500 applications and more than 3,500 participants.
During COVID-19, Rajabli founded Fir Fincan Kitab in July 2020, aiming to develop young peoples' critical thinking through organising book discussions, meetings with writers, and sharing thoughts on books on online and offline platforms. Two months after its inception, Fir Fincan Kitab had 200 members.
Quote: "This social business taught me that diversity is the best thing that can happen in teamwork, and every day I learn so much from these women. I think if you want to solve any problem, it is not necessary that it should be directly connected to your past experiences. It is enough to be empathic, it is enough to just be a human."
Sources: yunusandyouth.com, the-nwg.com, euneighbourseast.eu, nasdaq.com, oneyoungworld.com, f6s.com, cocastpodcast, linkedin.com