Shahdag Mountain Resort: Azerbaijan's hidden ski gem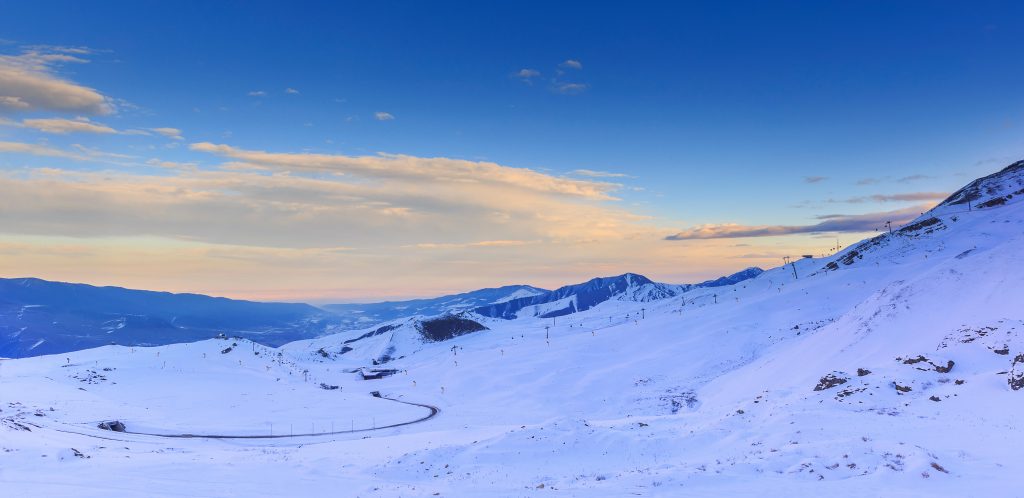 Alamy
Azerbaijan's first and largest ski resort is located on the northeastern side of the main ridge of the Caucasus in the district of Qusar, close to the Russian border. The convenience of Azerbaijan's location between Europe, Asia, and the Middle East encourages a diverse range of tourists.
The resort is located on the territory of the Shahdag National Park which has an intact ecological system and untouched flora (Caucasian oak, Caucasian ash, white birch) and fauna (East Caucasian tur, wild boar, common jackal). The resort itself is surrounded by towering peaks, alpine lakes, and deep canyons.
For many, a sunny country such as Azerbaijan having a ski resort seems an unlikely prospect. However, with mountain peaks standing at 4,243 metres and temperatures in winter dipping to -22°c, Azerbaijan boasts perfect skiing conditions.
Completed in 2012, Shahdag is perfect for travellers who are already well-adjusted to ski resorts in Western Europe and want to find somewhere more unusual and off the beaten track. The mountains of Azerbaijan are mainly untouched, and the ski resort features originality and brittle mountain charm. The resort is little known outside the post-Soviet area, so there is no crush of tourists clogging the hotels and ski lifts – even at the height of winter.
If you would like to be transported into a winter wonderland of snow-white fields, bright sun, and mountain air – away from the noise of city life – then Shahdag is made for you.  
How to get there: You can take a direct flight to the capital Baku from the European cities of Riga, Budapest, London, and Frankfurt. There are also frequent direct flights from Middle Eastern countries including the UAE, Kuwait, Qatar, Saudi Arabia, Bahrain, Turkey, and Israel. Shahdag is located around 200 km from Baku. From the airport, the easiest and quickest way to get to Shahdag is by rental car. From Baku, drive along the E119 towards Qusar, and then take Qusar-Laza Highway to Shahdag.
Time of year to visit: If you wish to visit Shahdag for a skiing holiday, then the winter season lasts from mid-December to the beginning of April. Shahdag is also worth visiting in the summer months and hosts many summer-orientated activities.
Documents: Ninety-five countries, including all EU, U.S. and UK citizens can apply for an electronic visa issued for a single-entry visit up to 30 days. The e-visa should be printed and presented together with your passport at the border checkpoint.
What to do:
Winter activities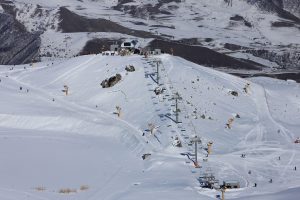 The Shahdag ski resort offers diverse runs and trails, state-of-the-art ski equipment to buy or rent, and ski passes. For skiing and snowboarding, there is a 16.6-km run of 14 slopes – five green, five blue and four red. The highest point of the track is 2,525 metres above sea level. The higher sections of the ski resort feature mainly blue and red-marked runs, suitable for intermediate skiers and snowboarders. Beginners can take advantage of three ski schools. In the area around the base of the mountain, there are short T-bars and magic carpets, so ski novices and children have perfect conditions.
There is sledging and tubing for adults and children. If you are not seeking speed, but want to enjoy the mountain views, there are also cable cars. For the adventurous, there is the zipline and tandem paragliding, where a professional team will take you to the top of the mountain and fly off with you to the base. The paragliding flight lasts 15-20 minutes and the entire experience is filmed on a go-pro. The winter activities area at the lift base includes segueing, snowmobiling, snowshoe trekking, quad biking for kids, and skating.
Summer activities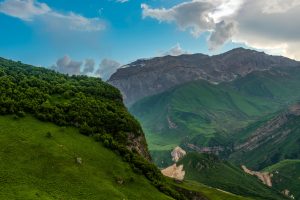 Although Shahdag is well known in Azerbaijan as a skiing destination, it is also one of the most beautiful places for a summer mountain adventure. Shahdag offers special mountain biking tours as well as simple bike tours, organised for lovers of outdoor activities. Scooters, Segways, quad bikes, and bobsleighs are offered for those who love speed and unusual forms of transportation.
For lovers of clean mountain air and rest, there are plenty of walks in the mountains and horseback treks to enjoy. Adrenaline lovers can take advantage of the zipline, the amusement park, and paintballing.
There are 12 different kinds of entertainment for younger tourists, including a children's park and mini-ATVs. While participating in various activities, tourists are provided with all means of and are safe and remain constantly under the guidance of professionals.
Accommodation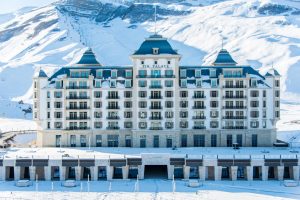 There are now different hotels in the ski resort: three 5-star hotels, one 4-star hotel and a hotel residence with apartments. The best two hotels are the Park Chalet and the Pik Palace, which offer ski lifts straight outside your door. Pik Palace has 167 luxury rooms and suites with unmatched elegance for winter and outdoor sports enthusiasts, couples and families. This mountain retreat contains incredible restaurants and bars, including the Alpina Brasserie & Wine Bar, a spa, heated outdoor pools, and infinite outdoor adventures.
Park Chalet boasts 164 elegant guest rooms designed with the perfect mix of rustic charm and modern luxury, mirroring its breathtaking surroundings. It is architecturally designed in the Swiss chalet style. Park Chalet feature a fitness club, a spa, pools, and features global and local cuisines at Aspen Grill & Lounge, and at Mocca Cafe.
Both the Pik Palace and Park Chalet offer spa and wellness centres with traditional and contemporary spa therapies, sauna, steam rooms, loofah rooms, wet rooms, a state-of-the-art fitness centre, as well as indoor and heated outdoor pools, and hot tubs.
Where to eat
At Shahdag, there are many options for dining and wining. Tez-Bazar, right by the slopes, is perfect for a quick stop – the self-service restaurant features hearty meals and small snacks. At Zirve Hotel, you can find a café with a large sun deck, from where you can see the ski slopes and enjoy the sun. At Pik Palace Hotel, you can enjoy a glass of wine at Alpina Brasserie & Wine Bar.
You can try traditional Azerbaijani food at Lezzet and Nefes Grill, both located at Hotel Zirve. Miras Restaurant is also classic Azerbaijani and perfect for larger parties as well as for couples. Lovers of Asian cuisine will enjoy Fujisan Restaurant at Pik Palace Hotel, where you can find both Japanese and Korean dishes on the menu.