Skirmishes continue along Azerbaijan-Armenia front as Yerevan says wants trade re-opened, normality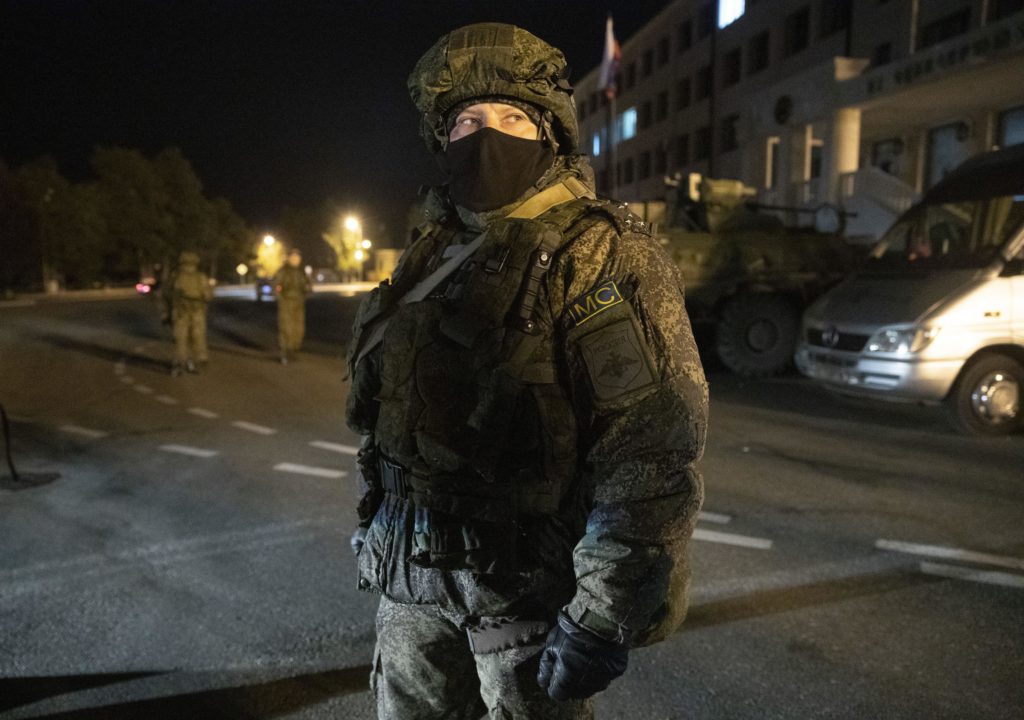 Russian peacekeeper, Xenkendi/Stepanakert, Azerbaijan. Alamy.
BAKU/YEREVAN
Armenia and Azerbaijan engaged in fresh, sporadic incidents along their largely unmarked border. In Yerevan, Prime Minister Nikol Pashinyan is finally getting a new government after winning a June snap election.
The defence ministries of both countries periodically report clashes along the border between Armenia and the Nakhchivan exclave of Azerbaijan and the international frontier further to the north towards where the two countries meet with northern neighbour Georgia.
Azerbaijan again reported shooting on its positions near the border with its de-occupied Kalbajar district.
Armenian PM Pashinyan faced charges from hawks that he had lost the war, which culminated in a six-week Azerbaijani offensive in which Baku retook long-occupied territories after nearly three decades. But his Civil Contract party was overwhelmingly re-elected in the snap poll, taking 71 of 101 seats.
At the same time, Azerbaijan says the terms of the November 2020 truce with Armenia, mediated by Moscow, are not being observed. It has also threatened to forcibly re-open transit corridors by road and rail between Azerbaijan and the Nakhchivan exclave, a 40-km strip of Armenia,
Pashinyan, now finally empowered with a huge parliamentary majority, is appointing figures that seem to signal the country wants trade routes reopened. However, it will again expose the 46-year old to charges of capitulation.
His candidate for Deputy Parliament Speaker, Hakob Arshakyan, told the National Assembly in unusually blunt terms that Armenia had to move on from its war losses.
A key government priority would be unblocking trade and transit routes with Azerbaijan and Turkey closed for almost three decades, he said.
"Very often, it seems to us that we are the only country in the world to have enemies, which is at war. And this makes us unique, corners us, makes us cry out for help across the world, blame the world for injustice and inaction, and blame our problems on others," Arshakyan said, according to official news agency Armenpress.
"One of our main objectives should be that Armenia and the Armenian people are guided not through hate but the interests of the state, not through emotions but through cold judgment, not by placing hope in other countries but by creating the right allied relations, not by seeking domestic traitors and guilty ones but by uniting forces, assessing shortcomings and mistakes so that we don't ever repeat the same mistakes again."
Arshakyan added that he would have been glad if the defence industry and technologies had received funding much earlier in Armenia, noting that he is saying this not to cast blame but to note that lessons must be learned. "When we speak about corruption in the military, we are saying it not to blame others but so that no one tries to do it again. When we say – 'stop the conflict and let's be constructive,' we aren't saying this because we are afraid. We say this because this is in the interests of our state and people," he said.
RUSSIA, PEACE BROKER AND PEACEKEEPER, EXPRESSES WORRIES OVER INCIDENTS
Russian Foreign Ministry representative Maria Zakharova told the Russian daily "Izvestia" earlier this week that intensive work is underway to resolve the situation. "Consultations and negotiations with foreign ministers are underway. We interact with the ministries of foreign affairs and through the embassies literally every day. Messages about telephone conversations between the heads of the foreign ministries, both through Russia-Azerbaijan and Armenia, are published regularly ..our country has invested colossal efforts in resolving this situation, both in the hot phase in the post-acute phase of the conflict. "
Prominent MP Aydin Mirzazade said Azerbaijan was going through a post-conflict period. "This conflict is no longer there. Our territorial integrity is guaranteed. In accordance with the two trilateral agreements, Azerbaijan is gradually continuing its creative work."
But he said the continued fighting was evidence the November 2020 armistice was not being fulfilled and called on the Kremlin to do more.
Mirzazade noted that Russia is not a party to the conflict. "And we cannot demand anything from her. However, we can only wish Russia to take a more active part in the peacekeeping process. "
The MP stressed that there had been considerable tension in Russian-Armenian relations lately. "Armenia is gradually moving away from Russia on a number of issues. From this point of view, it would be wrong to say that Russia fully controls the situation in Armenia or has a serious mechanism to exert influence. "
However, in his opinion, Russia could more actively express its attitude to these issues from time to time.
CEASEFIRE AMID A RUSSIAN-BACKED ARMISTICE?
Meanwhile, peacekeeper Russia seldom releases any details as to what exactly is occurring.
On the Azerbaijani side lies the wasteland of Azerbaijan's Kalbajar district, which was occupied, ethnically cleansed, looted and systematically destroyed during a 27-year Armenian occupation.
The area has been littered with landmines, many of them presumably unmapped, since Armenian forces were forced to leave the district under the terms of the 2020 armistice. The units are believed to have set up booby traps in the area as they hastily retreated. Armenian Prime Minister Pashinyan has handed over detailed maps of mined areas – the location of a staggering 300,000 anti-tank and anti-personnel mines in three districts Armenians formerly occupied. For doing so, he endured charges of being a "traitor" from nationalists in Yerevan. Even so, any landmine maps for four other districts previously under Armenian occupation have not been disclosed if, in fact, they exist at all.
MUTUAL SUSPICION OF MOSCOW'S INTENT
If the two leaderships in Baku and Yerevan and Moscow share anything, it is a deep scepticism of the Kremlin's intentions. Despite the collapse of the former USSR three decades ago, Moscow still views the region as its exclusive sphere of influence. However, it has been forced to come to terms with the fact that NATO member Turkey has been a significant player in the region on the side of Azerbaijan. Baku surprised many, including Moscow, by sending troops to NATO-led exercises in neighbouring Georgia as part of the "Agile Spirit" exercises. Troops from the United States, Italy, Turkey, Estonia, and other members or close allies are also taking part in the drills, which will continue until August 6.
According to the analyst Elhan Shahinoglu, head of the Baku-based Atlas research Center, Russia plays a double role in this issue. "On the one hand, we are told that the communication lines [trade and transport routes] must be open." But he noted the Russia continues to expand its presence in Armenia, and yet, as a "peacekeeper", there is no pressure or influence to implement the [armistice] agreements."
Shahinoglu argues Moscow is interested in the continuation of the conflict. "Because there is an opportunity to influence both Armenia and Azerbaijan through the conflict. If a peace agreement is signed, the issue will be resolved. It seems that certain circles in Moscow do not want this issue to end."