Sporadic shooting as Armenia, Azerbaijan ponder next moves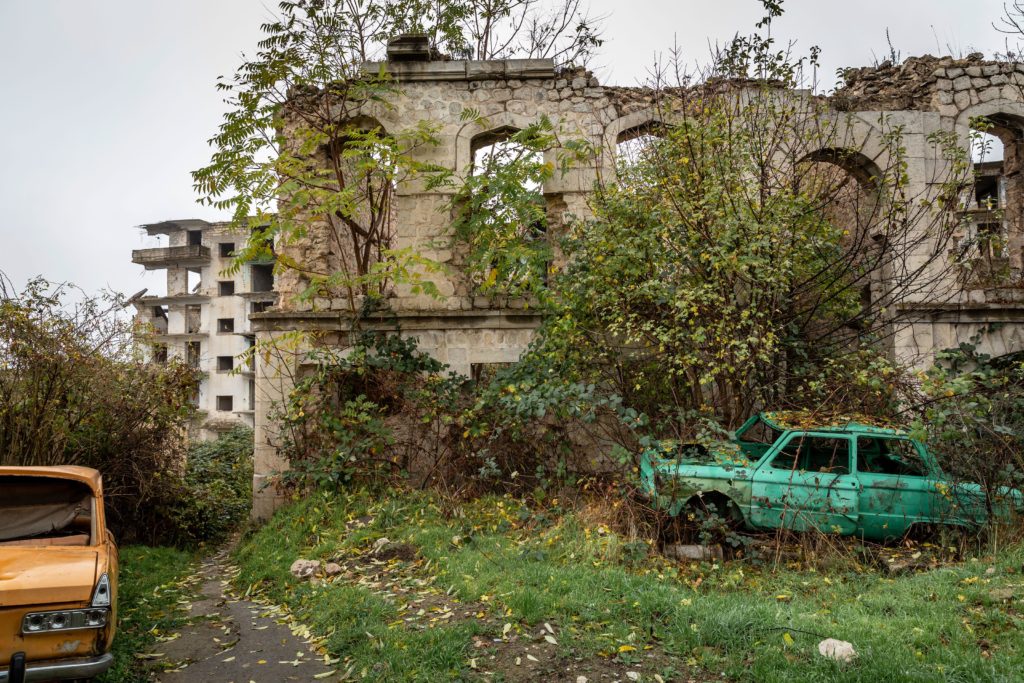 Shusha, de-occupied Azerbaijan. Alamy.
BAKU/YEREVAN/MOSCOW
Sporadic clashes and accusations between Azerbaijan and Armenia over their lingering border war have left a question as to whether anything will stop the smouldering conflict.
Baku said its forces were fired upon along the frontier with its Nakhchivan exclave, which is sandwiched between Armenia, Turkey, and Iran and separated from the rest of Azerbaijan by a 40-kilometre strip of Armenian territory.
Yerevan countered by claiming Azerbaijani units had started brush fires along the frontier, which Baku denied. Yerevan went on to say areas still under the control of Armenian separatists in the former Azerbaijani Soviet Socialist Nagorno-Karabakh district, which does not formally exist or is recognised by any country, came under fire.
RUSSIAN HIGH MILITARY OFFICIALS VISIT BORDER AREA
The highest official from the Moscow-led CSTO (Collective Security and Treaty Organisation), a rump bloc of mostly weak and authoritarian post-Soviet countries, including Belarus, Kyrgyzstan, Tajikistan, and more affluent Kazakhstan, visited Yerevan and some border areas.
Russia has turned down a request by Armenia to send troops to a border area with Azerbaijan where armed incidents are regularly taking place, but at the same time, Armenian government news outlets say they have placed two border markers along the frontier.
No one was reported injured or killed in recent days, though there have been several deaths and injuries among troops in recent weeks.
RUSSIAN CONFUSION
Though Russia brokered a late 2020 armistice and has 2,000 "peacekeepers" in the area, there has been no official demarcation of the border or formal peace agreement.
This begs the question as to whether Moscow is at all in control of the situation.
Compounding the issue is that although Armenia is a formal CSTO member, it is at best a sceptical one. Azerbaijan is officially non-aligned, though in the last month it has suddenly begun to take part in NATO drills in Georgia and in the Black Sea, much to the chagrin of the Kremlin.
The inability of the "peacekeeper" Russia to control much has not stopped it from moving to more firmly establish its presence in Armenia, its last bastion of military presence in the South Caucasus, excluding military encampments and bases it keeps in unrecognised, occupied parts of Georgia.
BORDER SHOOTOUTS WITH NO END IN SIGHT
The defence ministries of both countries periodically report clashes along the border between Armenia and the Nakhchivan exclave of Azerbaijan and the international frontier further to the north towards where the two countries meet with northern neighbour Georgia.
Armenian PM Pashinyan faced charges from hawks that he had lost the war, culminating in a six-week Azerbaijani offensive in which Baku retook long-occupied Azerbaijani territories after nearly three decades. But his Civil Contract party was overwhelmingly re-elected in the snap poll, taking 71 of 101 seats, signalling disillusionment with the debilitating and seemingly intractable war.
Members of PM Pashinyan's new team have signalled Armenia has to move on from its war losses. A key government priority would be unblocking trade and transit routes with Azerbaijan and Turkey closed for almost three decades. The new Deputy Speaker of Parliament, Hakob Arshakyan told the National Assembly last week basically that his country must move on.
"Very often, it seems to us that we are the only country in the world to have enemies, which is at war. And this makes us unique, corners us, makes us cry out for help across the world, blame the world for injustice and inaction, and blame our problems on others," Arshakyan said, according to official news agency Armenpress.
"One of our main objectives should be that Armenia and the Armenian people are guided not through hate but the interests of the state, not through emotions but through cold judgment, not by placing hope in other countries but by creating the right allied relations, not by seeking domestic traitors and guilty ones but by uniting forces, assessing shortcomings and mistakes so that we don't ever repeat the same mistakes again. When we speak about corruption in the military, we are saying it not to blame others but so that no one tries to do it again. When we say – 'stop the conflict and let's be constructive,' we aren't saying this because we are afraid. We say this because this is in the interests of our state and people," he said.
BAKU TESTS MOSCOW AGAIN BY JOINING MORE NATO EXERCISES
At the same time, Azerbaijan's government seems to be confident in further establishing its independent foreign policy. It is highly backed by NATO member Turkey, which helped build its army over a quarter-century.
Baku surprised many, including Moscow, by sending troops to NATO-led exercises in neighbouring Georgia as part of the "Agile Spirit" exercises this month. Troops from the United States, Italy, Turkey, Estonia, and other members or close allies also took part in the drills, which ended on August 6.
On Thursday, Azerbaijan went further, announcing its sea-divers are taking part in upcoming NATO-led exercises in Ukraine along the Black Sea shores.
The area is in the vicinity of Crimea, annexed by Moscow in 2014 after the pro-Kremlin government in Kyiv was ousted after bloody street uprisings.
The Ukrainian Navy is formally hosting the exercises, called "Dive-2021" from a ship belonging to NATO member Romania's Navy. Georgian, Bulgarian, U.S. and now Azerbaijani naval forces have just begun in the Black Sea.
According to the Ministry of Defense of Ukraine, the units are practising dives of more than 30 metres.
The latest – and unexpected – Azerbaijani participation in a NATO event – Azerbaijan is officially a non-aligned country – cannot but irk the Kremlin yet again.
Kremlin chief spokesman Dmitry Peskov had already slammed the "Agile Spirit" exercises which Azerbaijani forces took part in.
He called it "another proof" that NATO was coming close to Russia's borders.
"The scenarios of the drills are drawn up in NATO, and the Alliance is not hiding who the key foe is for them," the Russian state-owned TASS agency cited Peskov as saying. 
LACK OF FULL PEACE, BORDER DEMARCATION, LANDMINES
Aside from the lack of a formal demarcation of the border between Armenia and Azerbaijan, there is the issue of the enormous amount of landmines, unexploded ordinance, and booby traps left behind in the wasteland of the formerly occupied territories of Azerbaijan, which has rendered them almost uninhabitable.
The latest casualty came on Friday when a member of the Azerbaijan state de-mining agency ANAMA blew up on a hidden anti-personnel mine. He was whisked to a hospital, his condition unknown.
Many of the landmines are presumably unmapped since Armenian forces were forced to leave the district under the terms of the 2020 armistice. Armenian Prime Minister Pashinyan has handed over detailed maps of mined areas – the location of a staggering 300,000 anti-tank and anti-personnel mines in three districts Armenians formerly occupied. For doing so, he endured charges of being a "traitor" from nationalists in Yerevan. Even so, any landmine maps for four other districts previously under Armenian occupation have not been disclosed if, in fact, they exist at all.