The Kremlin and Ukraine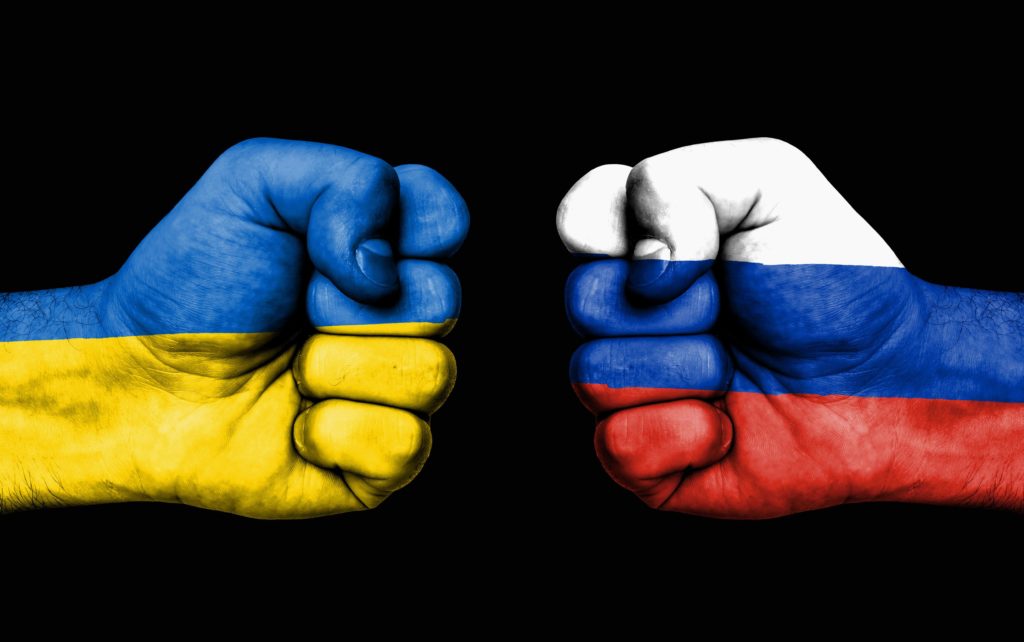 Alamy
Ukrainians could be forgiven for having trouble believing Russian President Vladimir Putin actually meant what he said when he recently repeated his thought about Ukraine.
"I've said it many times before, and I can say it again. I believe that Ukrainians and Russians are truly a single people."
But Putin's remarks – during last month's "Direct Line" phone-in programme with handpicked Russian viewers – were nothing new.
They were part of a blind spot that this Kremlin leader – and others before him – have had about Ukraine, their multi-party and often politically fractious neighbour.
While Russian and Soviet leaders generally gave the nod to the ethnic differences with other nations with very different ethnicities, languages or religions in their midst, this did not extend to Ukrainians.
Putin pursued these arguments to his vast, captive television audience. The remote Russian region of Mordovia, for instance, had different ethnic groups, but they were united in friendly relations with each other. As did Israel, founded by Jews originating in Europe, the Middle East and Africa.
WHY PUTIN IS SO INSISTENT ABOUT UKRAINE
So why is it so incomprehensible to hold talks with Kyiv's leadership, including President Volodymyr Zelensky? Zelensky, after all, a former comedian who came to power on his pledge to solve the conflict with Russia? Zelensky has been seeking talks for months with Putin to discuss Russia's role in fomenting unrest in areas of eastern Ukraine occupied by Moscow's separatist proxies.
But his repeated pleas for talks have fallen on deaf ears and became so frequent that many Ukrainians began to mock him as naïve.
"Ukrainians," Putin said, were not unfriendly to Russians, he said. "But the current Ukrainian leadership is clearly unfriendly to us. That is abundantly clear.
He dismissed meeting Zelensky out of hand.
"So, what about meeting Zelensky? If he has handed over his country completely to direction from outside…all key issues about everything that happens in Ukraine are decided in Washington and partly in Paris and Berlin," he said.
"So, what is there to talk about? I am not rejecting such a meeting altogether. But we have to understand what it is we are to talk about."
Again, this is not a new narrative. From the moment mass protests forced Ukraine's Russia-friendly President Viktor Yanukovych, whose Ukrainian language skills were shaky, to flee the country in 2014, the Kremlin denounced what it considered a "coup" in Kyiv, engineered by the United States and founded on "Nazi-like" principles.
Those events were immediately followed – or even reacted to – by Moscow's swift seizure of Crimea and the separatist takeover in eastern Ukraine. More than 13,000 have since died in seven years.
Though almost no one takes the claim seriously – Putin denies direct involvement in eastern Ukraine.
He says Zelensky should talk to the "separatists" – no country recognises them and they do not even control a fixed territory or region – to end what he calls Ukraine's "civil war".
He explains away the buildup of more than 100,000 troops in Crimea and eastern Ukraine in April as simple "exercises" to keep in check Western aggression against Russia or its encirclement of Russia.
Ukrainian leaders and commentators were aghast but unsurprised by Putin's latest comments.
"Ukrainians and Russians are two different peoples." Ukrainian Foreign Minister Dmytro Kuleba wrote on Twitter.
"We could live in a spirit of good neighbourliness, but in 2014, Russia attacked Ukraine, killed thousands of people and seized a part of our territory. Vladimir Putin unleashed that aggression and is fully responsible for the chasm that divides Russians and Ukrainians."
SOME UKRAINIAN COMMENTATORS SAY UKRAINIANS HAVE ILLUSIONS THAT CONFLICT CAN BE NEGOTIATED AWAY
Commentator Pavlo Kazarin, writing on the Ukrainian nv.ua website, said that as Moscow sank deeper into "its own version of reality, its neighbours have fewer and fewer illusions.
"It wouldn't hurt Ukraine's leaders to rid themselves of their illusions. Like those pushing Volodymyr Zelensky over and over again to seek a meeting with Putin. He would not be able to convince him of anything."
Ukrainians often do not feel the need to point to the fundamental characteristics that set their country apart from its neighbours.
Those include genuinely competitive elections, freedom of expression and freedom of assembly without the fear of arrest. In addition to a generally freer, though still imperfect, media landscape.
A rapid glance at Putin's upbringing in the post-Stalin Soviet Union and his career as a KGB operative in the former East Germany shows that Putin is not merely propagandising. He truly does believe what he says.
RUSSIA AND UKRAINE "INDIVISIBLE"?
Putin is famously quoted in a 2005 speech as describing the break-up of the Soviet Union as 'the greatest geopolitical tragedy of the 20th century".
He routinely defends the rights of Ukraine's many Russian-speakers who he says are subject to blatant discrimination.
Russian leaders have long believed in the "indivisibility" of the bonds uniting the two neighbours – a common Soviet past in the aftermath of a calamitous civil war, a common victory over Nazi Germany, common achievements in space and industrialisation, common resistance to NATO and other Western institutions during the Cold War – Ukrainians find themselves divided over NATO in the post-Soviet era, with about 50 percent in favour.
The sentiments of bonding with Russia's Ukrainian neighbours extended right through to the collapse of Soviet rule.
PUTIN'S ATTITUDES NOT UNIQUE
The last Soviet leader, a darling of the West Mikhail Gorbachev, was badly weakened by the August 1991 hardline coup that nearly unseated him and spelled the last gasp by hardliners to hold the USSR together.
Yet even Gorbachev was in denial up to the Soviet Empire's final days – even just before a December 1991 referendum on Ukrainian independence, which was clearly going to produce an overwhelming vote in favour.
His pathetic last-minute appeals for Ukrainian voters to reconsider went unheeded – they ended up voting by a 9-1 margin for independence, the last nail in the Soviet coffin.
MANY RANK-AND-FILE RUSSIANS AGREE
The idea is hardly just confined to politics.
Rank-and-file Russians are often dismissive of Ukrainian culture and the Ukrainian language – which was subjected to official pressure not only by Russian Communists – but also former Polish and Austrian rulers.
Many Russians long viewed Crimea – home to popular resorts and to palatial homes of the country's elite — as a purely Russian territory that ended up in post-Soviet Ukraine "by accident".
The "accident" was a decision by Soviet leader Nikita Khrushchev – himself Ukrainian – to transfer it as a "gift" to the Ukrainian SSR in 1954 when the end of Soviet rule was unthinkable.
Author Alexander Solzhenitsyn was lionised in the West for his opposition to Soviet Communism.
What was perceived as his anti-dictatorial heroism indeed earned him a long stint in the Soviet GULAG prison camp system, as well as a Nobel Prize.
But Solzhenitsyn's strident opposition to Soviet communism masked another streak of his. He was also an ardent advocate of "pan-Slavism" – that Ukrainians, Belarusians, and other Slavs were one nation.
He firmly opposed Ukrainian independence. Before the collapse of Soviet rule, he urged authorities to grant independence to all non-Slav republics and bring together Russia, Ukraine and Belarus in a new Slav state.
Even today, jailed Russian opposition activist Alexei Navalny, who survived a poisoning attempt and is championed as a fighter for fundamental rights, is viewed with deep suspicion in Ukraine.
Despite his anti-Kremlin views and actions, which have also landed him in a prison camp, he holds Russian nationalist views, particularly Crimea.
While criticizing the manner in which Russia seized Crimea (a slapdash "referendum" rushed through with little planning and under unofficial Russian military presence), he told a Moscow radio station in 2014 that the peninsula "will remain part of Russia and will never again in the foreseeable future become part of Ukraine".
Crimea, he said, was not "a sausage sandwich to be passed back and forth".
Russian journalist Andrei Kolesnikov, writing in Forbes magazine, perhaps best described Putin's views on Ukraine as a "make-believe world existing in the president's head. But it has become the world in which we live."
"Of course. You cannot restore the USSR in this world, and maybe it's unnecessary to do that anyway. Because that would blur the clarity of the Russian people's ability to form a state."