Russian gas starts flowing to Moldova after hard-fought deal with Gazprom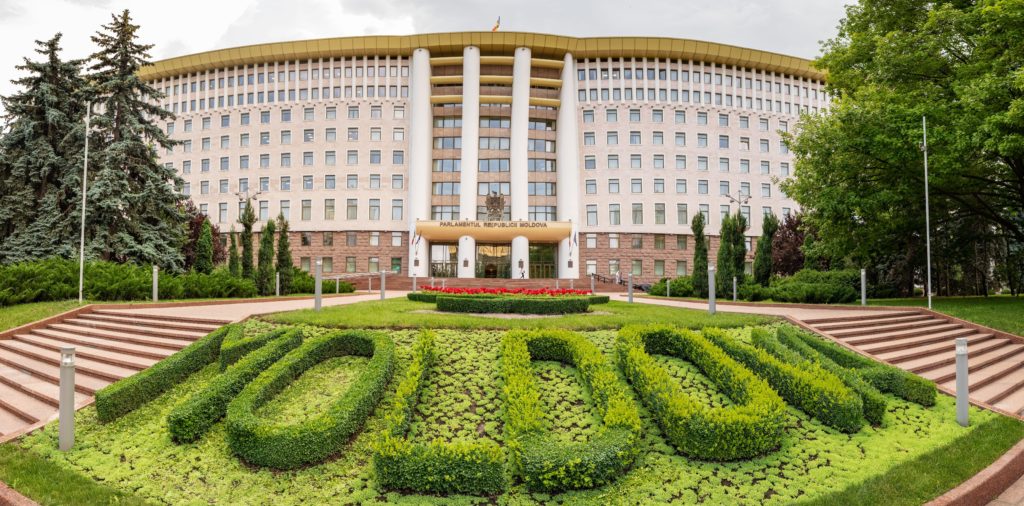 Chisinau, capital of Moldova (Alamy)
CHISINAU
By Dmitry Chubashenko
Russian gas started flowing to Moldova after negotiators clinched an 11th-hour agreement with gas giant Gazprom to keep supplies coming for a further five years, a deal described by the ex-Soviet state's pro-Western president as a "positive precedent" despite a steep increase in price.
Deputy Prime Minister Andrei Spinu, the chief negotiator at the St Petersburg talks depicted as very difficult by the Moldovan side, told a news conference that Moldova would pay about $450 per 1,000 cubic metres. in November, but that was expected to fall to less than $400 in December. Russian sources said the November price was more likely to stand at between $500 and $600 – these levels compare to about $790 per 1,000 cubic metres in October – and $127 at the beginning of the year before gas prices rose sharply on world markets.
Spinu said internal prices for domestic customers would rise from the current rate of $250 – subject to submission to regulators by Moldovagaz, Gazprom's local affiliate and the sole distributor of gas in the country. The government, he said, intended to compensate consumers for part of the increase.
Moldovan officials and Gazprom described the deal as a compromise beneficial to both sides. As the negotiations proceeded, Gazprom cut supplies by a third to tiny Moldova, one of Europe's poorest countries wedged between Ukraine and European Union member Romania. The European Union extended a 60 million euro grant to Moldova in case the talks failed as the country for the first time bought gas from other sources, including Poland, Ukraine and the Netherlands.
"The gas crisis ended when the contract was signed between Moldovagaz and Gazprom …We are pleased that this contract was agreed and signed," Moldovan President Maia Sandu told the Moscow daily Kommersant. "It seems to me that this is a positive precedent in our relations with the Russian Federation, that we can resolve any issue, even such a serious issue. It is a good example of what we can resolve with other matters."
Sandu has spent much of her first year in office, after defeating her Russia-friendly predecessor, rallying support from the EU and leading a campaign to uproot corruption, which has included the detention of the prosecutor general. Analysts had suggested that Gazprom's hard line in the talks reflected a bid by Moscow to secure a change in Moldova's policy to draw nearer to the EU. Ukraine has complained of political pressure from Russia, saying the newly-built Nord Stream 2 pipeline to Germany will allow Moscow to use gas as a weapon against Kyiv.
Strictly commercial
But Moldovan officials were emphatic that politics played no role in what was a commercial deal, though Sandu acknowledged in the interview that she spoke several times to the Kremlin's point man on Moldova, Dmitry Kozak, to help seal the deal.
A key point in the talks – and in the signed deal – was how to proceed with Moldova's outstanding gas debts to Moscow, estimated at $433 million, or $709 if penalties for late payment are included. Under the terms of an eight-point protocol made public by Spinu, an independent audit of the debt is to be conducted and an agreement is to be signed by next May on paying off the debt over five years. A commission is also to be formed on sector cooperation, with Moldova agreeing to keep Moldovagaz within its current structures.
Gazprom holds 50 percent plus one share of Moldovagas, the Moldovan government holds 35 percent and 13 percent belongs to Moldova's separatist Transnistria region – though authorities there have ceded their portion of the company to Gazprom. Transnistria, closely linked to Russia since breaking away from Moldova as the Soviet Union was collapsing, receives about two-thirds of the gas supplied by Russia and has gas debts of its own of about $7 billion, through Moscow is not seeking repayment. It is also the site of the power station that generates electricity for the entire country.
No role for separatists in the deal, Moldova says
Spinu dismissed speculation that the interests or future of the breakaway region, which has no international recognition, featured in the gas deal concluded with Gazprom.
"Transnistria is not mentioned in the protocol… (the region's) debts were not under discussion and are not part of the agreement," he said.
There was little open criticism of the deal, though some analysts viewed the outcome with a degree of cynicism.
"This is a good lesson for the hapless EU and Germany," tweeted Anders Aslund, an advisor to various post-Soviet governments in Ukraine. "Ukraine and Poland promised Moldova significant gas supplies. Instantly Gazprom offered to prolong its gas supply contract to Moldova for five years at reasonable prices. Time for the EU and Germany to learn diplomacy!"
The new contract, according to the protocol, is based on a price formula linked to a "basket" of oil product indexes on European markets, but Spinu declined to give any further details. Officials had earlier said prices would be determined partly by the level of oil prices and partly by seasonal factors and market trends.
A further issue to be discussed is Moldova's obligations for energy reforms under agreements with the EU – this "third energy package" calls for the liberalisation of the gas market and bars any single company from being both a gas supplier and distributor – as is the case now with Gazprom and its affiliated company Moldovagaz.
Spinu said Moldova would abide by its obligations to the EU and the matter would be the subject of discussions with Russia.
"The price formula achieved between Moldova and Gazprom is a very good one. It would seem the miracle occurred at the last moment when the Russians set aside tough political conditions and agreed with the business formula proposed by Moldova," wrote former Moldovan Prime Minister Ion Sturza. "The only difficulty is the de facto postponement of the third energy package."