Ukraine battles COVID – and a reluctance to get vaccinated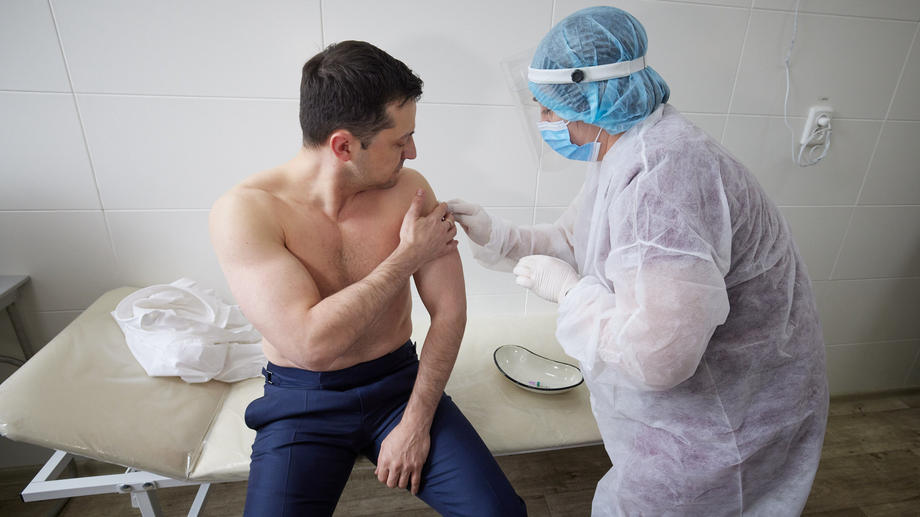 EPA-EFE
Ukraine proceeded grimly with its campaign to bring COVID under control – particularly outbreaks in the west of the country – but faced an equally tough problem by enlisting the president and a variety of celebrities to persuade a reluctant population to get vaccinated.
President Volodymyr Zelensky did his bit – removing his shirt while cameras rolled to get his shot of the Indian-produced AstraZeneca vaccine at a mobile hospital for troops deployed in eastern Ukraine, where large swathes of territory remain under the control of Russian-backed separatists.
Authorities enlisted entertainers, including Eurovision Song Contest winner Ruslana Lyzychko, and sports stars to be vaccinated on camera to overcome a reluctance to vaccination that long pre-dates the pandemic.
Health Minister Maksim Stepanov, speaking in parliament, urged Ukrainians to "reject those who collaborate with COVID.
"I come across so much false information in broadcasts and on social media. These are myths spread by politicians to score political points and undermine the vaccination campaign, thereby favouring the interests of other countries," he told the chamber without elaborating. "Their sole aim is to destroy what our doctors have achieved and spread panic and gloom."
Ukraine has recorded more than 27,000 COVID deaths and a vaccination drive finally got under way earlier this month after various false starts and hiccoughs.
Officials and doctors remained critical of the pace of vaccinations, with 16,000 getting their shot in the first 10 days of the campaign.
"Vaccination will be effective if we manage in the next two months to do at least 10 % of the population at least once. But there are already big doubts that this will be possible," immunologist Andriy Volyansky told Ukraina television. "A total of 16,000 in the first 10 is not just a small number. It is an exceedingly small number. And people are falling ill and dying."
Officials were taking action to staunch a surge in western regions.
State railways stopped selling tickets to three western regions grappling with increasing numbers of infections. Record high numbers were recorded in Zhytomyr and Lviv regions.
Four regions slipped into the "red zone" quarantine with tightened restrictions and others may follow. Kyiv was declared an "orange zone". Several districts have closed schools and shifted students onto remote learning. Kyiv was declared an "orange zone" with less severe restrictions.
And the vaccination campaign remained beleaguered by supply and delivery problems.
The deputy health minister said Ukraine would  impose financial penalties on local pharmaceutical company Lekhim over delays in delivering Chinese-made Sinovac vaccines, still to be approved by authorities.