Zelensky must pin hopes on Biden as dream of Russian entente ends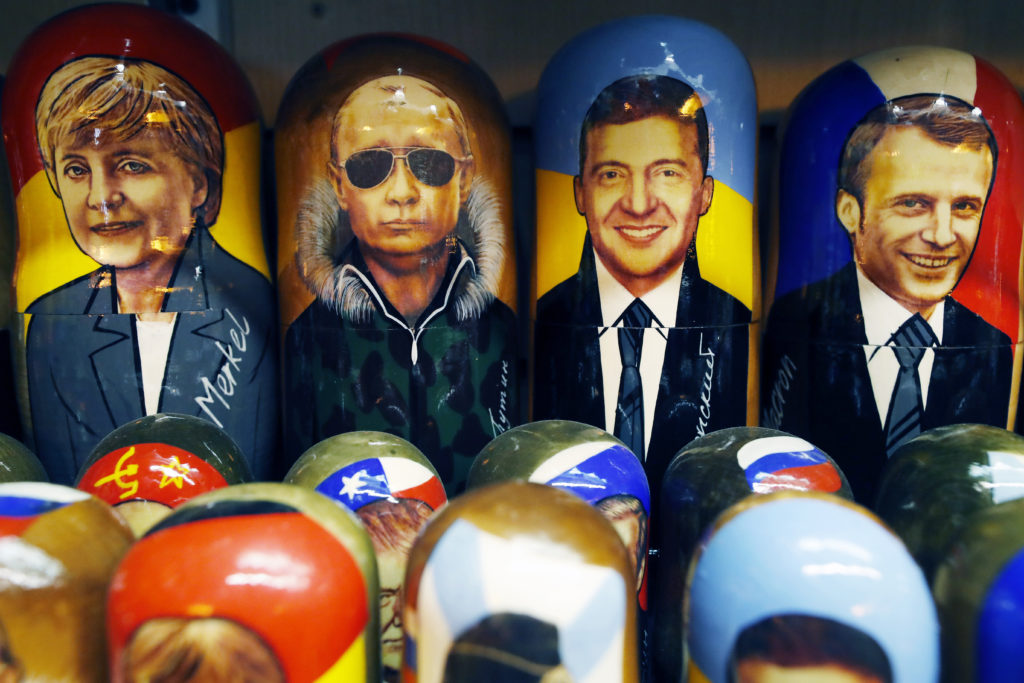 Matryoshka dolls depicting German Chancellor Angela Merkel, Russian President Vladimir Putin, Ukrainian President Volodymyr Zelensky and French President Emmanuel Macron (Source: EPA)
by VITALY PORTNIKOV
KYIV
A mark of the seriousness with which Washington regards Russia's sudden troops build up on Ukraine's border is that, after months of silence, it ultimately provoked new President Joe Biden's first telephone conversation with Ukrainian President Volodymyr Zelensky.
But the call was just a formality after days of intense behind-the-scenes diplomatic activity.
It soon became clear that a video meeting on March 30 between French President Emmanuel Macron, German Chancellor Angela Merkel, and Russian President Vladimir Putin, intended to help end the conflict in eastern Ukraine, where Russian-backed separatists have held the large industrial city of Donetsk since 2014 and large areas nearby, produced no results.
In a de-facto admission that the German-French effort to engage the Kremlin had largely failed, US Secretary of State Antony Blinken held his own virtual meeting with Ukraine's Foreign Minister Dmytro Kuleba just a day later, on March 31 and again on April 1. Joining them were Ukraine's Defence Minister Andriy Taran, U.S. Defense Secretary Lloyd Austin, and Ukraine's Chief of the Defence Staff, Ruslan Khomchak, along with Mark Milley, the U.S. Chairman of the Joint Chiefs of Staff.
The message was the same in all three conversations: the Ukrainian officials were given Washington's firm support for Kyiv.  The U.S. promised help to strengthen the country's defence capabilities against possible further Russian aggression.
On the same day he held talks with his Ukrainian counterparts, Milley spoke with the chief of staff of Russia's armed forces, Valery Gerasimov. There was, naturally enough, no mention of Ukraine in any official statement, but it is not hard to imagine what the men discussed.
If Vladimir Putin truly intended – as some commentators believe – to launch a "psychological attack" to test the nerves of Joe Biden, he must also have understood that the White House, the State Department, and the U.S. military were watching events unfold between Kyiv and Moscow very carefully.
HYBRID WAR
So, will Putin now abandon any possible notion of further military involvement in Ukraine?
First, we do not know whether he intended to launch a "real", large-scale war in the first place. Massing troops on Ukraine's border does not necessarily mean imminent action. It is, rather, a natural feature of the "hybrid war" to which the Kremlin has subjected Ukraine since 2014.
These movements – western military sources say the Kremlin has added 4,000 troops – could even end with a withdrawal, a decision that only Putin himself has the power to sign off on, and that would leave onlookers guessing at his motivations.
Zelensky has already hinted his interpretation of the move, describing the massing of troops along the border as "Russia's traditional way" of conducting business by applying blunt pressure.
The Ukrainian leader had signalled his growing impatience with Moscow by approving sanctions against Viktor Medvedchuk, the leader of Ukraine's Russia-friendly party, "Opposition Platform for Life". Zelensky also signed off on the closure of three television channels linked to Medvedchuk.
When Ukraine's National Security and Defence Council adopted these sanctions, one of the key questions was how Putin would react to them. We may, perhaps, now be getting closer to an answer.
But the theory that Putin is seeking to test American resolve can only be a partial explanation.
Putin, faced with falling political ratings and discontent among voters, may well be seeking a "small triumphant war" to show that Russia has not ceased worrying about its "compatriots" in neighbouring countries –invoking the well-used trope that it is simply defending the rights of Russian speakers everywhere.
In the two separatist statelets in eastern Ukraine – the "People's Republics" of Donetsk and Luhansk – Moscow has handed out a great number of Russian passports, a form of de facto annexation it has already used in places such as Georgia's Abkhazia region.
DIFFERENT MILITARY OPTIONS
But for the sake of argument, what would be the scale of military action – if God forbid it such an action was launched?
When we examine all possibilities, let us remember that over his two decades in power, Putin has adhered to the doctrine that force is a perfectly legitimate tool. If you believe Putin, Russia did not attack Georgia – Georgian President Mikheil Saakashvili tried to use force to resolve the question of South Ossetia, thereby threatening the security of the peaceful population of 20,000 in that statelet.
And, according to this logic, it was not the Kremlin which organised the occupation and annexation of Crimea, but the peninsula's residents who boldly embarked on a path of joining Russia.
One highly talked about, but completely speculative "idea" is that the Kremlin could organise a violent provocation in the Donbass region, an event that would then be blamed on Ukraine.
Russian Foreign Minister Sergei Lavrov has already warned that Ukraine is preparing for the use of force in Donbass and further cautioned that actions of this sort could lead to the destruction of the Ukrainian state.
In any case, as the speculative logic goes, such a provocation could well be followed by an operation to "restore the territorial integrity" created by the Kremlin in the "occupied territories" of the "People's Republics". The constitutions of both republics delineate their territory as Donetsk and Luhansk regions in their entirety, though in fact the separatists only control portions of each.
In such a make-believe scenario, the fighting – as the Kremlin would argue – would be done by the republics' "people's militias", allowing Moscow to portray itself as merely an innocent bystander.
And the Russian army –including the units currently massing on the Ukrainian border – would render "assistance", out of what would be described as a moral obligation.  That is precisely what happened in 2014, when a Ukrainian advance was stopped only through direct Russian intervention, described as being motivated by moral grounds.
Another possible – but much riskier – option for the Kremlin would be to attack Ukrainian regions adjacent to Crimea to secure the operation of the North Crimea Canal.
Crimea is on the brink of an environmental disaster. Water supplies were derived from the canal, still under Ukrainian control. And the Kremlin has no idea how to solve the problem, which has greatly angered Crimean residents.
The risk associated with such military action is that Crimea, unlike Donbass, is a fully-fledged part of the Russian Federation under existing Russian legislation. This means that any Russian attack from Crimea would be an act of straightforward aggression on Ukraine.
Even in 2014, when Crimea was annexed, Moscow insisted that the number of its troops in Crimea did not exceed the figures set down in Russian-Ukrainian agreements. It only began boosting its contingent there after Crimea and the port of Sevastopol were joined to Russia.
ILLUSIONS OF NEW UKRAINIAN LEADER SHATTERED
Amid all this speculation, there emerges only one hard truth.
Any illusions that President Volodymyr Zelensky could somehow reach an agreement with Vladimir Putin have been shattered once and for all. Many Ukrainians once believed in these illusions. They served as a big boost to Zelensky in winning the 2019 presidential election.
But if he honestly believed his assertion that he could clinch an agreement with the Russian president, Zelensky was only fooling himself.
Now, Zelensky, and many Ukrainians along with him, are beginning to understand that the war has not magically disappeared. Instead, it has re-emerged in the form of a new, menacing military fist on Ukraine's borders.
That is why Zelensky's conversation with U.S. President Biden was so important. The only thing which could ultimately alter Putin's calculations is the understanding that the United States will not abandon Ukraine. And that a new, open attack would carry grave political and economic consequences for the Kremlin.
(The opinions expressed in this piece reflect the views of the author and not of this publication. The Tribune is committed to publishing views from across the Eurasia region in its Opinion section. It will be publishing a piece from Russia in coming days.)