Ukraine edges its way towards IMF compliance for resumption of credits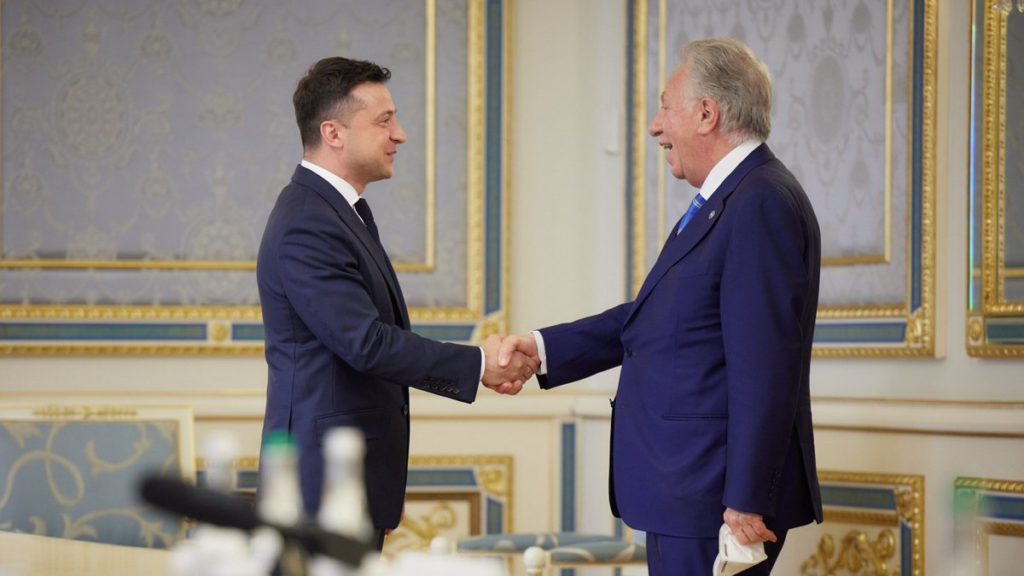 Zelensky and the Venice Commission's Gianni Buquicchio (Global Look Press)
KYIV
Ukraine inched its way to compliance with International Monetary Fund standards that will give it access to badly needed new credits after a year-long stalemate, securing passage of key legislation that amounts to an overhaul of the country's judicial system.
Parliamentary approval of the measures was forthcoming after President Volodymyr Zelensky's administration overcame resistance from large numbers of deputies who viewed the changes to major institutions as foreign interference in the ex-Soviet state's affairs.
The IMF and Ukraine clinched an agreement on a $5 billion standby credit a year ago and a total of $2.1 billion was quickly disbursed. But subsequent tranches were put on hold after a review found that the government had failed to implement judicial reforms, rein in widespread corruption and guarantee the central bank's independence.
Concerns were also raised about the failure to observe normal corporate governance in state-run companies, with U.S. Secretary of State Antony Blinken citing in particular the dismissal last month – by cabinet order – of the head of the state-run oil and gas company Naftogaz.
The European Union followed suit, making the second tranche of a 600-million euro loan to ensure post-COVID macroeconomic stability contingent on those judicial reforms. It also suggested it would take its cue from the IMF, whose concerns it shared.
REFORMING JUDICIAL BODIES
Parliament, the Verkhovna Rada, overwhelmingly approved legislation on Tuesday in a second and final reading with provisions on who is to sit on the 16-member High Qualification Commission of Judges, which selects and evaluates justices.
That body is appointed by the High Council of Justice — on a strict competitive basis. A selection commission will examine candidates and will include three foreign experts with the right of veto on appointments — as recommended by the Venice Commission, a Council of Europe body which helps bring constitutions and institutions into line with international standards.
A separate body, the Council of Judges, the Ukrainian judiciary's highest body, ensures the independence of judges and has until now elected its members by secret ballot.
"We promised people we would restore and uphold justice and we are doing this every day with the help of different instruments," Zelensky said on his Telegram channel after the legislation was passed.
"Today we have good news from the Verkhovna Rada. which provided strength for one of those instruments to uphold justice. At last, a law has been passed to resume the work of the High Qualification Commission of Judges. And I hope no one concealed legal 'landmines" in the legislation or distorted its essence…The Commission must be drawn up so that its members harbour no 'obligations' or 'links' to the so-called judicial mafia."
The opposition in parliament had opposed the right of veto on the foreign experts — as had many members of Zelensky's own Servant of the People Party and even the president's close allies.
"If they are going to say — 'we will choose for you and oversee things' then let's just say it loud and in the open that we are handing over the judicial system to outsourcing by an international institution," David Arakhamia, head of the pro-presidential majority in parliament, said earlier this month.
PRESSURE ON PARLIAMENTARIANS SECURES PASSAGE
In the end, pressure from international institutions — and the need to secure credits — brought deputies around.
A second law approved in its final reading imposes jail sentences on officials who make false income or asset declarations. All assets worth more than the equivalent of $150,000 must be declared.
Another bill, on judicial ethics, will also be required to satisfy the fund.
There was no indication whether the IMF regarded approval of the legislation as sufficient to proceed with new consultations to restart the flow of credits. A separate IMF allocation of $2.7 billion, part of a worldwide distribution of $650 billion, is not expected until October or later.
IMF Spokesperson Gerry Rice told a briefing in Washington this month: "We remain, I should say, closely engaged with the Ukrainian authorities on progress towards concluding that first review. That means discussions around implementing the policies and reforms in that program."
Ukrainian officials have expressed confidence in recent months that continuing discussions would lead to a new tranche being agreed and disbursed in the autumn. They have also said that disagreements with the Fund over the central bank's independence, had been largely resolved.
But new turmoil broke out this week at the central bank, with several staff of the bank's licensing department tendering resignations en masse, saying it had become impossible to work in conditions of "unacceptable" excessively centralised decision-making and a failure to allow oversight bodies to operate under governor Kyrylo Shevchenko.
"This poses a threat that reforms will be rolled back in the banking sector and in regulation of the non-banking sector," bank staff wrote in a resignation letter.
Shevchenko was appointed to the role by Zelensky, after his predecessor, Yakiv Smolii, was forced out last July, citing  "systematic political pressure".