Unclear situation on long Afghan-Tajik border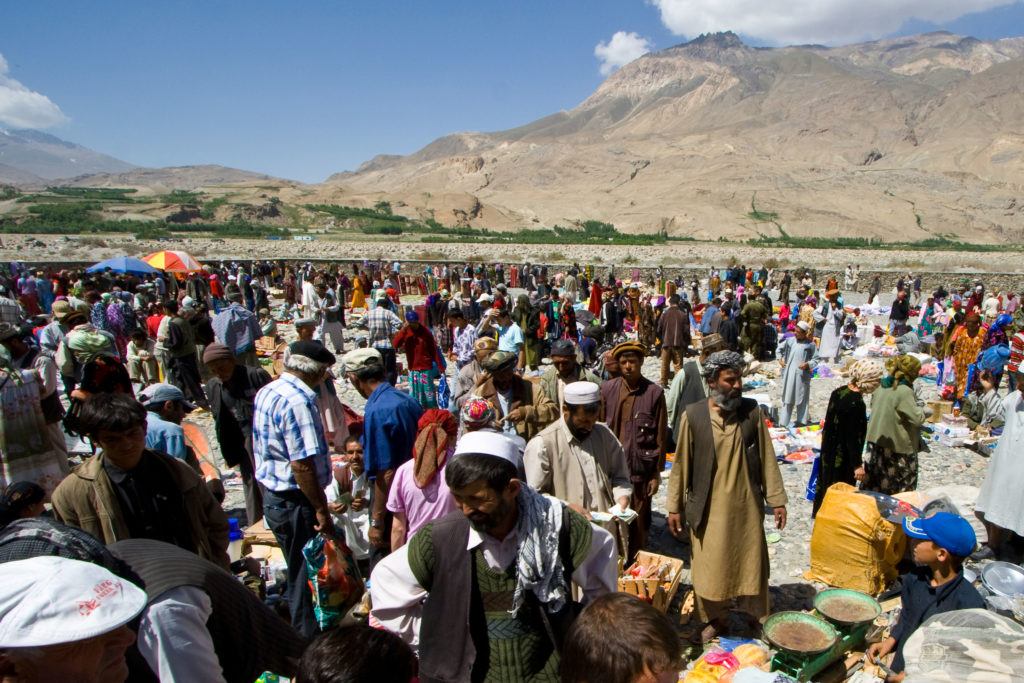 Afghan-Tajik border (Alamy)
By KIRSTY DICK
Nestled between the Pamir and Alay Mountains ranges, the landlocked country of Tajikistan has garnered little attention in the Western press since its independence from the Soviet Union in 1991.
But this summer, the abrupt withdrawal of US troops from Afghanistan has led to violent outbreaks between the Taliban and Afghan security forces along the Tajik-Afghan border.
Despite having a huge border with Afghanistan at over 1,500 km, there has been no information as to possible refugee crossings.
Tajikistan's break from the Soviet Union was not a peaceful one as shortly after its independence, civil war broke out between the newly elected government, headed by Rahmon Nabiyev, and rebel groups which were a mix of democratic reformers and Islamists, mostly coming from the far eastern region of Nagorno-Badakhshan.
Despite the defeat of the Islamists in the civil war, their ideology is still prevalent. In May 2015, Colonel Gulmurod Halimov, head of Tajikistan's paramilitary police (OMON), became the Islamic State's Minister of War.
The civil war, which lasted until 1997, severely hampered the development of Tajikistan, and still today, it remains the poorest out of all the post-Soviet states.
Therefore, Tajikistan has had to rely heavily on Russia and international organisations to help defend its volatile border with Afghanistan, which is open for terrorists, weapons, and narcotics to cross.
Tajikistan's desperate need for money and protection has led it to grant Russia rent-free rights to military bases until 2042. Russia's 201st military base in Tajikistan is Russia's largest non-naval military base outside of their country.
TERRORISM IN TAJIKISTAN
The Islamist violence that has taken place in Afghanistan over the past twenty years has bled over into Tajikistan. Seven terrorist attacks took place in Tajikistan between 2009-2018, resulting in 75 deaths and in 2017, 31 violent incidents took place on the Tajik-Afghan border.
In July, the Taliban put a Tajik member of the terrorist group Jamaat Ansarullah in charge of the border security of five districts of Afghanistan, which border Tajikistan's autonomous region of Badakhshan.
Jamaat Ansarullah was founded in 2010 by Amriddin Tabarov, who was a field commander for anti-government Islamist forces during Tajikistan's civil war. Afghan forces killed him in 2015.
With the Taliban capturing the northern provinces which border Tajikistan, violence has frequently broken out.
During a battle between Afghan forces and the Taliban at the Shir Khan Bandar border crossing on 22 June, 134 Afghan troops were forced to flee into Tajikistan. Shir Khan Bandar is connected to Tajikistan by a US-funded bridge built in 2007 to increase trade between the neighbouring countries.
The Taliban claim that they want good relations with Tajikistan, and that is why they did not fire upon the fleeing Afghan forces, but locals in Tajik border villages have found stray bullets landing on their side of the border.
ARMING THE BORDER
Yodgor Faizov, the governor of the autonomous region of Nagorno-Badakhshan, remarked that the Tajik border guards are in a state of permanent readiness and that Tajikistan was willing to accept more than 10,000 Afghan refugees.
On 5 July, Tajikistan said it had mobilised 20,000 troops to send to the volatile border.
On 8 July, Tajikistan called on its partners of the Collective Security Treaty Organisation (CSTO) to help them secure the border. CSTO members include Armenia, Belarus, Kazakhstan, and Kyrgyzstan.
On 23 July, Deputy Russian Foreign Minister Andrei Rudenko said, "An intergovernmental agreement is now being prepared for signing on the provision of aid to Tajikistan for the construction of a border outpost."
Between August 5-10, military drills were conducted in Tajikistan in cooperation with Uzbekistan and Russia. A week later, they held exercises with Chinese troops in the Tajik mountains.
During the Army 2021 forum, the Deputy Prime Minister of Russia, Yuri Borisov, said that Russia was willing to sell weapons to CSTO members at preferential prices in order to strengthen their border with Afghanistan.
On Tuesday, local media outlets reported that the Kornet anti-missile system with a firing range of up to about five km entered service at the 201st Russian military base in Tajikistan.
By increasing their military presence and arms capacity at the Tajik-Afghan border, Russia is forcing the Tajik government to strictly follow their policy towards Afghanistan, leaving no room for the possibility for Tajikistan to support ethnic Tajiks in Afghanistan opposing the Taliban.
AFTERMATH OF THE TALIBAN TAKEOVER
Since the fall of Kabul on 15 August, there has been contradicting information coming out of Tajikistan on their role in the aftermath of the Taliban takeover.
In the southwest Tajik city of Bokhtar on August 16, the regional airport allowed an Afghan plane carrying over 100 Afghan military personnel to land after they received an SOS call from the aircraft, government officials said.
However, there were conflicting reports about air traffic. One report said 18 planes had flown between Tajikistan and Afghanistan.
Locals in Bokhtar reported "many planes" arriving overnight. Online flight radar portals showed many flights moving between Afghanistan and Tajikistan, with most landing in Bokhtar.
According to the local news outlet Asia Plus, the head of the local airport and the Tajik Foreign Ministry denied the digital information, saying just 2 planes had landed from Afghanistan and were humanitarian in nature.
But a report on Russian state TV channel Russia-1 on August 22 showed numerous Afghan planes at Bokhtar airport.
RUMOURS FLY
The Tajik government has been tight-lipped over its plans for Afghanistan. This silence has led to rumours that the Tajik military has opened an air corridor to the Panjshir Valley, home to ethnic Tajik's, to supply the National Resistance Front with weapons.
The resistance in Panjshir is headed by Ahmad Massoud, son of Ahmad Shah Massoud, the leading opposition commander against the Taliban until his assassination in 2001.
However, this is unlikely to be true as Russia, which greatly helps Tajikistan with border security, is expected to recognise the Taliban as soon as they have formed a government.
On Monday, RIA Novosti stated that according to a source in the Tajik security forces, the information that helicopters delivered weapons to the Afghan resistance from Tajikistan "does not correspond with reality."
Tajikistan's Democratic Party, one of the few opposition parties in the country, appealed to the ruling government that conditions should be created in Tajikistan for Afghan refugees where they would be provided with free visas, temporary accommodation, and humanitarian aid.
The Democratic Party also called upon the Tajik government to close diplomatic missions in countries which 'support' the Taliban, including Pakistan, Saudi-Arabia, and Qatar.
While the situation at the Tajik-Afghan border remains calm for now, the moment violence steps over onto Tajik soil, the government's true view on the situation in Afghanistan will become clear.