Women hold reins in Moldova government pledged to uproot corruption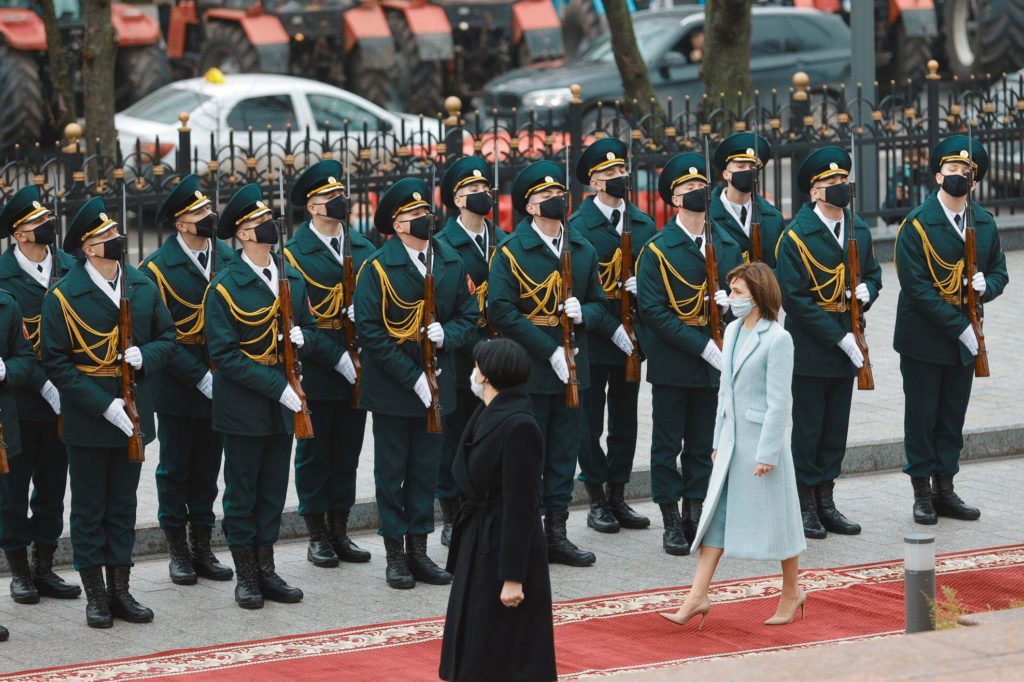 President Maia Sandu inspects Moldovan troops (Alamy)
CHISINAU
Women now hold the top reins in Moldova, where they pledge to modernise the tiny ex-Soviet state and improve its poor living standards, move closer to the West, and uproot the corruption that has bedevilled virtually all aspects of public life.
Like ex-Soviet Estonia before it, women hold the jobs of both president and prime minister.
However, the comparison is a weak one. Though roughly the same in terms of population, Estonia has a profound cultural and linguistic identity and was at the top of living standards among areas of the old East bloc. It moved perhaps the fastest to reset its course to European lines, is now relatively wealthy and has specialised in digitalising its economy and is a model for others in innovation. It is a member of the EU and NATO.
Moldova is not close on any of these fronts.
TWO WOMEN HAVE A MOUNTAIN TO CLIMB
Parliament endorsed the new government that emerged from the overwhelming July election victory of the pro-European Union Party of Action and Solidarity, including President Maia Sandu's appointment of Natalia Gavrilita as prime minister. Victory over a Socialist-dominated bloc associated with Moscow gave them a parliamentary majority and a free hand to act.
Sandu, 49 and Gavrilita, 43, both studied for a time at Harvard, and both had senior jobs In Western institutions.  Sansu was an adviser at the World Bank and, most recently, Gavrilita was the director-general of the Global Innovation Fund, a non-profit investment funds headquartered in London.
Sandu won last November's presidential election, defeating an incumbent clearly identified with Moscow, Igor Dodon. Earlier this year, she twice tried to nominate Gavrilita only to have the recalcitrant Socialist-dominated parliament of the time block her appointment.
POVERTY, CORRUPTION
For now, the two women are singing the right songs to display their progressive credentials.
"We need to make sure that people see an immediate improvement in their standard of living, that they see we are politicians who do not just promise but actually deliver," Gavrilita said in a television interview after her nomination.
"It's a disgrace that there are people in this country who worked their whole lives but receive a pension of just 800 lei ($45). We have a moral obligation to increase those pensions."
Sandu, addressing the opening session of the new parliament, said: "We need swift and incisive action to fight corruption  …For the corrupt and compromised, I have a simple message: do not try to resist. You cannot hide behind the independence of justice when you have been in the service of thieves for years. We will do what people ask us to do. "
Moldova has long been regarded as a watchword for corruption, money laundering, and the trafficking of women to neighbouring countries in Europe as prostitutes – often under the pretence of guest workers – and the new administration sees upending that reputation as a priority.
Present-day Moldova has been periodically part of the Russian empire and "Greater Romania" for various periods for more than a century and the influence of both countries is palpable — most residents are fluent in both languages. It was ceded to the Soviet Union in 1940 under the Nazi-Soviet pact carving up east European countries between Moscow and Berlin.
In per capita terms, it is the poorest country in Europe, though it is hard to determine actual living standards as experts say perhaps half the workforce works in the "shadow economy".
From the very outset, the new administration has enjoyed unprecedented approval in the West.
Igor Grosu, who took over Sandu's  PAS party after she took office, said EU officials were ready to proceed with a 600 million euro ($710 million) aid plan announced in June once the government was functioning. The sum is nothing short of colossal for a country with a population estimated at 1.8 million.
The plan is subject to conditions – notably structural reforms, adherence to the rule of law, changes in the justice system and the fight against corruption.
And that is the first hurdle to clear.
The World Bank last year described corruption in the country as "systemic". Moldova stood 115th out of 180 countries in Transparency International's 2020 Corruption Perception Index.
DEALING WITH PROSECUTORS
Commentators say Sandu's government must first determine what to do with Moldova's prosecutor general, Alexandr Stoianaglo, as there is no mechanism to remove him. Sandu was thrown out after a brief stint as prime minister in 2019 after she tried to alter the procedures for appointing the top prosecutor.
She and her advisers have been outlining plans to establish evaluations of prosecutors – using other countries, like Romania, as a template.
While prime minister, she also sought to put Vlad Plahotniuc, a billionaire accused of large-scale fraud who influenced virtually all sectors in the country, on a list of individuals sanctioned for financial and other crimes. Plahotniuc fled Moldova that year, and his whereabouts are unknown.
Also facing the new administration is the nagging – though hardly explosive – problem of Moldova's Transdnistria region – a sliver of land controlled by Russian-speaking separatists and one of several "frozen conflicts" involving Russia in ex-Soviet states. Russia brokered a peace deal after a brief war in 1992 and keeps up to 2,000 "peacekeepers" in the region despite an agreement for them to leave.
There have long been no serious incidents in Transdnistria, despite recurring inflammatory statements on the region in Moscow, mainly in the Russian parliament.
Sandu has been careful to avoid confrontation with Russia over the region. And both she and the separatist leaders in Transdnistria have expressed willingness to proceed with talks on the region's future.
Analysts say that the new administration's biggest problem may well be meeting the high expectations the presidential and parliamentary elections have instilled in a population downtrodden by mass poverty and compounded by the effects of the COVID pandemic.
"There are now huge expectations in society and if these expectations are not justified, a great disappointment will set in," analyst Ion Tabrita told the website newsmaker.md. "And you don't have to go far to see examples of this – Zelensky in Ukraine or Pashinyan in Armenia."