Putin: a mix of belligerence and anticipation of talks over Ukraine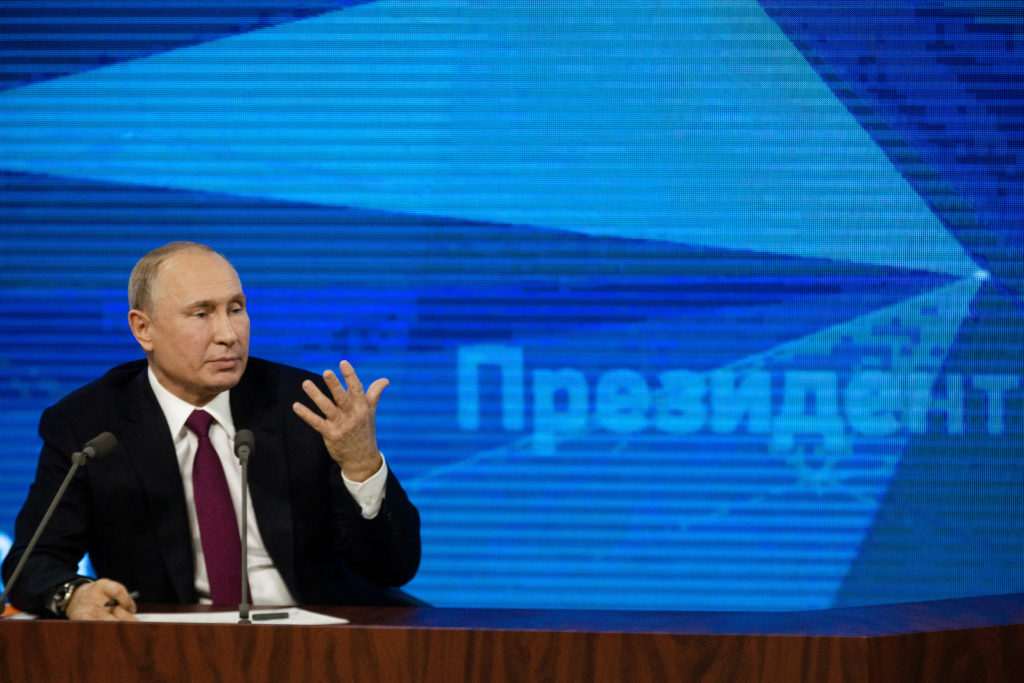 Alamy
Kremlin leader Vladimir Putin displayed a mix of belligerence towards Western countries and satisfaction at the anticipated start of talks over the buildup of Russian troops on Ukraine's border and his demand for "security guarantees" to rule out any further eastward expansion of NATO.
Putin made a fiery defence at his annual year-end news conference of Russia's submission to NATO of proposed new security arrangements calling on the Alliance to halt drills near Russia and withdraw troops and weapons deployed in east European states that were once under Moscow's sway.
Putin's news conference coincided with heightened tensions over what Ukrainian officials say is a deployment of more than 120,000 servicemen on its borders more than seven years after Russia annexed the Crimea peninsula and Kremlin proxies seized large chunks of territory in eastern Ukraine's Donbas region.
But both sides appear to have an understanding of some sort that talks will start in the New Year – though NATO and the United States have made clear they cannot accept any notion of Moscow dictating what its neighbours can or cannot do.
And tensions in Ukraine itself were taken down a notch when the Ukrainian military and the separatists it has been fighting agreed to restore for the New Year an on-again, off-again cease-fire arrangement. Some 14,000 have died in the conflict since 2014.
Questions about Ukraine and Russia's relations with NATO took up only a small part of the Kremlin leader's nearly four hours of exchanges with journalists – with far more time devoted to local issues presented to the president by Russian reporters delighted to seize the limelight, however briefly.
Putin airs grievances over Ukraine
But Putin made the most of the event to repeat grievances that Ukraine positioning itself in an "anti-Russia" camp, bolstered by "aggressive" NATO actions. He gave no guarantees that Russia might make a new incursion into Ukraine.
"It's you who must give us guarantees, and give them immediately, now," Putin told a British reporter. said on Thursday, stressing that military measures were not his preferred choice.
"Were we the ones who placed missiles next to the U.S. borders?" Putin said, responding to another question. "No. It is the U.S. with its missiles who came to our home and are on the threshold of our home. … Is it an unusual demand? Do not place any more assault systems next to our home? What is unusual about We didn't come to the U.S. or UK borders, no, they came to ours…The ball is in their court, they have to give us some response."
And the Kremlin leader repeated his disdainful stand that Ukraine was at best a dubious state – set out in an essay he published under his own name earlier this year.
Ukraine, he told the assembled journalists, was created by Bolshevik leader Vladimir Lenin, who drew up a map of loyal Soviet republics including inside Ukraine lands that were by rights and tradition, Russian territory.
Russian leader welcomes "positive" Western reaction
But Putin also said he was pleased with the prospect of talks on Moscow's proposals starting in the New Year.
"We have so far seen a positive reaction," he said. "Our U.S. partners told us that they are ready to begin this discussion, these talks, at the very start of next year. I hope that's how it will all play out."
That was a softer approach than his pledge earlier in the week to military officials to respond with "adequate military-technical response measures and react harshly to unfriendly steps."
The United States, NATO and European Union have expressed concern at the Russian troop buildup and warned of "severe consequences" if Moscow stages another incursion into Ukraine. And Washington says it will continue to provide Kyiv with defensive weaponry.
Russia says troop deployments on its own territory are its own business. And Putin scarcely conceals his contempt for Ukrainian President Volodymyr Zelensky, who came to power in 2019 on pledges to do a deal with the Kremlin but now says Ukraine can only solve its problems with NATO membership.
Putin has systematically rejected the Ukrainian leader's calls for direct talks on seven years of conflict in Donbas and told him to negotiate directly with the unrecognised statelets set up by the separatists.
France and Germany have both called for a resumption of four-party talks on Donbas, known as the "Normandy format" but Russia says such talks are impossible as Kyiv is failing to fulfil parts of two agreements meant to help resolve the talks and calling for elections in the areas held by the separatists. The Kremlin also says it fears that Ukraine, emboldened by Western support, will try to retake occupied areas of Donbas by force and vows to defend the rights of Russian-speaking residents in those areas.
The 57-member continent-wide Organisation for Security and Cooperation in Europe announced that the opposing sides in the conflict had agreed to reinstate a shaky 2020 cease-fire in the region – broken by sporadic outbreaks of violence.
"I was delighted that participants expressed their strong determination to fully adhere to the Measures to Strengthen the Ceasefire agreement of 22 July 2020," the Special Representative of the OSCE chairperson-in-office in Ukraine, Mikko Kinnunen, said in a statement. He acknowledged that the situation on the line separating the two sides "remains volatile".
Ukraine and Russia have blamed each other for the recent violations of the cease-fire which helped reduce the number of casualties in the conflict in 2020.
Ukrainian President Zelensky's chief of staff, Andriy Yermak, said the agreement meant that "The coming Christmas and New Year holidays should be peaceful. May silence finally reign in Donbas." said Andriy Yermak, the head of Ukrainian President Volodymyr Zelensky's office.