Armenia, Azerbaijan disregard incident, move forward towards treaty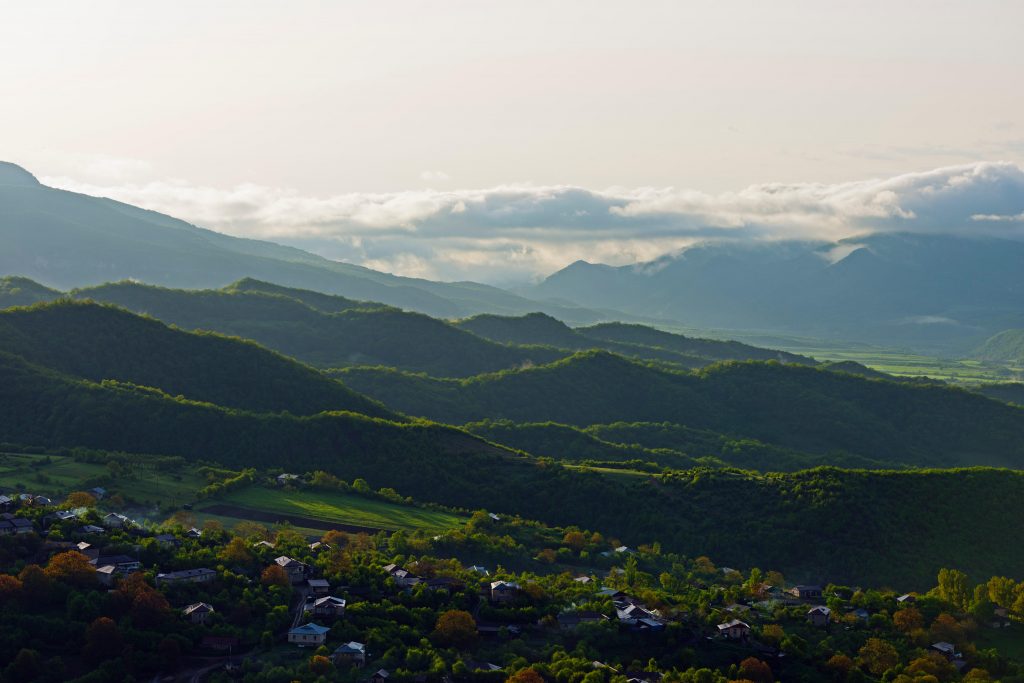 Azerbaijan's Nagorno-Karabakh region (Alamy)
BAKU
By Lada Yevgrashina
The leaders of Armenia and Azerbaijan appeared to discount a border clash that boosted tension in the region, with both pledging to move forward with discussions on forging a peace treaty to end decades of animosity over borders and trade links.
In remarks made in their separate capitals, neither Armenian Prime Minister Nikol Pashinyan nor Azerbaijani President Ilham Aliyev made any reference to an advance by Azerbaijani troops into Nagorno-Karabakh – in territory nominally under the control of Russian "peacekeepers".
Last week's incident involved the movement of Azerbaijani troops into the village of Farrukh in Nagorno-Karabakh, known as Parrukh in Armenian. Armenia accused Azerbaijan of shooting at local residents, while Azerbaijan said it was acting to prevent activities of illegal armed Armenian groups and called for their disbandment,
Armenia says three soldiers died in the incident. Azerbaijan mentioned no deaths. Each side blamed the other for a sharp rise in tensions.
In the past year, the two leaders have held two meetings – one hosted by Kremlin leader Vladimir Putin the other by the European Union – and have made progress towards clinching an agreement a little more than a year after the "Second Karabakh War" in which Azerbaijan restored control over swathes of territory held by Armenians for three decades.
A new meeting is scheduled for next week, again in Brussels hosted by European Council President Charles Michel.
New Brussels meeting – a step closer to peace?
Pashinyan, quoted by Armenian media, told a government meeting he was ready to move forward rapidly with a peace deal.
"Armenia is ready for the immediate start of peace talks," Armenian media quoted him as telling ministers. "I hope that during that meeting with the Azerbaijani President all the issues related to the launch of the negotiations on the peace treaty will be discussed and agreed upon."
In Baku, Aliyev told the current head of the Organisation for Security and Cooperation in Europe (OSCE), Polish Foreign Minister Zbigniew Rau, that he had been receiving regular communications from Armenia – including a positive response to a document issued last month setting down five key principles for a peace accord.
Those principles included mutual recognition of sovereignty, territorial integrity, inviolability of state borders and mutual political independence.
"As people say, we are not trying to reinvent the wheel here. These principles are fundamental principles of international relations between all countries," Aliyev said.
Aliyev called for a "productive" meeting in Brussels.
"Several meetings have already taken place and we have to move forward with a signature of a peace treaty between Azerbaijan and Armenia and in the shortest possible time sign this document," he said.
A peace deal, he said, would benefit not only the two countries, but the entire region.
"Of course, all these issues have to be resolved very carefully and in a timely manner," he said.
Aliyev to OSCE: We solved our own problems
Azerbaijan has been highly critical of the OSCE and its inability to produce diplomatic solutions to the territorial and other disputes separating the two neighbours for more than three decades.
Aliyev told Rau: "Azerbaijan solved the Nagorno-Karabakh conflict by itself," a reference to the brief 2020 conflict that resulted in Azerbaijan, with support from Turkey, "deoccupying" larges stretches of land in and around Nagorno-Karabakh.
Russia oversaw a cease-fire between the two sides and dispatched 2,000 peacekeepers to maintain order in sensitive border areas.
Turkish President Recep Tayyip Erdogan backed the Azerbaijani position in comments to reporters in Ankara this week, saying the conclusion of the 2020 cease-fire provided for the complete dissolution from the region of all armed Armenian groups.
Rau said the OSCE was willing to help draw up a peace accord and resolve issues with border demarcation.
Karabakh has been internationally recognised as part of Azerbaijan for a century but with a sizeable ethnic Armenian community. In the first Karabakh war, which erupted as the Soviet Union was collapsing, Armenian forces took control of the territory and adjacent areas, evicting large numbers of residents, mainly ethnic Azeris. Many have since returned and economic projects are underway in the region.
Azerbaijani Foreign Minister Jeyhun Bayramov praised "positive statements" from Armenia.
"Let's hope that this will be an indication of a serious outlook from Armenia and not yet another public relations campaign," he said. "The time has come for concrete steps And we hope to see real results."
Negotiators will have to tackle the issue of the demarcation of borders in dispute since the Soviet era.  A second key issue is the establishment of corridors passing in part through the neighbouring state.
Armenia has already agreed in principle to what is known in Azerbaijan as the "Zengezur corridor" linking Azerbaijan with its Nakhchivan enclave with a section of that route passing through Armenian territory. Construction on the Armenia-based part of the corridor has already begun.