COVID, internet plunge Ukrainian publishing into crisis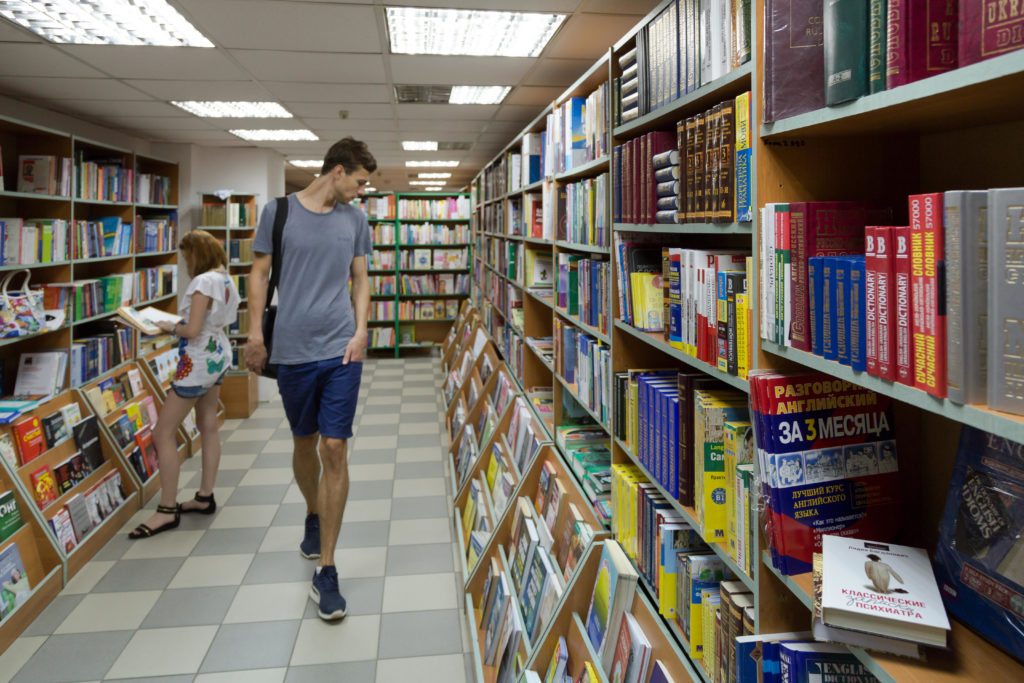 Bookshop in the Ukrainian city of Odessa (Alamy)
By Aliide Naylor
 
The COVID pandemic and the grip of the internet has sent the Ukrainian publishing industry plunging into crisis, with bookshops closing, libraries going unreplenished and young writers forced to seek recognition outside the country's borders. 
This is no small calamity in a society where – in the Soviet era now 30 years in the past – people valued, clamoured for and, perhaps most importantly, read books of virtually all descriptions, including many that were banned or difficult to secure. 
And, prodded by literary advocates, the government is, at long last, trying to reverse the downward trend. 
Russian hostility to Ukraine – the annexation of Crimea and the fomenting of a rebellion in the eastern Donbas region – initially appeared to spark a renewed interest in domestic cultural heritage, with high hopes for Ukraine's literary scene. 
But now, bookshops are closing and the local book market has been dwindling.   
Bookstores have fallen on hard times. 
"Sadly, and it is unfortunate to admit this, but in Ukraine, there is a steady trend of decline in the number of bookstores," said Vladyslav Berkovsky, Executive Director of the Ukrainian Cultural Foundation. 
Forty-eight bookstores have closed in Ukraine over the course of the pandemic, 15 of those in 2021. There are only around 300 specialist bookstores nationwide – in a country of 44 million (the UK has more than 1,000) and closures are hitting towns and smaller cities hard. 
 "There are not only bookstore closures, but the range of available literature is also small," Berkovsky said. "Despite the fact that there are about 400 publishing houses in the Ukrainian book market, only 10-20 of them are represented at a regional level."  
Comparisons with other countries are inevitable and depressing. 
"Here in Ukraine, we are a bit jealous, reading about the massive increases in reading, buying books in the US, UK and other EU countries," said Iryna Baturevych, Deputy Director of the Ukrainian Book Institute. "In recent years, we have been losing several readers: Eleven percent of people who read on a daily basis in 2018 became eight percent in 2020." 
 
"Experts predicted the great crisis in publishing," she told the Tribune. "Publishers avoid any risk and produce only 'reliable' titles. I have no deep research to base this on, but my feeling is that fewer young Ukrainian authors are finding their way to readers." 
The main buyer of books in the country is the state, mainly to supply Ukrainian libraries. Opening a bookstore or a bookmarket is often a labour of love for those involved, and often fails to turn a profit 
"They are run by enthusiasts who sometimes don't even expect to cover their losses," said bestselling Ukrainian novelist Andrei Kurkov. "We don't have any kind of stability." 
"The government is making its purchases, smaller and smaller," he told the Tribune. "They are buying directly from the publishing houses, which means that actually bookshops are not involved, or the market is not involved in these purchases." 
The pandemic, the lockdown and book sales
 
Before the onset of the pandemic last year, sales did not seem to be floundering too badly – although there is no precise way of knowing, according to Alexander Afonin, President of the Ukrainian Association of Publishers and Booksellers.  
"During 2016-2019, sales volumes actually remained at the same level with a slight increase in 2019 (approximately 2 percent)," he said.  
"However, the lockdown which happened on account of the coronavirus pandemic in 2020 and the closure of bookstores have led to a significant decline in book sales, estimated by market participants to average at around 25 percent." 
Copyright
Another major issue facing the domestic book market is copyright infringement, which "remains a significant problem in Ukraine", according to a British Council report on the publishing sector in Ukraine,  released earlier this year.
"The lack of enforcement of existing legislation by the authorities means publishers are often left to tackle the problem themselves, with very limited success."
Russian-language texts account for most counterfeit literature and it still poses a threat to Ukraine's book industry. 
"Counterfeiters, without needing to spend money on putting together the publication, staff salaries, taxes, etc. – other activities through which publishers adhere to Ukrainian law – can sell their 'product' at a 40-50 percent lower price than that set by the legal publisher in accordance with their costs," says Afonin. This means publishers are deprived of the opportunity to even recoup their costs, let alone make a profit.
"Unfortunately, there is no systematic fight against this phenomenon, which is harmful to legal business, by law enforcement agencies, and the efforts of the Ukrainian Association of Publishers and Booksellers without their support are extremely ineffectual."
For some, selling these texts can be their lifeblood. 
The open-air book market Odesa Knyzhka was one such place that second-hand – and possibly counterfeit – copies could be bought. Leonid Kucherenko, a journalist with the Odesa-based Dumskaya.net and former bookseller at the market, recalled that there were some attempts by local police back in 2017 to seize books, under the pretext that they did not have permission to trade from the authors.
"For many years, Knyzhka was the only place that you could buy literature. But then new bookstores arrived, and with them, legitimate salespeople."
"The second 'killer' of the book market was the internet," he wrote on Dumskaya. "Electronic readers have appeared, which are very convenient to take on transport, to a park bench or the beach. And the rents for stands at Knyzhka are growing by leaps and bounds." 
Ukrainian literature at home and abroad
 
While some vague statistics are floating around, there is no means by which to accurately compile nationwide book sales and publishing statistics. The absence of a comprehensive initiative to tie together all the different regions through literature or analysis of book-buying habits is hindering the domestic book market.
And there is very little support from authorities.
 
"The most pressing problem is the absence of any systematic regional support for book distribution," said Berkovsky of the Ukrainian Cultural Foundation. "There are somewhat weak promotional policies, poor public awareness of newly published titles, and a low level of book distribution." 
"Not a single publishing house can boast of their books being sold in every region of Ukraine," said Kurkov, suggesting that developing the domestic book market should be part of state cultural policy, through setting up small bookshops or advising local authorities, boosting writers' events.
And if no such policy is forthcoming, he said, ethnic minorities – like Russians or Hungarians in Ukraine's west – will step in to fill the gap.
"Unless Ukrainian culture covers all the territories of all the regions of Ukraine, there will be regions covered by Russian culture or Hungarian culture or some other country's culture, when actually culture should be used as the material which cements and consolidates the nation." 
Russia and Russian
 
Following the Euromaidan protests in 2014 that forced the Russia-friendly president to flee the country and the subsequent separatist rebellion by Russian proxies in Donbas, the use of Russian inside the country was seen by many as a more intensely political issue.
In 2019, Ukraine passed a new language law entrenching the longstanding status of Ukrainian as the country's sole state language – that meant schools were officially required to teach mostly in Ukrainian, while shopping websites also had to use the language.
Russian and Ukrainian – both eastern Slav languages — are similar in structure but have considerable differences in lexicon and usage and Russians who have not had contact with the language do not understand it. Russian is still widely spoken, particularly in Kyiv and in areas to the east.
In January this year, further legislation was passed that required restaurants and cafes, stores and the service industry more generally to speak Ukrainian with customers unless specifically requested otherwise. While this law faced challenges, it was declared constitutional in July. 
Russian-language literature in the country has concurrently taken a massive hit.
"With reducing Russian imports, some publishers reported a two-fold decrease of the number of titles in their catalogues," said Baturevych. In 2017, some 29 percent of titles officially in circulation were in Russian, but in 2020 that figure sank to 7 percent, according to the Ukrainian Association of Publishers and Booksellers.  
"I am pleased with the positive dynamics of the consumption of Ukrainian and Ukrainian-language literature that we observe," said Berkovsky.  
People in the Soviet Union were voracious readers, often seeking out material that was banned or unavailable, and sharing it widely through either samizdat (self-publishing) or black-market networks. While copyright issues plaguing the publishing industry could be considered a hangover from that, the demand has changed in its nature too. When supply was limited, owning books was a mark of prestige. 
"They were an object of status," said Kurkov, who writes his novels in Russian. "If you visited somebody's house, you would go and see what kind of books he or she has."
The tradition vanished after the Soviet Union collapsed.
"Before that, everybody with an education knew which books were hard to find and which books were not hard to find, so everybody was trying to acquire rare books or books published in good book covers."
Building for the future
Industry advocates say things are beginning to look up.
"I think we faced the hardest times in 2020. The revival is beginning. Bookstores are trying to expand their networks again," said Baturevych. "It will take time." 
In January and February this year, a wide variety of literary institutions and other relevant state bodies put their heads together to establish a "Reading Development Strategy" for 2021-2025, intending to address the "problems in the industry".
Among other measures, it put forward "a significant increase in funding from the state budget for the purchase of books to replenish library funds," as part of a drive to boost the book industry. The full list of measures is currently being approved by the government.
"We hope that after the approval of the Strategy by the government we will be able to significantly improve the state of domestic book publishing and bring it on the path of dynamic development," said Afonin. 
The British Council report specifically noted the underdeveloped library and retail infrastructure, which impact access to books outside of urban centres, as one of the primary challenges faced by the publishing sector.
 
But without strong efforts both bottom-up and top-down to preserve love for literature, the domestic book market may continue to suffer.
A wide-ranging, cross-regional effort to encourage a developing book market "would probably improve the situation with education and also help people to understand the country in which they live, and to understand what kind of culture they live in," said Kurkov.