Marina Mogilko: YouTube phenomenon and Silicon Valley entrepreneur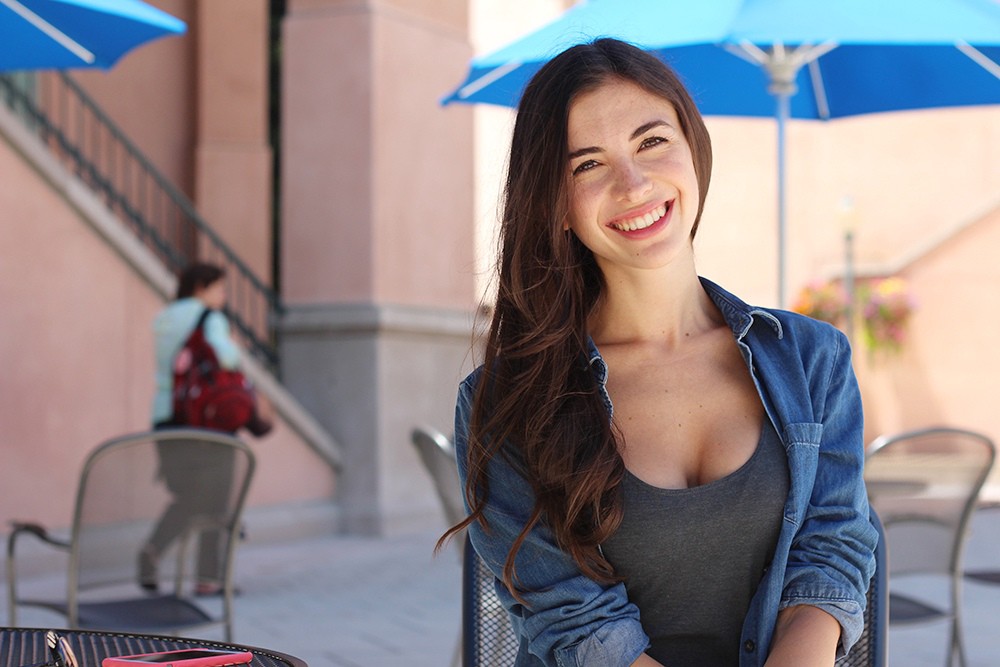 medium.com
Age: 31
Origin: Saint Petersburg, Russia
Based in: San Francisco, California, U.S.
Education: Saint Petersburg State University
Occupation:  Co-founder LinguaTrip, fluent.express
With seven million subscribers across three YouTube channels, Marina Mogilko is an extremely successful creator who has used her online success to promote her businesses LinguaTrip and Fluent express. LinguaTrip is the Expedia for language travel – you choose the country you want to study in and through the LinguaTrip website you can book a school and accommodation. Fluent express is an instant proofreading service where submissions are checked by a native speaker.
Growing up in the turbulent 90s in St Petersburg, Mogilko remembers getting an apple a week as a treat and in this environment many people were emigrating. Her parents and grandparents wanted her to learn English to succeed and have the opportunity to move abroad when she grew older and therefore she always had the mindset of leaving Russia. When Mogilko was 14 years old, she had the opportunity to study in the UK for two weeks. Arriving at the airport she was surprised when she could not understand the immigration officials. Soon she discovered that the English she had learnt at school was not useful in real-life situations, but the two weeks she spent talking to native speakers hugely improved her level of English. When she returned to St Petersburg, she actively promoted the idea amongst her friends of travelling abroad to study a language.
While in her final year of university, one of her friends asked for her help in finding a study abroad programme for her. Dmitry Pistolyako, who became her co-founder, encouraged her to use her experience of studying abroad to start her own company, helping people to do the same. Most companies in St Petersburg were charging $300 just for advice, so Mogilko decided her company would advise customers for free and take profit from the commission they received from the language schools. She went straight to the lawyer's office with Pistolyako, where they founded Linguatrip with their first client already lined up.
Many people were not supportive of her business in the beginning as there were already hundreds of companies sending Russian students abroad to language schools. However, Mogilko was passionate and hard working. During her first year, she would take clients' calls during a lecture, pretending she was in an office. Pistolyako had to work another job in order to reinvest in their company, as it wasn't generating enough revenue to keep running and to pay employees.
In 2013, Mogilko realised that in order to scale LinguaTrip she needed to build an online booking platform. Mogilko did not know how to code, but Pistolyako found a computer programmer who worked part-time to build their website.
Marketing the company was the next step for Mogilko. She struck gold in this department when she paid for a Russian Youtuber with 70,000 subscribers to take one of LinguaTrip's language courses abroad. Once the video was released, Mogilko arrived at work to find a queue around the block of her office of people wanting to sign up for the same study abroad trip.
In 2014, Mogilko decided to start fundraising in Russia and Europe, but was unsuccessful. Mogilko recalls talking to investors in their 60s while she was only in her early twenties and getting treated like a granddaughter instead of a serious entrepreneur. She decided that it would be easier to find investors in America and started applying to different accelerators in Silicon Valley.
While applying for accelerators in the U.S., Mogilko was also applying for grad school. She was looking on YouTube to find some advice on studying for the GMAT but couldn't find any information in Russian. This was where she found her niche. Mogilko picked up her phone and started recording her process of studying for the exam and applying to universities. She edited her videos in iMovie and took around four to six hours to edit one video. She did all her YouTube work at the office because she didn't have enough money to have internet in her apartment. Her first video connected her with many potential LinguaTrip customers and received 1,000 views in two months. The connections she made with her viewers encouraged her to continue making videos.
By 2015, LinguaTrip was cashflow positive, making $25,000 in profits per month. But it was still a struggle to get the vital funding they needed to expand the business. After getting rejected by 50 different investors, Mogilko was persuaded by Pistolyako to meet John Rainey, an American investor who was travelling around the world mentoring entrepreneurs and happened to be in St Petersburg. Mogilko's interview with Rainey was a success — he believed in LinguaTrip and happened to have a close connection with someone who worked for one of the accelerators they were applying for. With his recommendation, LinguaTrip was accepted into 500 Startups.
With 500 startups having only a 3% acceptance rate and being the only Russian company in the programme, LinguaTrip received a lot of press attention from Russia and Silicon Valley. 500 startups immediately invested $100,000 into the company. The four-month programme included seed and angel rounds in Silicon Valley. It opened many doors for Mogilko and also helped her with obtaining an O1 visa. In 2016, she moved LinguaTrip to Silicon Valley. That same year, the company grew from 10 to 70 people.
Her move to the U.S. inspired her to start a new YouTube channel in English, Linguamarina. While her Russian channel focuses on study abroad and life in America, her channel in English is more educational. In 2018, Mogilko launched her third channel, Silicon Valley Girl, about her daily business operations and building a personal brand online. Since 2019, she has moved her time priority from managing people to creating content for YouTube and other social media platforms.
Recently in the news:
In November 2021, Sam Lessin, former Vice President of Facebook, created Slow Ventures which has created a $20 million fund to invest in creators, instead of companies. Slow Ventures has invested $1.7 million in Mogilko and in return, they will receive 5% of her creator earnings for 30 years.
In January 2022, Mogilko joined DRESSX as their strategic advisor. It is hoped that her experience will help DRESSX to accelerate growth and maximise its audience of meta content creators.
Quote: "Everybody has something that makes them extraordinary. Understanding your superpower is crucial because it's tightly connected to your satisfaction in life. If you get to know it and practice it, you will enjoy life more than the average person."
Sources: cloutnews.com, YouTube.com, actionworks.co, linkedin.com, vice.com, meduza.io,  Extra Paycheck Podcast,  Conquer America with David Drobik, How Did You Learn That?