Russia appears to step back from brink with Ukraine, but intentions unclear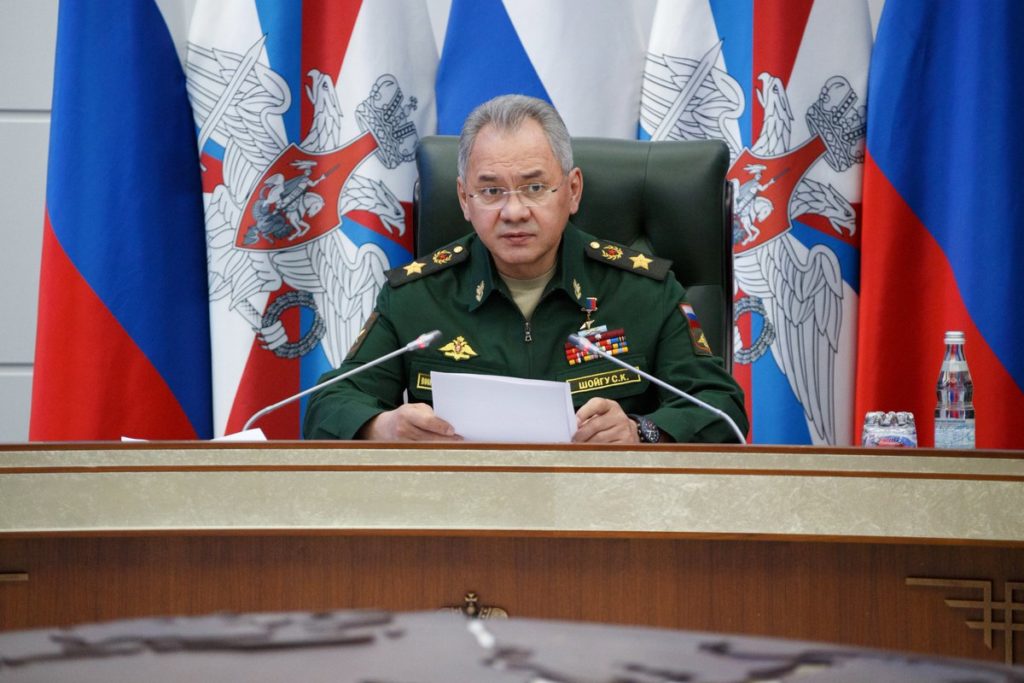 Russian Defence Minister Sergei Shoigu at a meeting this week of his ministry;s board. Global look press.
Russia appeared to step a bit back from the brink with Ukraine on Thursday, saying it was pulling some troops away from the country's eastern border.
The buildup had spawned widespread speculation that the Kremlin was preparing a wide-scale invasion. It already controls large parts of eastern Ukraine – the Donbass region – via proxies it supports militarily and financially.
It also annexed Ukraine's Crimea in 2014 – though that move has not been recognised internationally.
Western intelligence reports had estimated that between 100,000 and 150,000 Russian troops had amassed on the border, just as the United States had announced new sanctions against Russia – citing election interference and other issues.
Russian Defence Minister Sergei Shoigu said the aims of the troop movements – he called them a "snap inspection" – were "fully achieved". He added the troops would return to bases by May 1.
Ukrainian President Volodymyr Zelensky's response indicated a degree of reassurance, just a day after he said all-out war with Russia might be just over the horizon.
The "reduction of troops on our border proportionally will reduce tensions," he tweeted.
"Ukraine is always vigilant, yet welcomes any steps to decrease the military presence & deescalate the situation in Donbass. Ukraine seeks peace. Grateful to international partners for their support," Zelensky's tweet said.
Raising alarm bells
The seeming climb-down comes as fast as the Russian troop build-up raised alarm bells in the West.
On Monday, the foreign policy chief of the European Union said that the troop buildup by the Russian Federation was unprecedented and unpredictable.
In addition, Russian naval vessels have in recent days blocked Ukrainian ships from moving freely in their own internationally recognised waters, including the Strait of Kerch. The narrow waterway connects Ukraine's major industrial seaport of Mariupol with the Black Sea.
The signs pointing toward a full-scale war have been ominous – and statements from Moscow threatening devastating military action replete with hostile language.
A NATO official said in Brussels that "any steps toward de-escalation by Russia would be important and well overdue," adding that the Western alliance "remains vigilant". The official called on Russia to "withdraw all its forces from Ukrainian territory".
Meanwhile, Russian President Vladimir Putin said he was prepared to host Zelensky in Moscow at "any time". That was effectively a rejection of the Ukrainian president's proposal to meet in any part of Donbass hit by the conflict.
Zelensky, Putin said, had "taken many steps to the detriment of Russian-Ukrainian relations", accusing Kyiv of infringing the rights of Russian-speakers and hurting the Ukrainian branch of the Russian Orthodox Church.
"If President Zelensky wants to begin restoring these relations, we can only welcome this," he said. But to solve the issue of Donbass, Putin said, Ukraine first had to talk with the separatists running the two Russian-backed statelets in the region, an idea that Ukraine flatly refuses to consider.
Some Ukrainian analysts expressed skepticism about any long-term resolution between the two countries.
Political analyst Iryna Nazarchuk, based in the coastal city of Odessa, agreed.
"No one here really believes that anything is close to over,"  Nazarchuk said by telephone.
She also noted that emergency military reserve exercises – announced days ago – were proceeding despite any talk of a de-escalation – in the sensitive eastern and southern areas of the country.
"There have been many Russian military exercises over the last few years, and many announcements from Moscow that things were back to normal," she said. "But this is a war, and anyone with illusions about that lost them some time ago."
Putin later turned his attention to a visit by Belarusian President Alexander Lukashenko, who said the leaders were making "serious progress" in implementing the longstanding idea of a "union state" between the two neighbours. Lukashenko supports the plan, but is wary of any suggestion that would impinge on his country's sovereignty.
Putin on Wednesday backed Lukashenko in denouncing what both have described as a U.S.-backed plot to overthrow the veteran Belarusian leader.
Lukashenko remains in firm control of the affairs of state after a crackdown on protesters who say he won re-election fraudulently last year. His defeated and exiled opponent, Svetlana Tikhanovskaya, this week met in Lithuania with the new U.S. ambassador to Belarus, who has yet to take up her posting.