Uncategorized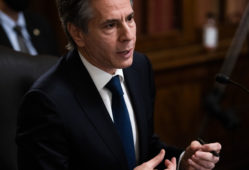 Western countries sought explanations from Russia on the buildup of its forces along the border with Ukraine after Moscow stayed away from a meeting hosted by the Organisation of Security and Cooperation in Europe meeting intended to ease tension in the area.
On April 8, Russian President Vladimir Putin called the head of Azerbaijan Ilham Aliyev.  As reported by the press services of both presidents, the parties discussed the situation around Nagorno-Karabakh, and further stabilization in accordance with the Statements of the leaders of Russia, Azerbaijan and Armenia dated November 9, 2020 and January 11, 2021, according to news agency Turan.
The White House is in talks to appoint a special envoy to lead negotiations on halting the construction of Russia-to-Germany gas pipeline Nord Stream 2, current and former U.S. officials said, as the Biden administration grapples with how to stymie a nearly completed energy project that would serve as a major financial and geopolitical boon to Moscow, POLITICO reported.