Ukraine's Carpathians – Something for everyone, winter and summer, at bargain prices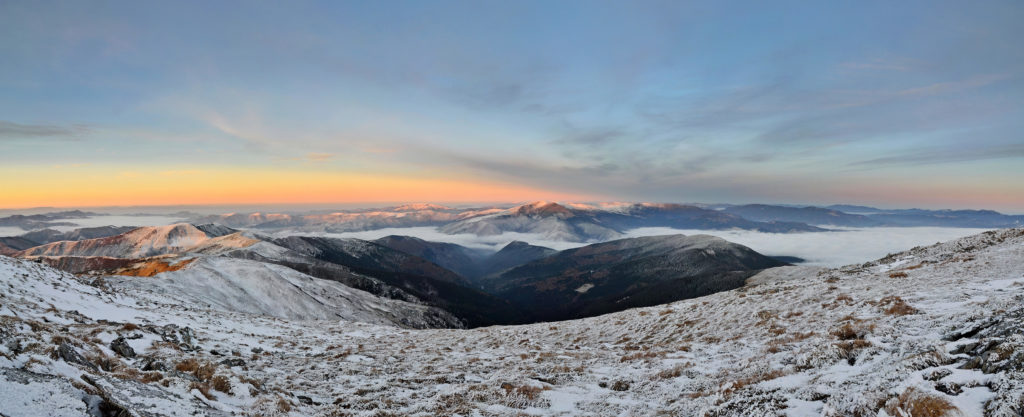 Alamy
The Ukrainian Carpathians are part of a mountain range longer than the Alps. And they offer the visitor a wide range of sights and attractions – with less of the crush of tourists encountered in western Europe – towering Alpine landscapes and peaks, valleys and lakes and towns and villages, both historic and modern.
It is among the most attractive mountain destinations in Eastern Europe, appealing to visitors both in winter and summer.
Ukraine is home to only a small portion of the Carpathians, which span the Czech Republic, Poland, Austria, Slovakia, Hungary, Romania and Serbia.
But it has more than its share of natural and historic sights.
The Ukrainian mountains run through four Ukrainian regions with diverse cultural traditions — Zakarpattia, Lviv, Ivano-Frankivsk and Chernivtsi – which have seen plenty of upheaval over the centuries, much of it in the last 100 years.
In central Europe that inevitably meant shifting borders.
Zakarpattia region in the 20th century, for example, was part of the Austro-Hungarian Empire, Czechoslovakia, the USSR and independent Ukraine. Bukovina, partially in the Chernivtsi region at the moment, has been under the rule of Hungarian, Moldovan, Romanian and Austrian monarchies, as well as the Soviet Union.
The Ukrainian Carpathians feature a mild climate, with temperatures up to 20C in summer and dipping to -10 C in winter. Almost half the Ukrainian Carpathians are covered in mixed forests, though deforestation poses a threat, with the share of mature forests declining from 25 to 11 percent in recent years despite reforestation measures.
The economy of Ukrainian Carpathians is under-developed compared to the other regions. And one of the lowest regional GDP figures per capita makes the region one of the country's cheapest travel destinations.
Tourism and the service sector now stand alongside farming as key factors in the regional economy.
How to get there: The nearest international airport is in Lviv, about 200 km from the Carpathians. Closest larger towns to the mountain range, Ivano-Frankivsk and Kolomyia, are easily reached by train from Lviv or Kyiv. Trips to towns, villages and mountain resorts will almost certainly involve local bus services or a car rental.
Time of year to visit: The climate in Carpathians allows for all year round travel. Ample snowfalls make December – February the best months for skiing and winter sports. June – August are the best time for hiking and exploring towns and villages.
Documents: Citizens of over 80 countries, including the European Union, United States and United Kingdom are eligible for a visa-free entry to Ukraine for up to 90 days. Citizens of many other countries are also eligible for e-visas, with online application.
Where to visit
Mountain peaks: Five peaks in Ukrainian Carpathians exceed 2,000 metres. The highest, Mount Hoverla (2,061 m) is accessible via hiking trails and is climbed by many tourists every year. Pip Ivan (2,021 m) features an abandoned "White Elephant" observatory, built by Warsaw University in 1936. The peaks are more accessible during the summer, but available to visit throughout the year.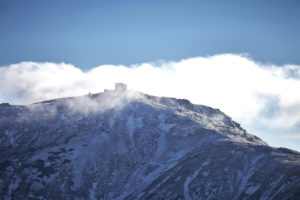 Ski resorts: Recent years have seen rapid development of ski resorts in Ukraine. The most notable skiing destination is Bukovel. The resort aspires to its most illustrious Alpine counterparts and offers an impressive network of slopes of more than 68 km. The resort lies at  500 metres and above and features 16 ski lifts. Infrastructure is growing fast in Bukovel, with the number and quality of services offered continuously on the rise. Relatively low elevation (up to 1,372 metres) makes snowfall a bit problematic, with skiing generally the most practical from late December through January and February.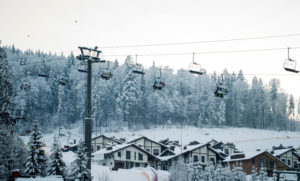 Spa resorts: the abundance of rich mineral waters and springs, coupled with little to no air and soil pollution, makes the Ukrainian Carpathians a unique spot for health tourism. Multiple resorts, in particular Shayan and Truskavets, feature a number of spa hotels, as well as springs and mineral water sources in close proximity. Summer months are generally best for this type of recreational tourism in the Carpathians.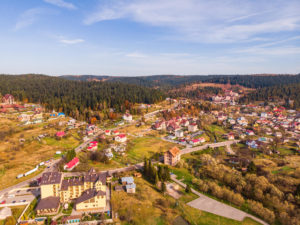 Hiking trails: there are plenty of hiking trails throughout the Ukrainian Carpathians. These routes vary in elevation, length and level of difficulty, but there are sufficient trails for both beginnes and experienced travellers. For those less experienced with long distance hikes, the town of Yaremche is frequently used as a base to begin shorter hikes. For a more challenging experience, hiking routes are available to the region's most celebrated peaks, including Hoverla and Pip Ivan.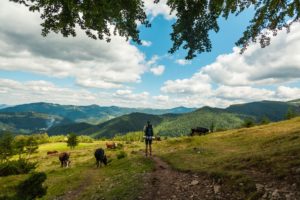 Natural sights: the natural environment of the Ukrainian Carpathians features rivers, lakes, waterfalls and valleys. These are accessible via towns, as well as through hiking trails. Among the most promiment is the Synevir Lake, the largest in the Ukraine's section of the mountain range. The lake is located inside the Synevir National Nature Park and features paths and observation spots.