Belarus
Belarus introduces additional benefits and preferences for the import of electric vehicles-BELTA.BY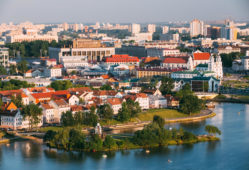 Belarus's economy expands in January-October despite sanctions
Gross domestic product (GDP) grew by 2.4 percent year-on-year in January-October. In nominal terms, the GDP reached 143.3 billion rubles ($58.1 billion).
OPINION-Belarus is risking crisis on the Polish border-FOREIGNPOLICY
Ever since Belarusian dictator Alexander Lukashenko launched a brutal crackdown to retain power last August, Minsk has been increasingly isolated—and has lashed out at its neighbours, such as Poland, who support the Belarusian opposition.
Belarus counts on growth of trade with Azerbaijan and export of services to this country-BELTA.BY