Kyrgyzstan
The death toll on the border of Kyrgyzstan reaches 13 people-TOTAL.KZ
Armed conflict takes place on the border of Kyrgyzstan and Tajikistan-TOTAL.KZ
Putin and Aliyev discussed the restoration of transport communications in the region- TURAN
On April 8, Russian President Vladimir Putin called the head of Azerbaijan Ilham Aliyev.  As reported by the press services of both presidents, the parties discussed the situation around Nagorno-Karabakh, and further stabilization in accordance with the Statements of the leaders of Russia, Azerbaijan and Armenia dated November 9, 2020 and January 11, 2021, according to news agency Turan.
IMF predicts economic growth in South Caucasus and Central Asia in 2021-22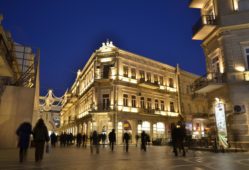 South Caucasus, Central Asia Set for Recovery in 2021
The World Bank forecasts an economic recovery in the South Caucasus and in Central Asia this year, with further growth expected in 2022.