Central Asia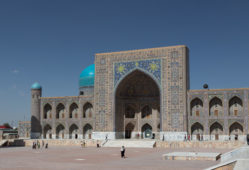 Uzbekistan, Turkmenistan to increase trade turnover to $1 billion
The agreement was reached during a recent meeting of the bilateral intergovernmental commission that had been held in Tashkent.
Presidents of Tajikistan and Turkmenistan held talks in Ashgabat-TURKMENPORTAL.COM
In the south of Tajikistan military exercises with Tajikistan, Russia and Uzbekistan begin-AVESTA.TJ
OPINION-Central Asia and Afghanistan: Old Fears, Old Actors, New Games-RUSI
The countries of Central Asia have reason to be concerned about Afghanistan in the wake of the Western withdrawal. Yet it remains unclear how they will mitigate the security risks, and what major power support to do this might look like.
Uzbekistan – Kazakhstan: Issues of increasing cargo traffic discussed-UZ DAILY