OPINION
No matter how President Shavkat Mirziyoyev's second term develops, there is no hope in expecting Uzbekistan to transform into a liberal democracy.
Since late September, relations between Iran and Azerbaijan have deteriorated markedly.
The SCO objectives of combating the 'three evils' (terrorism, separatism, and extremism) and drug trafficking, as well as poverty reduction are clearly compatible with the aim of improving the security situation in Afghanistan.
Around the world, there is growing interest in the impact of fraud on company financial statements as well as scrutiny of the responsibilities of auditors in the detection and reporting of fraud.
According to a growing number of pro-Kremlin commentators, the spectre haunting Belarus is the threat of "Belarusization," meaning the promotion of the Belarusian language, history, and culture.
When the Soviet Union collapsed and Ukraine became an independent state, the opportunity to create a new economic reality for its citizens was missed by the government and policymakers. The delayed reorientation toward a market-based energy policy resulted in decades of corruption and dependence on Russia.
How to pursue our development and become a modern country without abandoning our distinguished past or losing our national consciousness and identity.
The real question regarding Ukraine's membership aspirations, therefore, is whether NATO Allies are willing and able to invest in the immense effort required to make collective defence credible.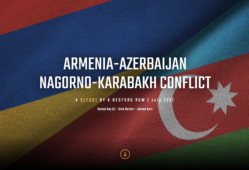 The report examines attacks on civilians in various Azerbaijani cities including the second largest city of Ganja.
The implementation of this article would create unique connectivity not only between Armenia and Azerbaijan, but also with Russia, Turkey, and Iran and potentially even the greater neighbourhood.